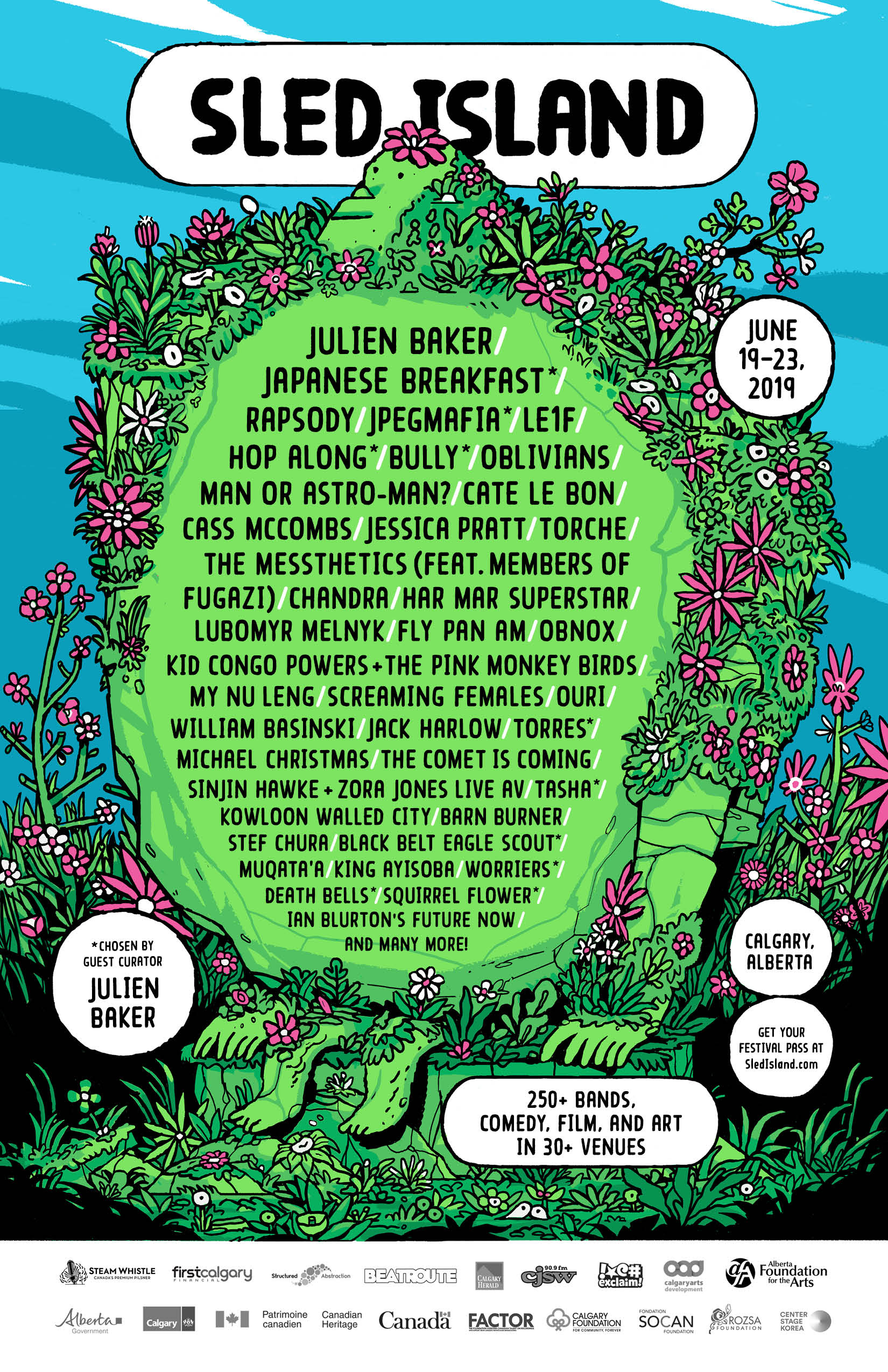 Our full lineup is finally here! The 180+ additions announced today join a list of over 65 previously announced artists, confirming 250+ bands to play the festival this June!
Newly announced artists include heavy metal favourites TORCHE, Jersey punk trio Screaming Females, hip-hop soaked garage rocker Obnox, English electronic duo My Nu Leng, Oakland-based sludge rockers Kowloon Walled City, reunited riff machines Barn Burner, indie-rock up-and-comer Stef Chura and emotional alternative project Black Belt Eagle Scout, the final pick from our guest curator Julien Baker. On top of that, we are joined by Anishinaabe singer-songwriter Ansley Simpson, last year's Indigenous Music Award winner for Best New Artist, gloomy alt-pop group Little Destroyer and Vancouver post-punks NOV3L. These acts join already announced artists such as guest curator Julien Baker, Japanese Breakfast, Rapsody, JPEGMAFIA, Le1f, Hop Along, Bully, Oblivians, Man Or Astro-Man?, Cate Le Bon, Cass McCombs, Jessica Pratt, The Messthetics, Fly Pan Am, William Basinski, Kid Congo Powers + the Pink Monkey Birds and many, many more.
Today's announcement also includes accomplished avant-garde composer Jonathan Kawchuk, doom-infused post-punkers Bonnie Doon, Edmonton grunge trio Dead Fibres, Mint Records staple dumb, playful pop-punks Necking, psych-meets-post-punk outfit Peeling, experimental electronic hip-hop duo PLAINS (featuring Trent Reznor/Saul Williams collaborator Thavius Beck), Toronto folk-pop project Quaker Parents, the vintage sounds of power-pop four-piece The Sick Things and emerging indigenous electronic producer Ziibiwan.
As always, we love to showcase local talent and have plenty of Calgary artists joining the 2019 lineup, including art-rock septet 36?, country crooner Amy Nelson, electro-pop duo Beach Season, the snarly punk of Hairnet, trap whiz Jae Sterling, experimental flautist Jiajia Li, indie-pop idols Lab Coast, precocious punks Slut Prophet, pastel-bathed bedroom-pop act soft cure and the riff-laden intensity of beloved metalheads Woodhawk.
To see the complete lineup including comedy, film and art, visit SledIsland.com. The Sled Island 2019 schedule will be announced in the coming weeks, along with special events and conference programming.
Sled Island passes grant access to all Sled Island 2019 shows (subject to capacity) and are currently available at SledIsland.com, Sloth Records (736B 17th Ave. SW) and Lukes Drug Mart (112 4th St. NE).
A limited number of single tickets to select newly-announced Sled Island 2019 shows will go on sale this Friday, May 10 at 12:00pm MDT online and at these same outlets.
If you're travelling to Sled Island this year, we encourage you to check out our travel and accomodation deals for 2019!
Once again, a huge shoutout to Josh Holinaty for the incredible poster art!
Permalink