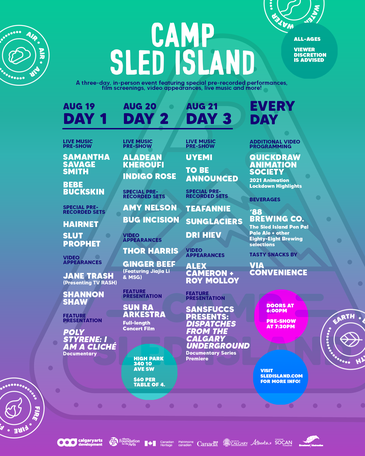 Camp Sled Island is a three-day event taking place at Beltline's High Park (340 10 Ave SW), running August 19 - 21! Throughout the year, we've been collecting video content from local and international artists, and now we are very excited to finally share them on the big screen. With three unique nights of programming, you can expect pre-recorded performances, film screenings, special guest video appearances, snacks from Via Convenience, beer service courtesy of Eighty-Eight Brewing, and even live music (if restrictions allow). Tickets go on sale July 23, 2021 at noon MDT. Visit our ticket page for more information.
For this year's event, we've commissioned some of our favourite Calgary artists to film very special one-of-a-kind performances, each with a unique concept and location, and it's all exclusive to Sled Island! Think recorded performances aren't that exciting? We might just be able to change your mind. Come see what kind of magic happens when industrial noise punks DRI HIEV, feminist post-punks Slut Prophet, hip-hop connoisseur TeaFannie, indie psych mainstays Sunglaciers, experimental improv collective Bug Incision, old-timey country singer-songwriter Amy Nelson and funky punk four-piece Hairnet are given the resources to execute their vision. Not only that, but these video performances are the first of an ongoing effort from Sled Island to properly document Calgary's incredible, often under-heard music community, so you can expect a lot more to come.

Read More >>
Permalink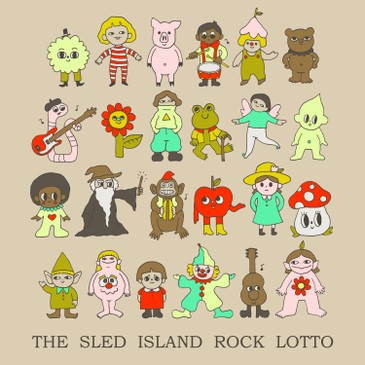 The wild and unpredictable Sled Island Rock Lotto makes its triumphant return this August with one heck of a twist: the release of a nine-song album of original songs recorded by newly formed, one-off Canadian supergroups!

Like the annual tradition it's based on, these bands were formed by drawing the names of the 45 participating musicians from across Canada at random, but this time they were tasked with writing and recording a brand-new song solely by sending ideas and tracks to each other from afar. All these brave and fearless bands will have released a song together before ever meeting each other in person!

What will Edmonton indie soul meets Saskatoon and Nanaimo psych rock meets Calgary hard rock and hip-hop sound like? Your guess is as good as ours, but we can't wait to hear it, and have faith that it'll be an absolute mind-melter. The full album will be released on August 6, but keep an eye on our social channels as we'll be announcing each band and its members over the coming weeks!

Pre-order your digital copy today!
Amazing cover art by Olivia Forsyth.

Permalink