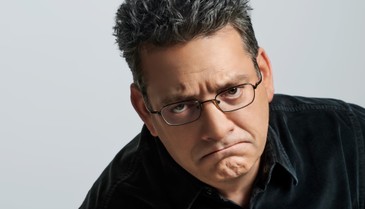 Get ready to laugh this summer, because the Sled Island 2019 Comedy lineup is here!
We don't often throw the word legend around, so in the case of our comedy headliner, let's just say that we are thrilled that Sled Island is becoming part of the Andy Kindler Saga. That's right, for one night only, Calgary will be treated to the highs and lows of the Andy Kindler Particular Show. This show, and its cousin, the Andy Kindler Alternative Show, has been celebrated, feted, lauded, and even raved about among the comediarati in cities like Los Angeles (at Dynasty Typewriter, which is very au courant), Montreal (for Just For Laughs, perhaps you've sampled their Gags?), Vancouver (for Just for Laughs Northwest, perhaps you've sampled their Gags Northwest?), Austin (for the Moontower Festival), and Toronto (for Just For Laughs 42, perhaps you've sampled A THIRD THING??). With appearances on countless television shows (including The Late Show with David Letterman, Maron, and Bob's Burgers) and his all-star stand-up track record, Andy Kindler's appearance at Sled Island is sure one for the books.
Joining Andy on his show and participating in the Sled Island Comedy Showcase are Schitt's Creek featured guest Adam Christie, Just For Laughs Northwest and Bumbershoot comedy alum Katie-Ellen Humphries, multi-hyphenate Sean Devlin and Calgary comedy catalyst Amy Edgar, plus several more to come!
Read More >>
Permalink