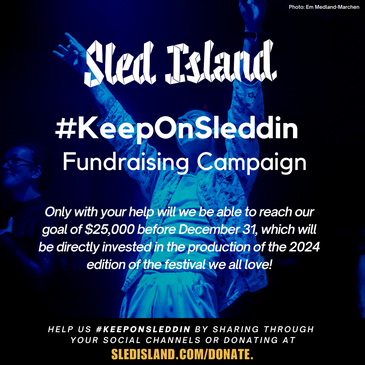 This holiday season, we are asking for your help to get us to our $25,000 fundraising goal, which will be directly invested in the production of our 2024 festival. The Government of Alberta will match 30% of funds raised (up to a max of $15,000) for eligible campaigns that raise a minimum of $5,000. A tax receipt will be issued in exchange of donations of $10 or more!
To donate, visit SledIsland.com/Donate.
If you have attended Sled Island in the past, you know that it is a one-of-a-kind music festival full of new experiences, friendships and connections. Sled Island is dear to attendees, local artists, small businesses and hundreds of community partners who come together each June to celebrate our independent music and arts scene, while also welcoming exciting talents from far and wide.
Beyond our annual festival, we work hard year-round to nurture the local music scene, advocate for our sector, give opportunities to local musicians and offer you more unique shows, all while operating with a small permanent staff of four people.
Putting on a festival like Sled Island in Calgary is expensive. The current high inflation rate, coupled with the increasing price of flights and a weak Canadian dollar are putting unprecedented stress on our budget. We are committed to our event remaining financially accessible but for that, we need your help.
Thank you for your generous support!
Permalink