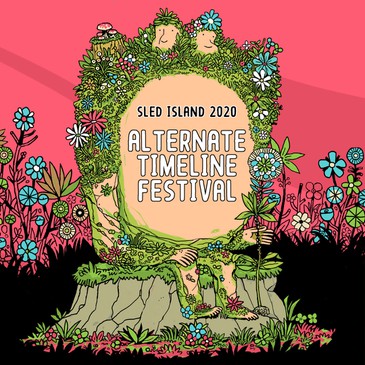 While Sled Island 2020 will not be happening this coming June the way we had all imagined it -- as one hell of a communal release of pent up energy through magical music and art in the bars, venues, theatres, churches and Legions across this city that so desperately needs an injection of liveliness right now -- we still have plans to carry on the spirit of the festival in the coming months. In the end, Sled Island isn't just about five days of music and art that happens in this city. It's also about the discovery of the music and art that we carry with us, cherish and look to for inspiration in the face of the best and most difficult times of our lives.
Enter the Sled Island 2020 Alternate Timeline Festival. Below you will find a list of all of the artists that, before the realities of the COVID-19 pandemic forced our cancellation, were contracted or invited through our submission process to play the festival. While this list does not represent a complete picture of the festival that would have taken place, as we were still working diligently on bringing in bands from across the globe to headline stages of all sizes, it does represent a snapshot of our plans at the time. We hope that you can not only find a soundtrack to your time in isolation, but a soundtrack to your 2020 and beyond. The Sled Island 2020 Alternate Timeline Festival features 270 artists that hold the potential to become your new favourite band, or remind you why you fell in love with them in the first place. If you have the means, we humbly ask you to support those artists that catch your attention with a follow on social media, a purchase of an album or a t-shirt, or spreading with the other music lovers in your life.
This post will be updated throughout the spring and summer to become not just a list of the bands that were slated to play Calgary this June, but also a record of the staggering amount of new releases, new music videos, livestreams and fundraising initiatives these artists undertook during these unprecedented times. In the end, while a pandemic can put a temporary stop to live music, it can't stop the passion and drive of musicians.
Stay safe, stay home, stay hopeful, friends!
The Sled Island Team
Read More >>
Permalink