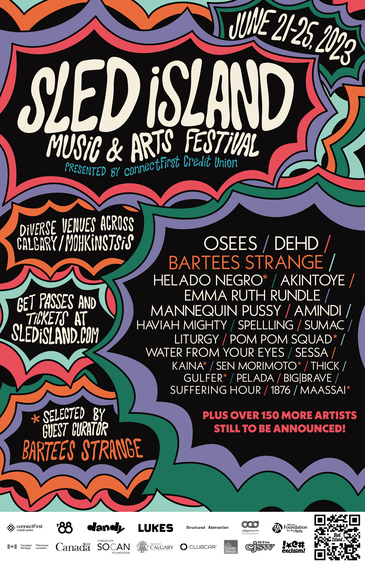 The first wave of Sled Island 2023 artists is here!
Joining Sled Island's previously announced 2023 guest curator, Bartees Strange, are garage rock chameleons Osees, Chicago-based indie rock three-piece DEHD, Latin folk innovator Helado Negro (selected by Bartees Strange), Toronto's viral hip-hop sensation Akintoye, gothic folk artist Emma Ruth Rundle (playing a solo piano set at Central United Church), Philadelphia-based punk rock revolutionaries Mannequin Pussy, alternative R&B/hip-hop artist Amindi, Toronto-based rapper and 2019 Polaris Music Prize winner Haviah Mighty, and indie pop musician SPELLLING.
Also included in the first wave lineup is post-metal supergroup SUMAC, progressive black metal outfit Liturgy, experimental electro-pop duo Water From Your Eyes, bossa nova-infused psych-folk artist Sessa (formerly of Yonatan Gat), Brooklyn-based garage rock trio THICK, Montreal electronic punk duo Pelada, ambient metal trio BIG|BRAVE, genre-bending death metal three-piece Suffering Hour, and self-proclaimed "pow wow punk rockers" 1876.
Read More >>
Permalink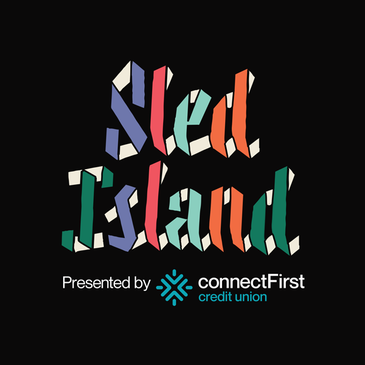 We're very excited to announce that connectFirst Credit Union has rejoined Sled Island as our official presenting sponsor!
Since 1938, connectFirst has been dedicated to strengthening their communities and finding ways to help Albertans build a brighter future, and for this reason we are very excited to have them back on the Sled team. Thanks to them, we are once again able to increase local artist fees this year, bringing us closer to our goal of improving equity and compensation for all artists!
After lots of exciting activations at Sled Island 2022 (remember that epic pizza ATM at the Legion?), we can't wait to see what their team has in store for us next, and we're thrilled to have them back!
Learn more about connectFirst at connectfirstcu.com.
Permalink