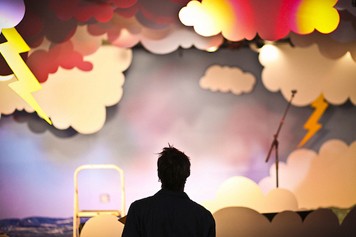 Sled Island is currently accepting art exhibition, performance, installation and special project proposals for the 2014 edition of the festival.
While this is a unique opportunity for emerging artists, curators and performers of all media to engage with a context that embraces the spirit and relationship between the visual arts and music in Calgary, proposals do not need to contain a direct link to music to be considered. Simply, we're looking for art, design and curatorial proposals that will contribute unique, intriguing, enhanced or additional experiences for festival-goers to encounter at Sled Island. There are no limitations to the type of projects or media that can be proposed - simply, we want to be excited! Follow the link for more details.
Permalink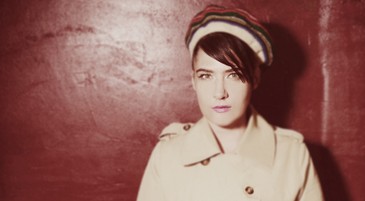 Nobody rains on our parade! Thanks to the overwhelming support of our community, including attendees, artists and our numerous partners, The Sled Island Music and Arts Festival returns following the devastating Alberta floods that caused the cancellation of the 2013 edition of the festival just two days into its four day program. Facing losses of up to $200,000, nearly 70% of Sled Island pass holders chose to forgo or re-invest their pass purchase to ensure the festival's long term viability. Sled Island will be back in 2014, bigger and better than ever!

Today we're thrilled to announce the 2014 guest curator, Kathleen Hanna (The Julie Ruin, Le Tigre, Bikini Kill), celebrated musician, feminist activist and zine writer. Each year, the guest curator helps to set the direction and tone of the festival through specialized programming choices and with their presence at the festival. Past curators have included: John Dwyer (Thee Oh Sees), Tim Hecker, Andrew W.K., Colin Newman (Wire), Fucked Up, Scott Kannberg (Pavement) and more. As long-time admirers of Hanna's work across artistic media, the festival couldn't be more excited to see the shape the festival takes with her thoughtful input.

Festival Passes are on sale now at limited-time price of...
$179 Discovery Pass - access to all Sled Island events (250+ bands, art, film, comedy), subject to capacity.
$299 Discovery Plus Pass - all the benefits of the Discovery Pass as well as priority access to all Sled Island events (skip to the front of lines!), Artist Lounge privileges, a Sled Island delegate bag and more!
All-Ages Passes are also on sale for $50, granting you access to all-ages venues including Olympic Plaza, Tubby Dog and many more.
Sled Island is proud as well to announce a new Festival Presenting Sponsor and beer partner, Big Rock Brewery. The Calgary-based brewery's enthusiasm for both the festival and larger music & arts community in the city is infectious and will help to ensure that festival-goers' thirst is quenched and show-going experience as fun as ever!
Permalink