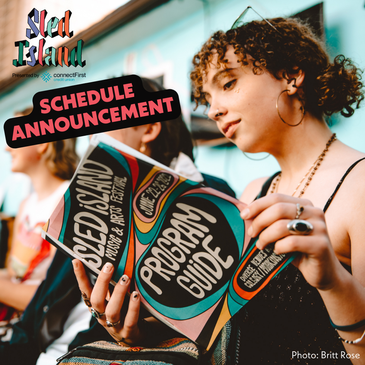 The wait is finally over! The full Sled Island 2023 schedule is here, including all the details for film, art, special events, conference programming and the return of the Ramsay Block Party! Check it all out on our online schedule, which features new improvements and once again includes the ability to build your own personalized schedule!
Sled Island's Ramsay Block Party is back! Just like last year, the free, family-friendly extravaganza will take place in Ramsay at the Lilydale Parking Lot, running from 12-9pm on Saturday, June 24! The all-day party will feature live music from Cola, Pom Pom Squad, and many more! PLUS free skateboarding from The Compound, food trucks from The Curryer, and Arepas Ranch, an art battle at nvrlnd. Arts Foundation, beer from Eighty-Eight and Dandy, cocktails from Tumbler and Rocks, ice cream from Lukes Drug Mart, Dance Dance Revolution courtesy of CBC Calgary, and face-painting, bubbles and tasty treats from our presenting sponsor connectFirst Credit Union!
Some of this year's art programming can also be found at the location of our Ramsay Block Party, including the AUArts Students' Association Exhibit, featuring work by emerging artists from the Alberta University of Arts at nvrlnd. boutique. Also, be sure to check out our annual Sled Island Poster Show, running June 20-25 at I Love You Coffee Shop.

Sled Island Film is back with the Canadian premiere of Even Hell Has its Heroes, the story of the slowest metal band on the planet, Earth, kicking off the festival on Tuesday night at the Globe Cinema! As a bonus, the documentary will be preceded by four short films shot and composed by local filmmakers with disabilities at the National accessArt Centre.
Read More >>
Permalink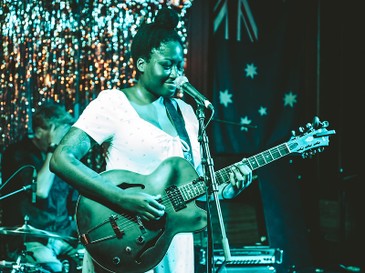 Since 2007, Sled Island's thoughtful, eclectic programming and independent spirit has produced a one-of-a-kind festival experience. As presenting sponsor of Sled Island, connectFirst is proud to help bring five-days' worth of music and arts to the community. We're also thrilled that our contribution goes towards supporting equitable compensation for emerging artists through the Artist Equity Program. We recently sat down with Maud Salvi, Executive Director of Sled Island, to get her thoughts on the Artist Equity Program and how financial institutions can do more to support working artists.
According to Maud, the Artist Equity Program, at its core, is an acknowledgement that emerging artists need to be paid more – it's as simple as that.
The great thing about festivals like Sled Island, that are multi-venue and multi-day, is that they draw some big-name artists who also play alongside early-career artists, giving festivalgoers an excellent variety of experiences. There's a misconception, however, that these emerging artists should just be thankful to have people hear their music and see them perform – that the benefit of the exposure alone should be enough compensation.
Read More >>
Permalink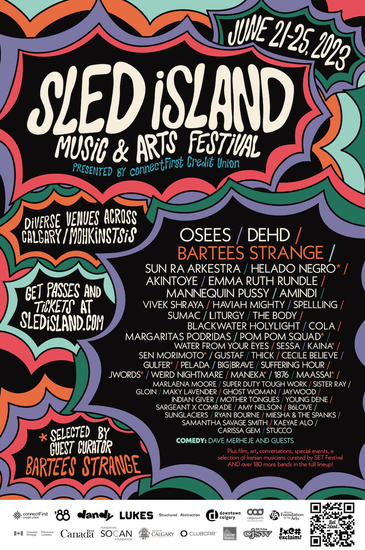 Our full lineup is finally here, with over 200 artists set to perform at this year's festival!
Newly announced headliners include indie pop musician, visual artist and trans activist Vivek Shraya, experimental metal duo The Body, Portland-based heavy psych five-piece Blackwater Holylight, Montreal post-punk trio Cola (featuring past members of Ought), Mexican grunge-meets-shoegaze outfit Margaritas Podridas, Brooklyn-based art punks Gustaf, acclaimed electro-pop star and SOPHIE collaborator Cecile Believe (formerly known as Mozart's Sister), Philadelphia-based electronic beatmaker and Bartees Strange selection JWords, poppy alt-rock group Weird Nightmare (the new side project from Metz frontman Alex Edkins), and Maneka, the genre-agnostic alternative act featuring former Speedy Ortiz guitarist Devin McKnight (also selected by Bartees Strange). These acts join already announced artists such as Osees, DEHD, Bartees Strange, Sun Ra Arkestra, Helado Negro, Akintoye, Emma Ruth Rundle, Mannequin Pussy, Amindi, Haviah Mighty, SPELLLING, and many more!
Read More >>
Permalink