Special Event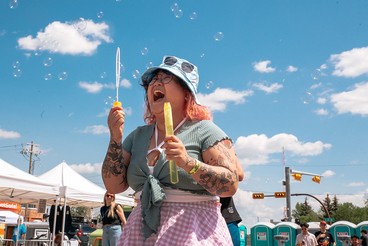 Sled Island's Ramsay Block Party
Sled Island's Ramsay Block Party is a family-friendly, all-day extravaganza that you don't want to miss! Just like last year, the event will take place in Ramsay at the Lilydale Parking Lot (2126 Hurst Rd SE), and will feature live music, art, skateboarding, beer, cocktails, food trucks, and much more!

Lineup
12:00pm - Hardcore Makeout
1:00pm - Lushings
2:00pm - PACKS
3:00pm - Bodywash
4:00pm - Booter
5:00pm - Fold Paper
6:00pm - Ghost Woman
7:00pm - Partner
8:00pm - Cola

Art
Swing by nvrlnd. boutique (1048 21 Ave SE) for the AUArts Students' Association Exhibit, featuring work by emerging artists from the Alberta University of the Arts. On top of that, nvrlnd. arts foundation will be be hosting an art battle in their parking lot!
Beer, Cocktails and Food
Our good friends at Eighty-Eight and Dandy Brewing will be on hand with beer and other tasty beverages to help keep you hydrated, including a few brand new Sled Island collaborations! Not only that, but our pals at Tumbler & Rocks will be pouring refreshing margaritas, old-fashioneds and shafts. We'll also have food trucks courtesy of The Curryer and Arepas Ranch, and Lukes Drug Mart will be serving their delicious soft-serve ice cream!
Skateboarding
The Compound Mobile Skatepark will be on-site all day, free and open to all! Bring your board, (and your safety gear), and shred the day away. On top of that, Arc'teryx will be hosting an 18+ skateboarding competition, with prizes up for grabs!
Other Activities
Our presenting sponsor connectFirst Credit Union has your back for family friendly fun including sidewalk chalk, bubbles and treats! Also, our partners at CBC Calgary will be there with Dance Dance Revolution, and Tumbler & Rocks will be hosting a sandcastle competition that you won't want to miss!
All-Ages
As always, Sled Island's outdoor Saturday party is an all-ages, family friendly event, and it's going down rain or shine. Let's party!

(Photo: Em Medland-Marchen)