Visual Art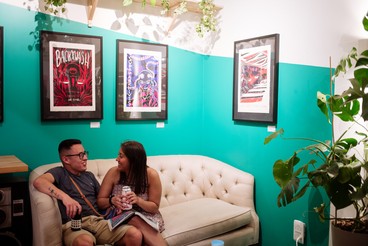 Sled Island Poster Show
Our annual Poster Show returns! A vital part of Sled Island since its inaugural year, the Sled Island Poster Show pairs local artists with musicians playing the festival to create limited-edition, hand silk-screened posters by Burnt Toast Studios. Artists include Osees, Bartees Strange, Blackwater Holylight, Cola, Emma Ruth Rundle, Haviah Mighty, Helado Negro, Liturgy, Mannequin Pussy, THICK, SPELLLING and Sun Ra Arkestra! Posters will be on display and for purchase.
Poster illustrators include Paityn Savoie, Mantis Meow Meow, Kevin Stebner, Mitch Malyk, Jiji Buck, Janeen Scott, josh ruck, Sikapinakii Low Horn, Nicole Haywood, Tyler Rambie, Katie Armour, and Chey Suwatagâ-Mû.

Curated by josh ruck.
(Photo: Elyse Bouvier)