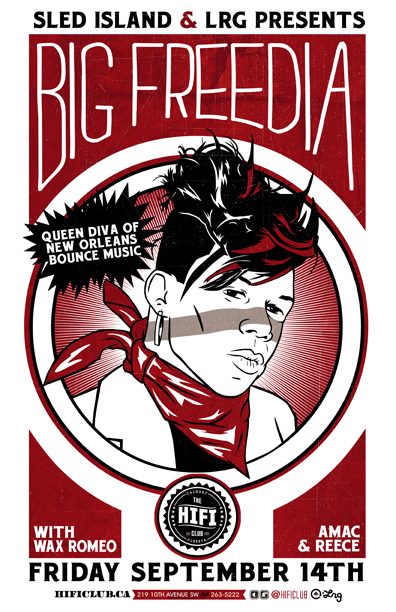 Sled Island and LRG are thrilled to co-present the return of Big Freedia, the undisputed "Queen Diva" of Bounce Music, on Friday, September 14 at the HiFi Club. Hailing from New Orleans, Big Freedia's last performance at the No. 1 Legion in Calgary was a memorable one. Hand-picked by curators Quintron and Miss Pussycat for Sled Island 2010, Big Freedia brought the energy of Bounce Music to a euphoric, ass-shaking, glitter-covered crowd.
Bounce Music is an original urban music rising up from the challenging yet fun-loving nature of the New Orleans housing projects which dominate the city's street culture and Freedia performs a derivative of Bounce reserved for self-proclaimed "Sissies" (a locally used name for biological men with varied and ambiguous sexual identities) that has risen to prominence in recent years and features explicitly gay and cross-dressing musicians and themes. Big Freedia, like other "Sissy" artists, has achieved mainstream success with several New Orleans hit singles such as "Gin in My System" and "Azz Everywhere!" from her albums "An Ha, Oh Yeah" (1999) and "Queen Diva" (2003). Freedia began her musical career almost 15 years ago at the Walter L. Cohen High School in New Orleans, where she was enlisted as choir director from her Sophomore to Senior years. She sees her performance as a Bounce artist as an extension of this work, often interacting in a call and response/ teacher and student fashion with her audiences.
Tickets are on sale for $15 and can be purchased online or in-store at The Gallery, Grassroots and Sloth Records.
Permalink
It's that time of year again. Summer's coming to an end and real life starts to sink back in. For many of us this means going back to school or returning to our regular work hours, but for those lucky enough to be in Montreal from September 19-23 it will also mean another round of Pop Montreal, the five-day international music festival.

Heading into its 11th edition, Pop Montreal presents a wide-range of emerging and established artists in a variety of venues ranging from intimate to expansive. Does that ring a bell? Well it should, Sled Island was actually inspired by Pop Montreal in a big way. Each year, a couple of us make the trip to enjoy a great deal of amazing bands, sit in on thoughtful discussions and find time to catch up with old friends and make new ones too. This year's festival slogan is "… Pour Un Avenir Le Fun!" which roughly translates into "For a Future of Fun" is a take on the recent political turmoil in Quebec and a belief in the future of fun through music, art, discussion and so much more!
The 2012 lineup is stacked with over 400 artists including a handful of Sled Island alumni bands. Here's a list of acts we're particularly looking forward to seeing at this year's Pop Montreal.

Deerhoof / Wed Sep 19th, 11:30pm / Cabaret du Mile-End - Salle Ubisoft
Sheer Agony / Wed Sep 19th, 11:30pm / Brasserie Beaubien
DAM-FUNK / Wed Sep 19, 12:00am / Mission Santa Cruz - Salle Converse
Dirty Three / Thu Sep 20th, 9:30pm / Ukrainian Federation
FIVER / Thu Sep 20th, 11:30pm / Brasserie Beaubien
Hot Snakes / Thu Sep. 20th, 12:00am / Mission Santa Cruz - Salle Converse
Cousins / Fri Sep 21st, 7pm / Citizen Vintage
Old & Weird / Fri Sep 21st, 8:50pm / Cagibi
Yamantaka//Sonic Titan: Opera 33 / Fri Sep 21st, 10:00pm / Théâtre Rialto
Lil B / Fri Sep 21st, 11:00pm / Club Soda
Change of Heart / Sat Sep 22nd, 12:00am / Il Motore
Each Other / Sat 22nd, 12:15am / Casa del Popolo
Jimmie "Bo" Horne / Sun 23rd, 2:00am / Église POP Little Burgundy - Salle Little Burgundy
lucky dragons / Sun Sep 23rd, 5:00pm / PHI Centre
Purity Ring / Sun Sep 23rd, 10:00pm / La Tulipe
Follow us during the festival for updates on twitter and instagram. If you happen to be in Montreal during Pop come to the Sled Island presents show at Il Motore on Saturday Sep 22 for the return of Can-rock legends Change of Hearts plus others. Advance tickets and passes are on sale now at popmontreal.com
Permalink