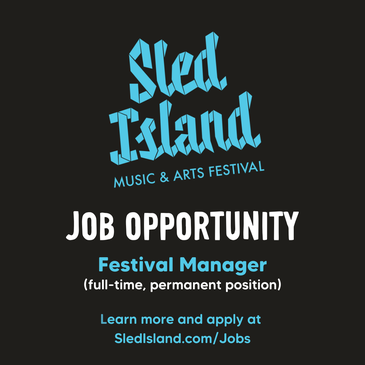 JOB OPPORTUNITY: FESTIVAL MANAGER
Who We Are
Sled Island is a charitable organization with the mandate of fostering understanding and appreciation of music & arts underrepresented in mainstream media, and to nurture the local artistic community through performance and educational opportunities. Our main activity is the presentation of the annual Sled Island Music & Arts Festival, a pillar of Calgary's cultural calendar taking place each June, that brings together thousands of artists, volunteers, partners, and attendees from across the country and beyond. We also present year-round artistic and educational programming through numerous community partnerships, aimed at increasing awareness of Sled Island on an ongoing basis.
Sled Island is a community-centric organization driven by values of curiosity and diversity, on and off the stage, and committed to principles of equity, anti-racism, and anti-oppression. We recognize the systemic lack of representation of equity-deserving communities in the current non-profit art space, and strongly encourage members of Indigenous, Black, and racialized communities; people with disabilities; people identifying as LGBTQIA2S+; and women to apply.
Would you require any accommodation during the application or hiring process, please contact us at hr@sledisland.com so we may meet your needs.
Read More >>
Permalink