We've been asking members of the Sled Island community to tell us what the festival means to them. Check them out below, and please consider donating! We are grateful for contributions of all sizes and all donations will contribute to Sled Island's operating and programming costs. To donate, visit our Donate page.
Read More >>
Permalink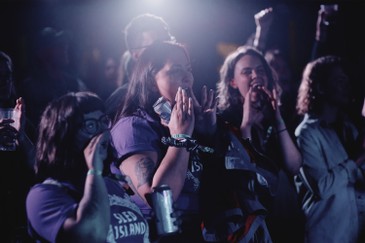 2019 has been another incredible year for Sled Island, marked by a mind-melting 13th festival and the launch of a seasonal concert series in partnership with the National Music Centre.

We proudly presented 253 musical acts, including 132 from Alberta and 87 from Calgary, alongside 61 local visual artists and comedians, in 30 venues across Calgary's inner city. We hosted 163 events, including 83 all-ages and 55 free events, and partnered with 172 businesses and organizations in and outside of the art sector.

None of this work would have been possible without the support of our community and we are deeply grateful to anyone who attended, participated or helped us out in any way.

Since we can't wait to do it all over again, today we're kicking off a month-long fundraising campaign with the ambitious goal of raising $25,000 to go towards Sled Island's 2020 programming.

While our passion for music discovery remains unwavering, we are facing growing financial obstacles to continue bringing you high-quality programming that is affordable and accessible. Between public funding cuts, decreased sponsorship investment and a very high American dollar, the gap to balance our budget is becoming larger and larger.

If you think our work is meaningful and brings value to Calgary's community, please consider making a monthly or one-time donation to help ensure Sled Island will be here for years to come.

ATB is currently matching 15% of donations to charities, so your donation dollars can stretch even further! Please use the button below to make a donation, or visit SledIsland.com/Donate to learn more about our organization and alternative ways to give.

Thank you for your generous support!

(Photo: Jarrett Edmund)

Permalink