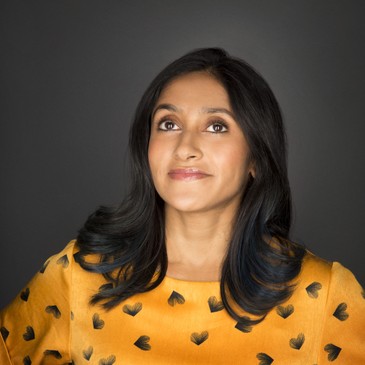 Get your reading glasses, grab a drink and settle in for four or five paragraphs of excitement and hilarity—it's time again for one of our favourite announcements of the year! You may think we're kidding, but trust us, the really great jokes start this June. Until then, read these and just imagine!
Sled Island 2017 comedy headliners include the Tig Notaro-approved Aparna Nancherla (pictured), absurdist substitute teacher Brent Weinbach, and the Johnny Appleseed of Calgarians who grew up to write for Conan O'Brien, Levi MacDougall.
Don't stop reading, though—we've got so much more comedy to very quickly describe for you! Our lineup is so jam-packed, you'd think it was sponsored by Smuckers. (Don't you dare tell us they make jelly.) Also on this year's lineup is the pathetic Marty Topps, the raunchy, pop culture-obsessed and fashion-hungry Tranna Wintour, as well as host of the Unofficial Oprah Winfrey Comedy Show Nour Hadidi. All this, plus we shine a spotlight on local vaudevillian Bobby Warrener and one more special Albertan yet to be announced!
Read More >>
Permalink