MUSIC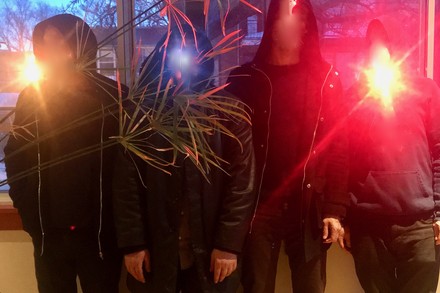 Fly Pan Am
(2019)
Montreal, QC
Constellation Records veterans Fly Pan Am will perform at Sled Island shortly before the 20th anniversary of their self-titled debut album. The experimental group — comprised of Félix Morel, Jonathan Parant, Roger Tellier-Craig and Jean-Sébastien Truchy — recently played its first show in 14 years, breaking an extended hiatus that was made public in 2006.
It's unsurprisingly their first performance at Sled Island, but that's not to say the individual members will be unfamiliar to the festival's audience. Tellier-Craig has appeared as half of Le Révélateur while Truchy and Gingras are members of Avec le Soleil Sortant de sa Bouche. As well, fans of 2015 guest curators Godspeed You! Black Emperor will likely know that Tellier-Craig acted as guitarist for that band until 2003.
But 14 years is a long time. What are we to expect from these regrouped sonic nomads?
The scorched kraut held over a tightwire of their debut? Perhaps the sophomore album Ceux Qui Inventent N'ont Jamais Vecu (?)'s electronically damaged grooves? The tape collages interspersed with rave-ups from final album N'ecoutez Pas?
In truth, there is no safe expectation — speaking to Cult MTL ahead of their reunion show, members of the group said not one note of old material had been played during the seedling stage of its latest chapter. So discard expectation, embrace trust, and permit yourself an unbiased curiosity. It's what their fans have been doing for over 20 years.