MUSIC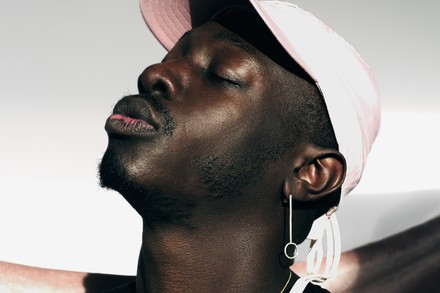 Le1f
(2019)
Brooklyn, NY
Le1f properly arrived when his instantly iconic banger "Wut" made a strong case for song of the summer in 2012. In its visual, he alternates from rapping on the lap of an oiled-up hunk wearing a Pikachu mask to dancing in front of a sculpture from the year 3019. If his talent wasn't so instantly apparent, the world may not have known what to do with him.
But the rapper born Khalif Diouf had been building up the experimental New York club scene where his peers included Mykki Blanco, Arca and, for better or worse, Azealia Banks. Unbeknownst to the world, he had been priming us for what was about to come -- his debut mixtape Dark York.
Fast forward past a Letterman performance with Devonte Hynes and we arrive at 2015's debut album Riot Boi on XL and Terrible Records. Here Le1f levelled up severely into one of the most transgressive and enrapturing artists of electronic music's present, produced with fellow innovators like Sophie, Junglepussy and Lunice. The record flits between buoyant joy, lament and unfiltered rage at a pace that dares the listener to blink and miss a single moment.
Skip ahead once more and Le1f's last release is a six-song EP that draws from trap and bounce music, peeking in on an artist once again on his way to a big reveal. Critical acclaim and broken boundaries are behind him and it's once again time to wonder what's next.