MUSIC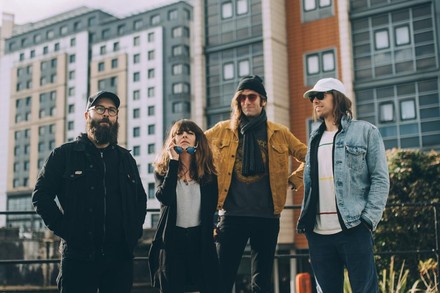 Hop Along
(2019)
Philadelphia, PA
It's no surprise that in 2015, Vulture named Hop Along's Frances Quinlan "the best voice in rock music," but it's the sum of the band's parts that make them such a special act. Alongside her brother and drummer Mark Quinlan, bassist Tyler Long, and guitarist Joe Reinhart, Quinlan has rapidly solidified her place as a must-see frontwoman leading a must-see band.
Following the highly underrated Get Disowned and three years of relative obscurity, 2015's Painted Shut put Hop Along on everyone's radar and year-end lists. Existing at the center of Philadelphia's musical renaissance and the broader emo revival, it was as if the band was at the epicenter of a cultural moment. With 2018's Bark Your Head Off, Dog, the band has proven just how alone they are atop the mountain of modern indie rock.
Bark Your Head Off softens the band's punk influences, but sharpens just about everything else. The folk influence hinted at in their earlier work peeks through only to be suffused by electronic flourish. Still, Hop Along remains a rock band even if it's the quiet moments that often have the most impact.
Of course, Hop Along will always be a vessel for Frances Quinlan's aforementioned voice, but it's her lyrics that often linger in your mind long after her thunderous wail has long since dissipated. Quinlan has the rare ability to write lyrics like a screenwriter. Her poetry is clever and cutting, with characters that focus on everyday minutiae in a way that gives meaning to the meaningless.
Still, even with their immaculate albums, the main draw of Hop Along's work is seeing it performed live. With a near peerless run to pull from and a tireless work ethic that has made them one of the tightest live bands in America, Hop Along is not to be missed.