MUSIC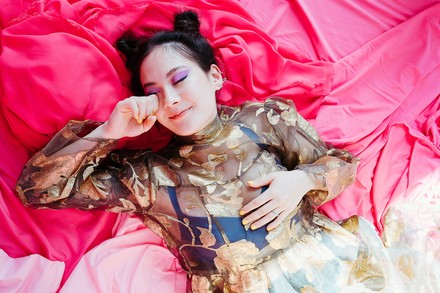 Japanese Breakfast
(2019)
Philadelphia, PA
As Japanese Breakfast, Michelle Zauner has spent the last six years perfecting a singular brand of shimmering, lo-fi pop and taking what was once a home-recording project to some of the biggest festival stages around the world.
Before Japanese Breakfast, the Korean-American from Eugene, Oregon cut her teeth fronting the underrated, Philadelphia-based emo band Little Big League. LBL released two albums in the early 2010s before a break from the band would inspire Zauner to do a month-long, song-a-day writing challenge. The resulting cassette, 2013's June would lay the foundation for two more self-released tapes before making the jump to Yellow K Records for 2016's Psychopomp.
If June is an artifact of an artist on the verge of something special, her 2017 sophomore album Soft Sounds from Another Planet is the fulfillment of that promise. Zauner has traded the hermetic sound of bedroom-produced cassettes for a sound more akin to the cosmos unfurling. Gossamer synths and sparkling guitars open into a genre-free expanse that manages to pull elements of krautrock, shoegaze, and Pacific Northwest indie pop into one concise package. This exploratory sound remains tethered to reality by Zauner's unvarnished lyricism, as she tackles everything from the Asian-American experience to introspective looks at road head and body dysmorphia.
Still, anyone familiar with Japanese Breakfast knows it would be futile to discuss Zauner's work without touching on her keen aesthetic sense that has made Japanese Breakfast just as much of a force visually as it is sonically. Two years removed from Soft Sounds and a newfound foray into directing, it's clear that she is poised for a breakthrough. Increasingly, it seems that seeing Japanese Breakfast at 2019's Sled Island may be your last chance to see Zauner before she's filling arenas.