MUSIC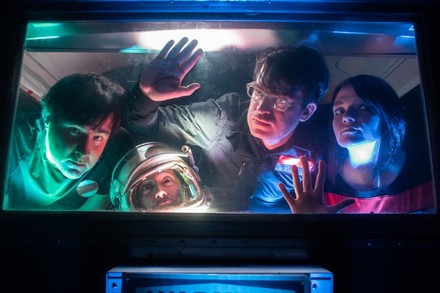 Man or Astro-Man?
(2019)
Auburn, AL
On paper, long-time festival bucket list band Man Or Astro-Man? shouldn't really work. If you were to look for other examples of surf-sci-fi, for example, you might have the misfortune of stumbling on Joe Satriani's "Surfing With The Alien," itself arguably a self-contained argument against ever mixing the two seemingly disparate universes. Yet...in their hands it just works.
The band's singular and anachronistic dedication to mixing science fiction tropes like theremin-accompanied flying saucers and obscure cult classic drive-in samples with a high energy mix of more decidedly human punk rock, new wave and surf rock sounds has ensured that their music exist not just out of time, but out of this world entirely for over twenty-five years.
In those nearly three decades of music-making, Man Or Astro-Man? have: attempted to get sued by NASA, played to over 40,000 people at Lowlands Festival (but only played Calgary once?), written music for Space Ghost: Coast To Coast, and continued to amass an dedicated fanbase of appropriately full-on music nerds.
With retro-inspired astronaut suits, oddly-shaped instruments, tesla coils, vintage televisions, radios, obsolete printers and a seriously blackened humour in tow, a Man Or Astro-Man? show is a space-age surf experience that's as much Devo and Kraftwerk as it is Dick Dale and Link Wray. Ultimately, what it is is a show that should not be missed.