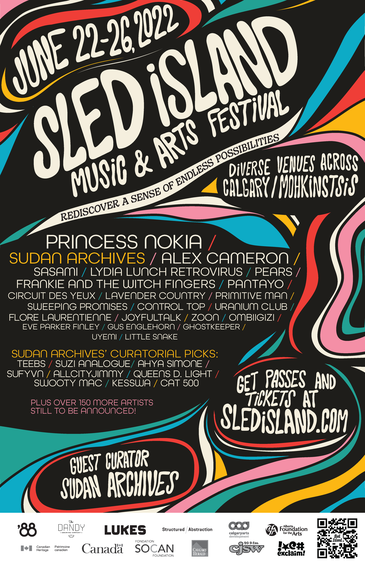 The first wave of Sled Island 2022 artists is here!
The incredible artists joining our previously announced 2022 guest curator Sudan Archives include acclaimed experimental hip-hop revolutionary Princess Nokia, the sultry soft rock croon of Australia's Alex Cameron, genre-bending alternative artist SASAMI (formerly of Cherry Glazerr), the No Wave pioneering, fiercely poetic punk rock of Lydia Lunch RETROVIRUS, hardcore punk quartet PEARS, psychedelic garage rockers Frankie and the Witch Fingers, and Filipina kulintang ensemble Pantayo.
Also included in the first wave lineup are emotional avant-folk artist Circuit des Yeux, pioneering queer-country group Lavender Country, hair-raising doom metal band Primitive Man, high energy lo-fi post-punk outfit Sweeping Promises, the intense and brash post-punk trio Control Top, the catchy art punk of Uranium Club, avant-garde classical composer Flore Laurentienne and the unimitable electronica of JOYFULTALK.
Sled Island is also proud to announce several emerging Canadian artists in the first wave lineup, including Anishinaabe shoegaze project Zoon (who was shortlisted for the 2021 Polaris Prize), Ombiigizi, the new genre-agnostic collaboration featuring members of Zoon and Status/Non-Status, indie pop multi-instrumentalist Eve Parker Finley, Montreal singer-songwriter Gus Englehorn, experimental indie rock outfit Ghostkeeper, alternative R&B artist Uyemi, and Calgary-based electronic producer Little Snake (the youngest member signed to Flying Lotus' Brainfeeder).
Each year, Sled Island's guest curator helps to shape the festival's programming through their own curated selections. 2022 guest curator Sudan Archives has handpicked an incredible collection of talent, including atmospheric beat music extraordinaire Teebs (also signed to Brainfeeder), genre-defying experimental artist Suzi Analogue, transgressive avant-garde harpist/vocalist Ahya Simone, Sudanese electronic mastermind Sufyvn, LA rapper and freestyle connoisseur AllCityJimmy, groundbreaking Oakland emcee Queens D. Light, Cincinnati-based rap artist Swooty Mac, experimental neo-soul singer Kesswa, and the mind-bending electro-pop of Cat 500.
Sled Island's complete 2022 lineup, including additional headliners, over 150 more bands as well as comedy, film, visual art, special events and conference programming will be announced in the coming months. For now, start checking out these newly announced artists through our web player, or visit our Sled Island 2022 Spotify playlist!

Rediscover a sense of endless possibilities at Sled Island Music & Arts Festival 2022. Passes are on sale at SledIsland.com, and Lukes Drug Mart (112 4th St. NE). A friendly reminder that today is the final day to save 15% on select Sled Island passes. Prices jump at midnight tonight! Also, if you're looking to break up your spending, we still offer payment plans! Four-, three-, and two-month plans are still available.
Thank you to our funders at Calgary Arts Development, Alberta Foundation for the Arts, Canadian Heritage and SOCAN.
A huge shout out to Becca Lowe for this year's incredible poster art!
Permalink