MUSIC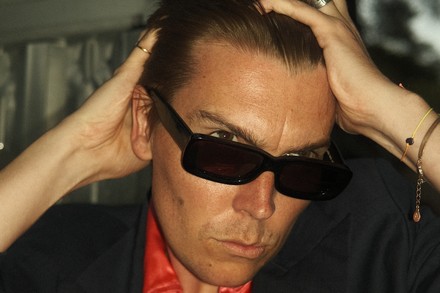 Alex Cameron
(2022)
Sydney, Australia
Alex Cameron's music can make you cringe and choke up in the same moment. A storyteller with a vivid imagination for relatable — if sometimes slimy — characters, Cameron got his start with 2013's Jumping the Shark. The collection of bleak bedroom pop saw him embody the persona of a failed, aging lounge singer to spin yarns that drew from dark real-life experiences.
The resulting attention netted him tours with Angel Olsen, Mac Demarco and Unknown Mortal Orchestra, a gig songwriting for The Killers and a partnership with Secretly Canadian that began with Jumping the Shark's re-release in 2016.
His second album Forced Witness announced Cameron's true arrival with a full band including his saxophonist and business partner Roy Molloy. It expanded his arsenal of characters to include an online creep contemplating the end, a wannabe Marlon Brando and an existentially romantic dude who just got "shat on by an eagle" — that last one is a duet alongside Olsen with a video starring Jemima Kirke, Cameron's collaborator and romantic partner going forward.
Cameron was originally slated, pre-pandemic, to appear at Sled Island in support of his third album Miami Memory, a synth-pop/dive-bar rock opus. The disc melds his ability to conjure blue imagery (analingus is compared to eating oysters) with moving ruminations on familial responsibility, finding true love and the dignity of sex work. A master of building characters with extreme specificity, his work feels true because he goes places that are graphic and eyebrow-raising, not in spite of it.
His latest release, Oxy Music, another rich tapestry of character embodiment, this time largely focusing on a man disillusioned in part due to the opioid crisis. Kirke again directs and stars in a clip for lead single "Best Life," a best-yet visual collaboration between the couple. Sled Island 2022 will be one of audiences' first chances to see these new songs on stage, brought to life by Cameron and his band.