MUSIC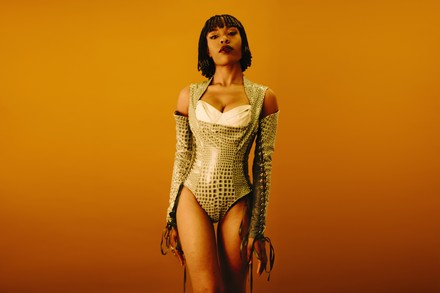 Sudan Archives
(2022)
Los Angeles, CA
Though the word "mythology" connotes a bygone era of dusty legends and pagan zealotry, powerful myths are still being made right now, today. Sudan Archives (mortal name: Brittney Parks) and her visionary debut album Athena are living proof.
Parks is a self-taught violinist and vocalist who belts from the depths of her being, breathes out sound with ragged elegance and on standout track "Icelandic Moss" uses words to make the texture of moss in Iceland an analog for just how little people understand her. Her violin playing, block-rattling low-end and precise command of electronic slipstreams build the world where this makes perfect sense.
In response to her first self-produced two EPs — Sudan Archives (2017) and Sink (2018) — she was labelled a mix of electro-folk and R&B. These words aren't exactly wrong, but they're more effective in describing themes within Sudan Archives than they are at containing her. The electro-folk part is shorthand for the way her music lives across eras of sound, while the R&B influence describes the way her tremendous voice disobeys structural convention to jaw-snatching effect. What Sudan Archives is, quite simply, is a contemporary musician with a clarity of voice rendered with a natural intuition for the sound textures from her life that are the most true.
Originally selected for Sled Island 2020 ahead of its cancellation, she has curated — perhaps unconsciously — pieces of a life spent in church choirs, at fiddle club, digging up her musical ancestry and at electronic-scene fringes into a context wholly new. There's a spritz of Post-era Björk volatility here, a tinge of Stones Throw Records-forebear J Dilla texture there, but Sudan Archives is best summed up by her ability to do what a curator does best: create an entirely new story in the places in between where no one else has explored. It's for this reason that we are most excited to welcome her as the guest curator for Sled Island 2022.