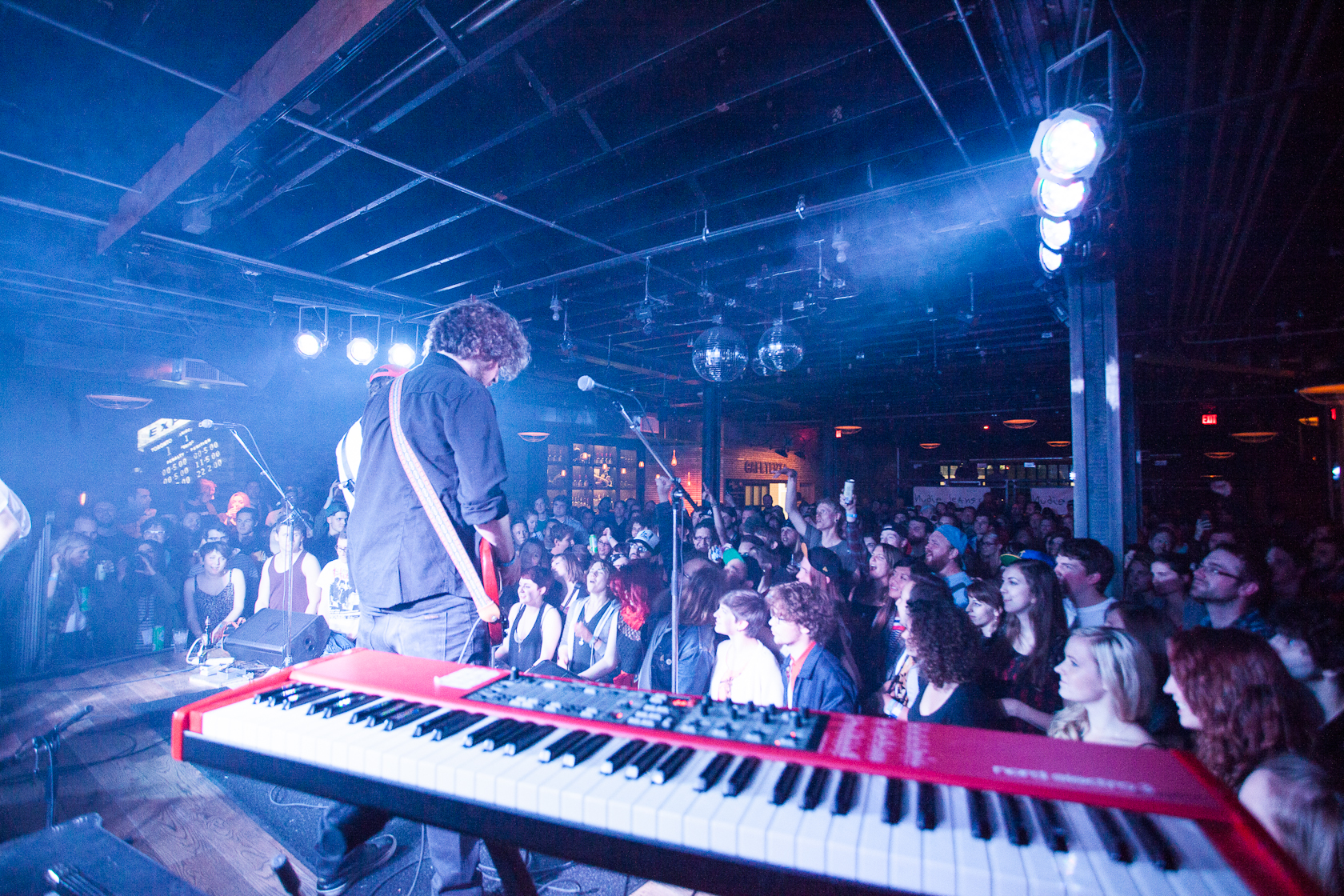 Last night's kick off party was packed and an amazing time had by all thanks to The Dudes, DJ Jonathan Toubin and pals! Special thanks to everyone that came out to get the Sled Island party started on a Tuesday! Over at Sloth Records, C1RCA x Sled Island Poster Show was a huge hit! Watch the recap video from last night to get a sense of the excitement already going on!
Sled Island 2012 is officially underway! We've got so much exciting stuff to look forward to in the next couple days! Start your night with a life-affirming talk by festival curator Andrew W.K. on Partying (6pm) at Goodlife Community Bike Shop. Another special event happening early this evening is Christopher J. J. Reimer (6pm), a collection of photos and ambient recordings from a dearly missed musical stalwart at MOCA. Sled Island Film is wrapping up tonight with an early screening of Bloodied But Unbowed: Uncut (7:10pm) with punk legend Art Bergmann followed by a punk rock show at the Hifi Club. And, tonight mark's the start of Comedy at Sled Island with the apple-juice loving Hannibal Burress, Nick Flanagan, and local comedians supplying the laughs to start the night!
It's still hard to believe, Shadowy Men on a Shadowy Planet are performing tonight at #1 Legion for the first time in 16 years! Don't miss this rare chance to see the influential instrumental band reform with Dallas Good from The Sadies on bass. Speaking of legends, Lou Barlow is taking the stage at Commonwealth for a special acoustic performance. Over at the Ironwood is Joe Perince along with Samantha Savage Smith. Don't miss the haunting Timber Timbre perform at the stunning Theatre Junction GRAND. On the heavier side we've got you covered with And So I Watch You From Afar, Russian Circles and special guest at Dicken's. Show up early to ensure a spot to see The Antlers perform at Republik tonight. Keep things scrappy and fun with so-cal punks Death By Stereo at The New Black. Don't forget the CSIF: Outdoor Classic Film Screening at the Old Y Courtyard. Bring a pillow and blanket! Or if you're in the mood for an electro goth dance party cap your night with Trust at Broken City going until 2am.
Discoveries of the night! Here's a list of the bands and shows to catch if you're looking to discover something new in a particluar style of music, wether it be americana folk rock or all-ages fun!
Garage Synth Rock: Open Channels at Bamboo
Americana Folk Rock: Ramblin' Ambassadors at The Blues Can
Local Hip Hop: Dragon Fli Empire at NMC
Perfect Pop: Watermelon at Palomino
Groove Metal: Falcon at Ship and Anchor
All-ages Fun: The Collective at Saint Stephens
Pass pickup and purchase is now available at the Simmons Building (618 Confluence Way SE) in the East Village till June 22nd from 12pm - 8pm daily. Festival Passes are also available online and at Sloth Records. Olympic Plaza Tickets are available at Ticketmaster and Sloth Records. Walk Up Tickets will be made available at the doors for all Sled Island shows (except Dicken's on Thursday, June 21) subject to venue capacity.
Permalink