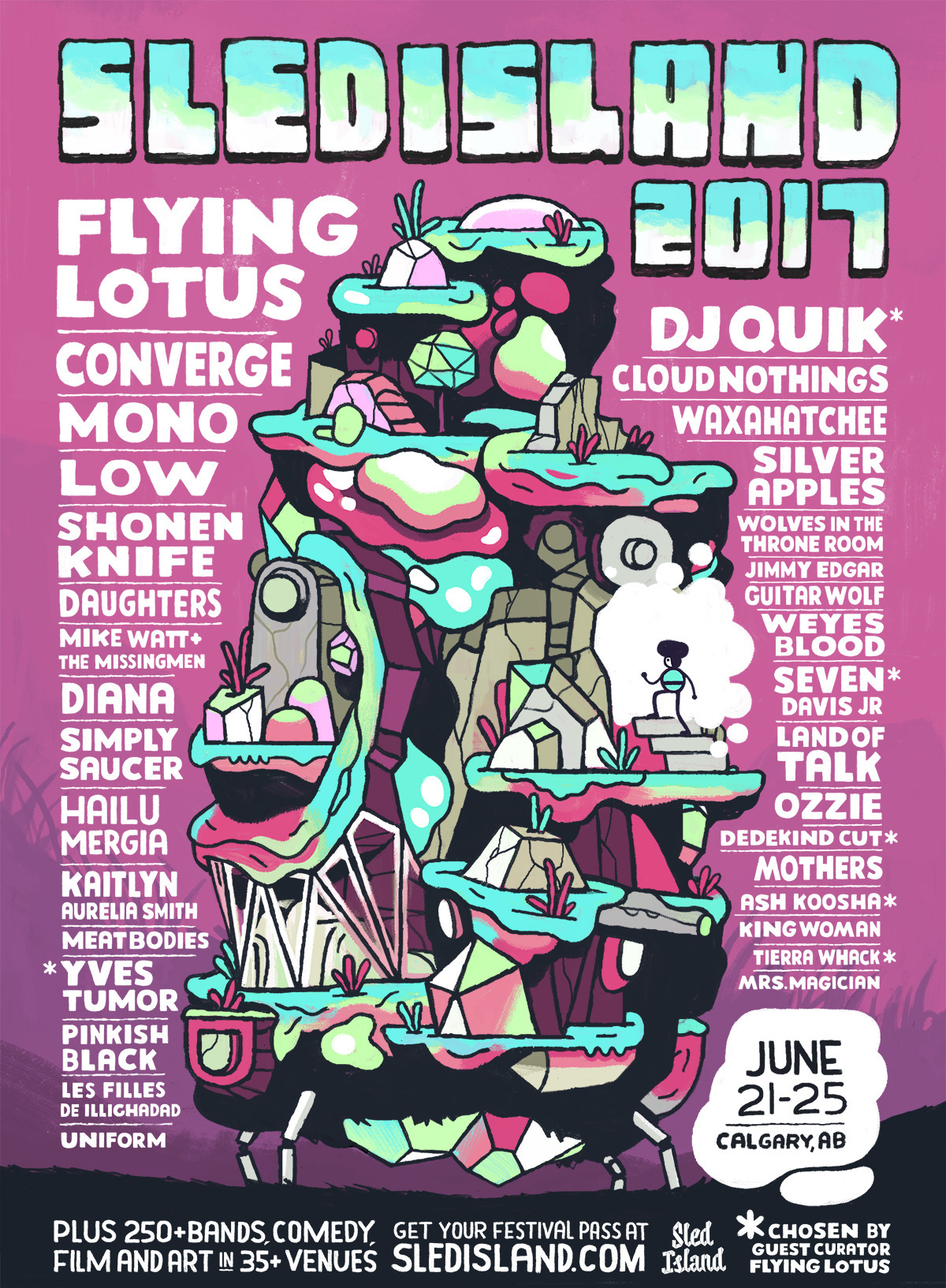 The second wave of Sled Island 2017 acts has arrived! Today's list features a whopping 57 artists from around the world and right here at home, including picks from 2017 guest curator Flying Lotus. Read on for details!
Joining this year's lineup is West Coast hip-hop legend DJ Quik (playing The Palace Theatre on June 23), Japanese post-rock four-piece MONO (who will play the beautiful Central United Church on June 23), Japanese pop-punk heroes Shonen Knife (playing the only Canadian date on their upcoming tour), futuristic techno and funk producer Jimmy Edgar, seminal punk bassist Mike Watt + The Missingmen (playing the beloved #1 Legion on June 24), pioneering Japanese garage-punk power-trio Guitar Wolf, creamy-smooth synth-pop group DIANA, cult favourite Canadian proto-punk legends Simply Saucer (making a very rare appearance at The Palomino on June 21), ambient synth experimentalist Kaitlyn Aurelia Smith (also doing a residency at the National Music Centre), UK trap producer OZZIE, scruffy garage rock project Meatbodies, experimental psych and krautrock group Pinkish Black, Tuareg guitar three-piece Les Filles de Illighadad (embarking on their first North American tour), rank and ruthless noise-punk band Uniform (featuring members of The Men and York Factory Complaint), fuzzy Swami Records surf-pop group Mrs. Magician, offshoot of Tricky Woo and DFA 1979 American Lips and buzzy synth-pop project Half Waif.
FLYING LOTUS SELECTIONS
As previously announced, Sled Island is excited to welcome visionary producer, rapper, DJ, label owner and filmmaker Flying Lotus as 2017 guest curator. Today's announcement offers a first look at some of Flying Lotus' selections, including the previously mentioned DJ Quik, digital funk party-starter Seven Davis Jr, fragmented ambient experimentalist Yves Tumor, ambient, breakcore and drone soundscaper Dedekind Cut, Tehran Conservatory of Music-trained experimental electronic artist Ash Koosha and zigzagging hip-hop talent Tierra Whack. Additional selections will be announced in the coming weeks.
SaveSave
SaveSave
SaveSave
SaveSave
SaveSave
SaveSave
SaveSave
SaveSave
SaveSave
SaveSave
SaveSave
SaveSave
ADDITIONAL ARTISTS
Even more artists announced today include ANAMAI, Expanda Fuzz, Faith Healer, Fake Palms, Feminal Fluids, FRIGS, Isaac Rother & The Phantoms, JLK & The Assassins, jo passed, Jock Tears, Living Hour, Man Meat, Marlaena Moore, Mauno, Needles//Pins, No More Moments, Porcelain Raft, Protruders, respectfulchild, SIANspheric, Sightlines, Silver Dapple, The Avulsions, The Sorority, Un Blonde and WASIU.
We're especially proud to feature Calgary acts Crims & Flow, Crystal Eyes, FOONYAP, Gawker, Lab Coast, Leather Jacuzzi, Melted Mirror, Sinzere and soft cure.
Previously announced acts include Flying Lotus, Converge, Cloud Nothings, Waxahatchee, Low, Silver Apples, Wolves in the Throne Room, Daughters, Weyes Blood, Hailu Mergia, Land of Talk, Mothers, King Woman and more. Recently-announced comedy acts include Aparna Nancherla, Brent Weinbach, Levi MacDougall, Marty Topps, Tranna Wintour, Nour Hadidi and more.
Sled Island's complete 2017 lineup, including additional headliners, 185 more bands as well as film, visual art and special events programming will be announced in the next several weeks.
PASSES & TICKETS
Sled Island passes grant access to all Sled Island 2017 shows (subject to capacity) and are currently available at SledIsland.com, Sloth Records (736B 17th Ave. SW) and Lukes Drug Mart (112 4th St. NE).
A limited number of single tickets to select Sled Island 2017 shows will go on sale this Friday, April 14 at 11:00am MDT at these same outlets.
If you're travelling to Sled Island from out of town, now's a great time to start planning your trip with travel and accommodations deals just for Sled Island attendees!
SLED ISLAND PODCAST
Dive into highlights from today's announcement with host Myke Atkinson on the Sled Island Podcast! We've saved one special artist reveal just for podcast listeners, so be sure to listen and subscribe so you don't miss out.
Permalink