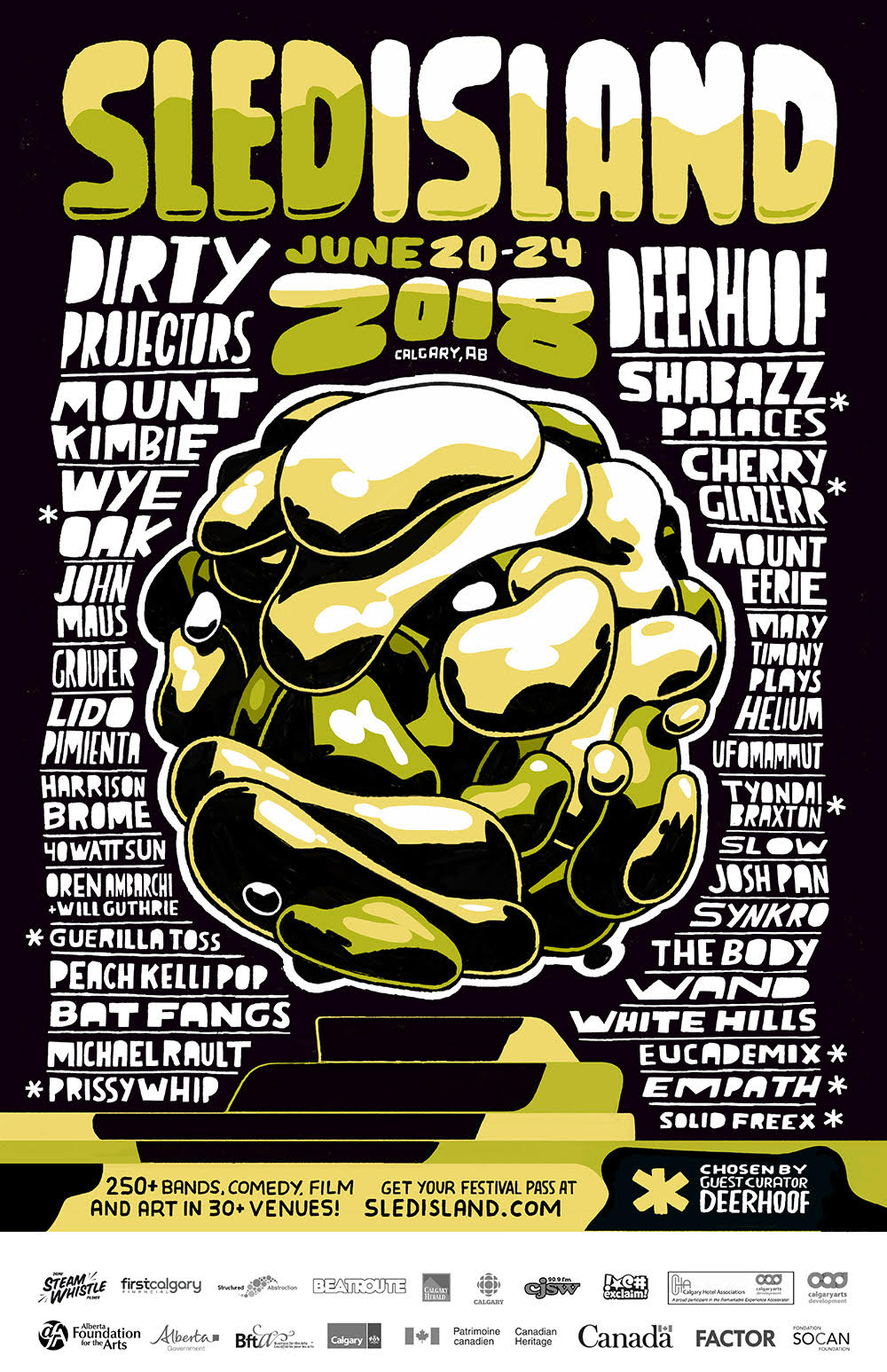 The second wave of Sled Island 2018 artists is here! Today's list features 60 artists from near and far, including fresh picks from 2018 guest curator Deerhoof. Read on for details!
New additions to this year's lineup include live electronics masters Mount Kimbie (playing a full band set), perennial Sled Island fave and guitar wizard Mary Timony (performing her famed Mary Timony Plays Helium set), electro R&B crooner Harrison Brome and bassy troublemaker josh pan (co-headlining the Sled Island Block Party as well as playing sets at the HiFi Club), plus giddy garage rockers Peach Kelli Pop (joining an already-announced show headlined by Cherry Glazerr at Dickens).

Three new Deerhoof selections have been added to the lineup as well. We think you'll love discovering the experimental rock sounds of empath, Prissy Whip and Solid Freex as much as we did!

As always, this year's lineup features a generous helping of Canadian talent. Please join us in welcoming Michael Rault, Faith Healer, jo passed, B.A. Johnston, myst milano., The Avulsions, Symfan, Hood Joplin, Borscht, Cartel Madras and another 40 Canadian artists announced today.
Today's complete list includes Alder & Ash, Basic Instinct, Black Pills, Blue Odeur, Body Lens, Bog Bodies, Boyhood, Building Confidence Through Play, Cascades, Counterfeit Jeans, Crims & Flow, Dada Centauri, Discovery Zone, Glaux, ItsJab, Janitor Scum, Jean Daddy, Jock Tears, Jonathan Kawchuk, Le Plaisir, Leather Jacuzzi, Life in Vacuum, Lingua Ignota, Man Meat, Overland, Paradise, Pinact, Possum, Scattered Clouds, Screaming Targets, Sightlines, Sister Ray, SLATES, Text Chunk, The Radiation Flowers, Truster, Valiska, Vase, VICTIME, White Hills, Wish Lash and Woodhawk.

Previously announced artists include Dirty Projectors, Deerhoof, Wye Oak, Shabazz Palaces, John Maus, Cherry Glazerr, Mount Eerie and many more. Our complete 2018 lineup, including additional headliners, 170 more bands as well as comedy, film, art, special events and conference programming will be announced in the coming months.
WATCH OUR 2018 FESTIVAL TRAILER
PASSES & TICKETS
Sled Island passes grant access to all Sled Island 2018 shows (subject to capacity) and are currently available at SledIsland.com, Sloth Records (736B 17th Ave. SW) and Lukes Drug Mart (112 4th St. NE).
A limited number of single tickets to newly-announced Sled Island 2018 shows will go on sale this Thursday, March 29 at 12:00pm MST at these same outlets.
If you're travelling to Sled Island from out of town, now's a great time to start planning your trip with travel and accommodations deals just for Sled Island attendees! Stay tuned—more deals will be announced soon.
Permalink