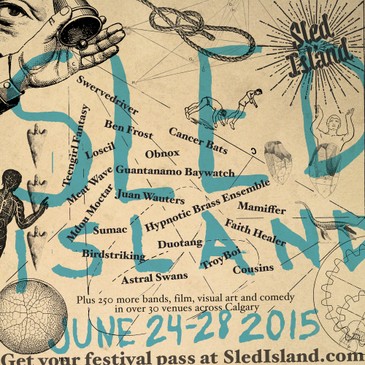 Drum roll, please! Our second wave of 2015 artists is here.
With the release of their first album since 1998, Swervedriver will be joining this year's lineup along with experimental electronic composer and producer Ben Frost as well as cyborg electro-pop act Teengirl Fantasy. Also making the trek are Cancer Bats, a band known for infusing southern metal and hardcore; the always prolific Obnox; lo-fi three-piece Guantanamo Baywatch; veteran ambient artist Loscil; as well as hilarious yet heartfelt songwriter Juan Wauters. The festival will also welcome grungy post-punk and garage rock band Meat Wave, tyrannical duo Sumac, minimalist post-metal band Mamiffer, bad boys of jazz Hypnotic Brass Ensemble and Godspeed You! Black Emperor pick Mdou Moctar, who is coming all the way from Niger, Africa. You can also catch Chinese punk/noise outfit Birdstriking, the newly reunited Duotang and guitar/drums duo Cousins.

Excited yet? We've barely scratched the surface! Additional acts include Astral Swans, Black Givre, Blonde Elvis, Corinthian, The Courtneys, Crosss, The Dories, Dream Whip, Empty Heads, Energy Slime, Faith Healer, Grounders, Homebody, Hush Pup, JOYFULTALK, Low Life, Michael Feuerstack, Monomyth, Moss Lime, Numenorean, Renny Wilson Punk Explosion, Shaani Cage, Tough Age, TroyBoi, We Hunt Buffalo and The WPP.

Over the course of the festival, more than 250 bands will play at over 30 venues across Calgary. Previously announced bands include guest curators Godspeed You! Black Emperor, Television, Drive Like Jehu, Lightning Bolt, Body/Head, Daniel Lanois, Ex Hex, King Tuff, Pentagram, Fu Manchu, Viet Cong, Pissed Jeans, Jaga Jazzist, Black Milk, Hundred Waters, Son Lux, Lydia Ainsworth, The Coathangers, Iceage and Oxbow. As part of Godspeed You! Black Emperor's guest curation (which includes Body/Head), they have also invited The Ex, Matana Roberts, Fred & Toody, Carla Bozulich, Avec Le Soleil Sortant De Sa Bouche, Big Brave and David Dondero to join.
Get your pass today. A limited number of individual tickets for select shows will go on sale April 17.

Can't get enough exciting announcements? Stay tuned—we'll be announcing our Comedy and Film lineups in the coming weeks.
Permalink