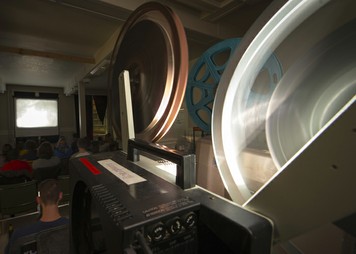 Film At Sled Island
Sled Island's film program keeps on growing, incorporating traditional and non-traditional venues, interactive screenings as well as diverse programming including documentaries and narrative features.
The first announced film is none other than The Punk Singer, a documentary based on the life of guest curator Kathleen Hanna, complete with a special Q&A with Hanna following the screening!
Kathleen Hanna, lead singer of the punk band Bikini Kill and dance-punk trio Le Tigre, rose to national attention as the reluctant but never shy voice of the riot grrrl movement. She became one of the most famously outspoken feminist icons, a cultural lightning rod. Her critics wished she would just shut-up, and her fans hoped she never would. So in 2005, when Hanna stopped shouting, many wondered why. Through 20 years of archival footage* and intimate interviews with Hanna, THE PUNK SINGER takes viewers on a fascinating tour of contemporary music and offers a never-before-seen view into the life of this fearless leader.
Check back on April 22nd for the full list of films screening at Sled Film 2014.