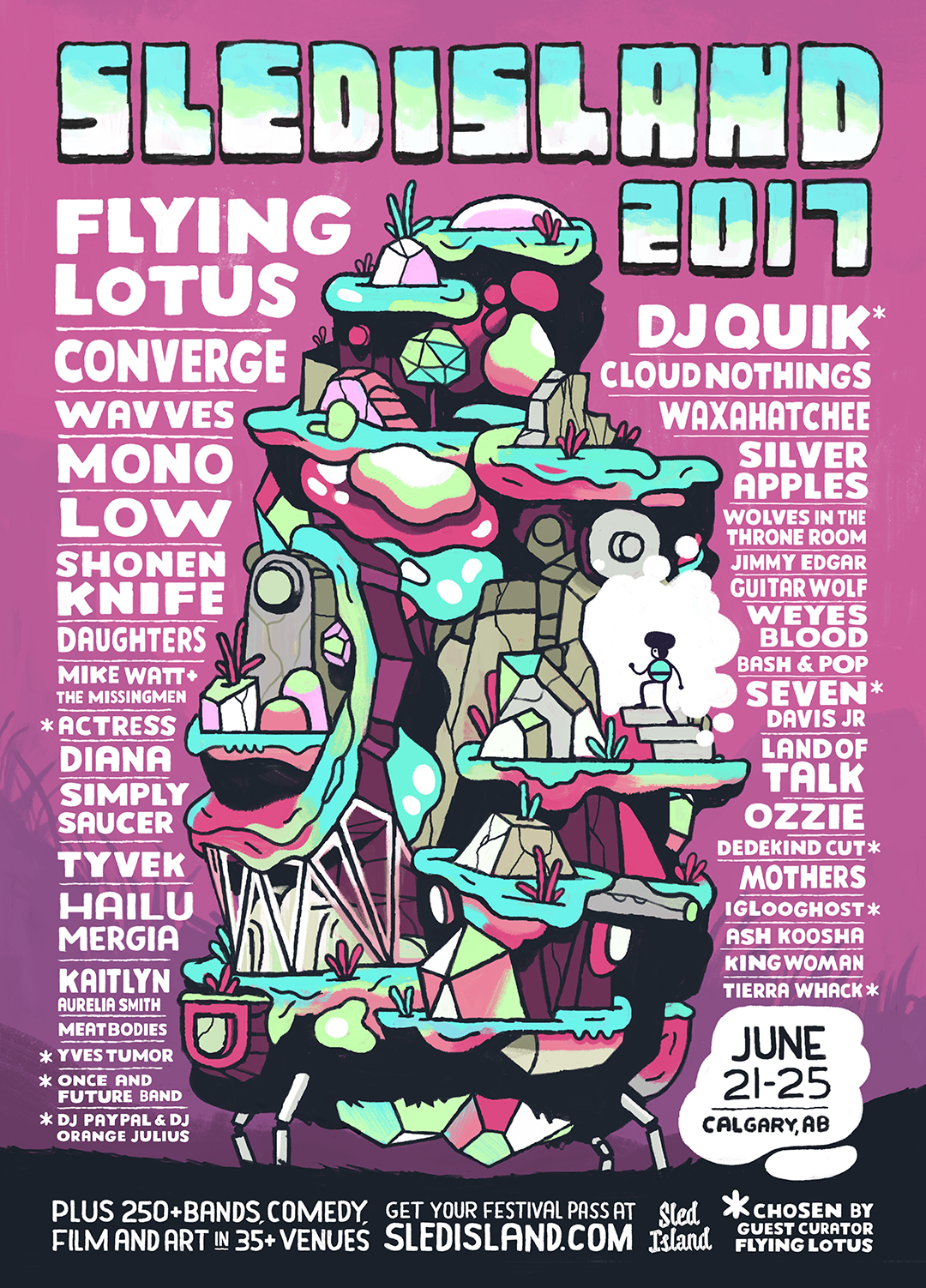 You might want to sit down for this. The full Sled Island 2017 lineup and schedule are here!
Newly-announced acts include titanic indie rock band Wavves (playing a special all-ages show at The Palace Theatre on June 22), garage-punk poets Tyvek (joining us for three shows), high energy prog-pop project Once and Future Band*, hyperactive, neon-hued producer IGLOOGHOST* (who will be direct support for Flying Lotus on June 24 and will play the Sled Island Block Party earlier that day), the newly reformed Bash & Pop (featuring Tommy Stinson of The Replacements, playing both on June 22 at Dickens and opening for Mike Watt + The Missingmen on June 24 at the #1 Legion), two of footwork's most daring innovators, DJ Paypal* & DJ Orange Julius (performing together on June 22 with fellow Flying Lotus picks Yves Tumor and Ash Koosha), UK avant-club auteur Actress* (playing June 21 at Commonwealth), LA bass scene rapper Busdriver* (supporting DJ Quik on June 23) and more.
With over 190 new bands announced, it's time to get to know more than just our headliners. If you'd like a taste of the emerging bands at Sled Island, you could start with the dynamic prog of Anunnaki (featuring members of Wolf Parade and Moths & Locusts), grunge-pop stage sensations Borscht, unhinged industrial punks HSY, Halifax indie up-and-comers Not You (featuring members of Dog Day), sizzling rapper Pierre, stoner legends Shooting Guns (also providing a live score for a screening of Nosferatu), lush indie-folk act Tispur, the shred-tastic Wares, black metal purveyors Wilt or the experimental pop stylings of Yao Guai Cave.
Don't forget—Sled Island is also about showcasing the amazing talent we have right here at home. Some choice Calgary artists include synth weirdos Aiwass, battering electro-punks DRI HIEV, garage-pop band Glaux, internationally celebrated bass music champ HomeSick, international traditionalists HYMN, perhaps Calgary's finest songwriter Kris Ellestad, wily young rapper Louis CZA The Black Greek God, freshmen rock n' roll renegades Sellout, haunting composer Valiska and zesty stoner rockers Woodhawk. That's just the beginning! We can't wait to see each and every one of our hometown faves this June.
Read More >>
Permalink