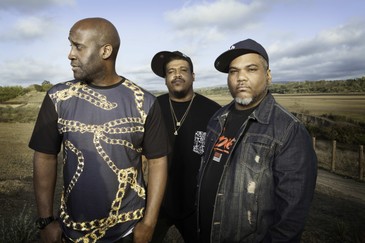 The moment you've been waiting for is finally here! We're so excited to be sharing the full music lineup for Sled Island 2015.
Today we unveil nearly 200 bands from all over the country and beyond. A few very special international headliners have been added, including legendary innovative hip-hop act De La Soul, indie rock deity and past Sled Island performer Yo La Tengo, genre- and gender-defying riot act Mykki Blanco, as well as fuzzed-out garage rocker Colleen Green. These exciting artists join a massive berth of exceptional Candian talent in the form of brooding acts like Maica Mia, Scattered Clouds and Neu Balance, indie rippers like Fountain, Tee-Tahs and Beat Cops, furious and heavy bands like Dead Soft, Shooting Guns and Dead Ranch, hip-hop talent from Tory Lanez, Oseko and Rougies Clique, plus weird pop in the form of Kappa Chow and Quaker Parents.
As always, a massive component of Sled Island is showcasing our hometown talent. Among the many stellar bands included on the lineup, we'd like to mention rising garage-punks The Mandates, club scene and tour circuit favourites 36?, the challenging and rewarding Friesen Waters Duo, doom devils The Weir, flow conscious hip-hop luminary A.Y.E. & The Extroadinary Gentlemen, plus newer act Blü Shorts, made up of members of other awesome local bands.
Previously announced bands include guest curators Godspeed You! Black Emperor, Television, Drive Like Jehu, Body/Head, Daniel Lanois, Ex Hex, King Tuff, Lightning Bolt, Ben Frost, Jaga Jazzist, Hypnotic Brass Ensemble, Black Milk, Pentagram, Fu Manchu, Swervedriver, Pissed Jeans, Viet Cong, Iceage, Son Lux, Hundred Waters and Lydia Ainsworth. As part of Godspeed You! Black Emperor's guest curation (which includes Body/Head), they have also invited The Ex, Matana Roberts, Fred & Toody, Carla Bozulich, Avec Le Soleil Sortant De Sa Bouche, Mdou Moctar, Big Brave and David Dondero to join.
Also recently announced: this year's comedy program will feature Bridget Everett, Chris Locke, Mark Little and Will Weldon. Stay tuned for additions in the weeks to come.
Sled Island's film program is back as well, and includes docs chronicling music from Montreal to Cambodia, the life and times of punk royalty Danny Fields (in attendance at the festival!), plus a loose Tuareg take on Prince's Purple Rain (starring none other than Sled Island 2015 artist Mdou Moctar). Check out the lineup here.
A limited quantity of individual tickets for select shows will go on sale on Friday, May 8 at 10:00am at SledIsland.com, but you can make the most of your Sled Island experience by choosing a festival pass! It's the only way see all the music, comedy, film and visual art you can handle from June 24 to 28, 2015.
Permalink