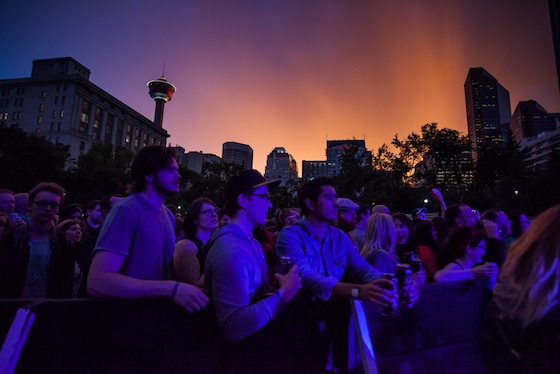 We can't talk about last night without mentioning Joel Plaskett. Canada's sweetheart saved the day when Neko Case cancelled on the day of the show. He fulfilled the hopes of everyone who had waited more than a year for his sweet serenade. Thanks Joel, you're our hero! Elsewhere, Sled Island continued with Dan Deacon getting weird at the #1 Legion, Public Animal annihilating the Ship & Anchor, the Burger Records blow-out and DJ Bob Mould got Punk Rock Fancy with the Hot Mess crowd.
Don't you quit on us yet! This ain't over by a long shot. Olympic Plaza day 2 is what's on everyone's lips with the headlining set from the incomparable father of space-rock, Spiritualized! The outdoor stage isn't lacking in talent in support acts; Rocket From The Crypt who party-rock a little harder have an extended set while Minneapolis garage gurus The Blind Shake, furious punks White Lung, Portland surf-rockers The Shivas and local thinky-pop act Feel Alright provide hit after hit. Today is your last chance to enjoy a beer in the pit at Olympic Plaza so don't miss out! Stay hydrated while you party with our water-filling stations, no plastic water bottles will be sold on site.
One other perfect All Ages, daytime pick is Touché Amoré, who storm the #1 Legion mid-afternoon. When the sun sets, things heat up even further. Get some vintage pop with Shannon and the Clams at The Palomino or an encore from hook-laden garage-rockers Bass Drum of Death! Another icon to take the stage is Bob Mould of Hüsker Dü and rock legend in general at Republik, where he is joined by scholars of his method, Solids. St. Vincent has fully realized her alien pop identity and is usually playing rooms twice the size of Flames Central. There is no question that you'll have to line up early for this one! The heavy and the trippy converge in Earthless and The Shrine's takeover of Dickens. Kathleen Hanna, whose role as Guest Curator proved vital to the tone of Sled Island 2014, has each one of her band picks play the #1 Legion with Sled vets Obits stepping in as headliner to play expert post-punk. Again, get there or early or you could lose out!
Find an excuse to experience art, film, comedy or something special! National comedic talent is represented by Pat Thornton, Amanda Brooke Perrin, Kathleen Phillips and guests at Big Secret Theatre, multi-media exploratory artwork is on display at Phantom Figures at Truck U-Haul, youth culture's origins and significant are examined by thoughful doc Teenage and PARKSale has unique items for purchase in the open air.
We're just scratching the surface here. Check the online schedule to get up-to-date set times and don't forget to use our Mobile Version for access on the go.

Whatever you get up to at Sled Island today, we want to hear about it! We're watching out for #NobodyRainsOnOurParade, #SledIsland, #Sled2014 and #GetYourSledOn on Facebook, Instagram and Twitter.
If you're trying to see everything listed above, it's going to be impossible without a pass. There's still time to purchase and/or pick up yours at The Fairmont Palliser, located at 133 9th Ave SW. Merch and posters are on site too! Hours are 10am to 10pm.
Permalink