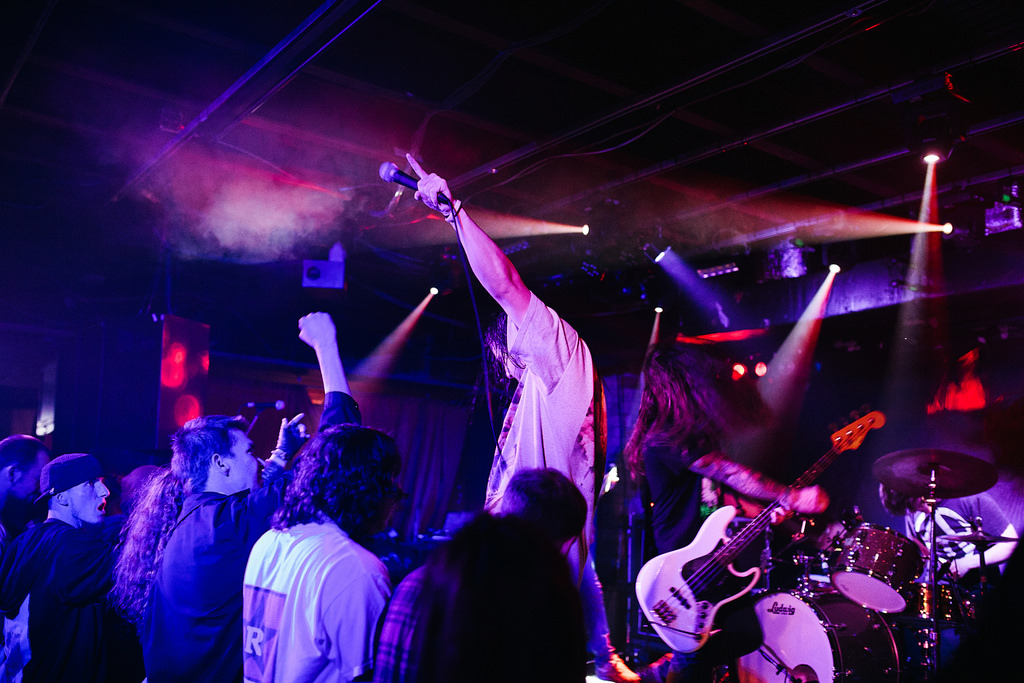 Last night, Rhye wowed us with balladry, Operators delivered on their rising reputation, double-header The Fresh & Onlys and Bass Drum of Death ripped the #1 Legion a new one, minds were expanded by Jerusalem In My Heart, Power Trip pummeled Dickens and that's just the music! The weird and wonderful were showcased by Radioheaded 2 and Waiting For Ambassador X while fans geeked out over record store doc Last Shop Standing. The final result? A classic and diverse start to the festival.
Rain can't stop The East Village Block Party this time! We know Calgarians can take it. Hifi has curated some serious talent for this one. Locals Kline and Beach Season start things off at 3pm, followed by dark Vancouver bass producer Project Pablo and the men who need no introduction, Smalltown DJs. International headliners come in the way of Portland's live-electro goddess Natasha Kmeto and LuckyMe label mates Jacques Greene and Cashmere Cat who have taken the world by storm. Cool down from the dancing and enjoy the good vibes of Big Rock's beer gardens, Market Collective's artisan wares and tasty treats from your fave food trucks! It all happens on the beautiful East Village RiverWalk and may well prove to the party of the year.
If you want to keep raving, move along to the FREQ presented show at The Hifi Club where Cashmere Cat and Jacques Greene get an encore. All danced out? The quintessential post-punk legends Mission of Burma headline a Beatroute-presented show at the #1 Legion with a huge roster including one of the most talked about acts around, Victoria's classic punk revivalists Fountain. Across the street at The Palomino, synth-happy indie pop gang Royal Canoe is going to pack the house. Things get even more interesting when FFWD presents hip-hop edutainer Killer Mike with Montreal's deconstructed R&B showman Black Atlass. Elsewhere, a dose of dark is up for grabs at Commonwealth where the goth-tinged chameleon Chelsea Wolfe makes her Calgary debut, CITR & Discorder present ragin' Vancouver punks White Lung at Dickens with LA psychedelic violence trio The Shrine and then there's The Fresh & Onlys, who you know will fill The Golden Age Club. All Ages awesome award of the evening goes to the digital-meets-alien drone of Oneohtrix Point Never at Central United Church!
Sled Island isn't just about music. We have a vast spectrum of arts for you to enjoy! I Dream of Wires, the doc on modular synth and the culture surrounding it is screening in conjuction with Beakerhead at Glenbow Museum - ConocPhillips Theatre. Guest Curator Kathleen Hanna's show In Light of It takes place at Contemporary Calgary marking her first time putting together an art exhibit. Take a look into the unique life of Killer Mike when he gives an intimate artist talk at Beat Drop, who present the show. Thursday is the first night to feature comedy! Enjoy a wild Night Out with Jeff D'Silva.
Stay tuned to the online schedule for the most current set times and take the Mobile Version with you.

We have our ears to the ground and eyes on the screen; have your say using #EVBP, #GetYourSledOn, #Sled2014 and #SledIsland across Facebook, Instagram and Twitter. Try #NobodyRainsOnOurParade for those special triumphant moments!
If you think you missed your chance to get the full Sled Island experience with a pass, you couldn't be more wrong. We're doubling down on the action for Friday through Sunday! They are still online and available at Pass Pickup at The Fairmont Palliser (133 9th Ave SW) where you can also find our merch for 2014. Our hours are 10am-10pm today, tomorrow and Saturday. See you on the streets!
Permalink