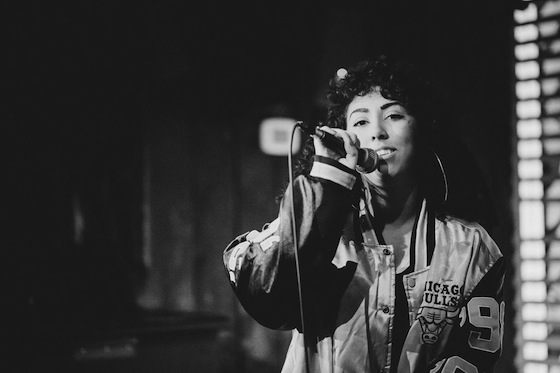 Boo-yah! Thanks for coming and kicking Sled Island off right. Commonwealth was alive with the spitfire rhymes of Ayoo Angie, the ire of The Slabs and more! Too bad The Shivas couldn't make it but they have now made it to Calgary and will be playing all other scheduled shows! Elsewhere, the 8th Annual Poster Show had its grand opening at Forbidden where dazzling designs were admired. If you thought last night was a party, you'll be drooling over what's on the agenda for today!
It's here! It's finally here! Sled Island makes a triumphant return with the official opening night of our 8th festival edition. The big start to the evening is smooth R&B duo Rhye headlining Central United Church for its return as a marquee, All-Ages venue at Sled Island. Later on, we're expecting packed houses for garage rockers The Fresh & Onlys and Bass Drum of Death at The #1 Legion, Dan Boeckner's (Wolf Parade, Handsome Furs) latest industrial dance project Operators at Republik, Kingston shredders PS I Love You at Broken City, Chicago post-punks Disappears at Commonwealth and thrash-punks Power Trip at Dickens. Hey under-agers! We've got some other AA shows running later; William Tyler brings modern ingenuity to traditonal music at The Ironwood while Jerusalem In My Heart melts minds at National Music Centre. Don't miss them! Get your fix of fruits and veggies for the week at the Hillhurst Sunnyside Market from 3 to 8pm today. Wednesday also marks the launch of the stellar film program with a screening of Last Shop Standing co-presented by Sloth Records. Get your evening started at the opening for two of our trippiest art shows, Waiting For Ambassador X and Zoloft Garden at the #1 Legion starting around 7pm.
Check the online schedule to get up-to-date set times and build your own schedule. Don't forget to use our Mobile Version for access on the go.

Keep up on and participate in all the Sled Island action! Follow us on Facebook, @sledisland on Twitter and Instagram. If you want your posts to get out there, use #SledIsland, #Sled2014, #GetYourSledOn or for those moments of triumph, #NobodyRainsOnOurParade!

Make sure you have your wristband before heading out! Pass Pickup happens at The Fairmont Palliser (133 9th Ave SW), 10am to 10pm with passes and merch on sale there and at the shop. We do welcome walk-ups at shows but as always, it is subject to capacity. It's offically time to #GetYourSledOn!
Permalink