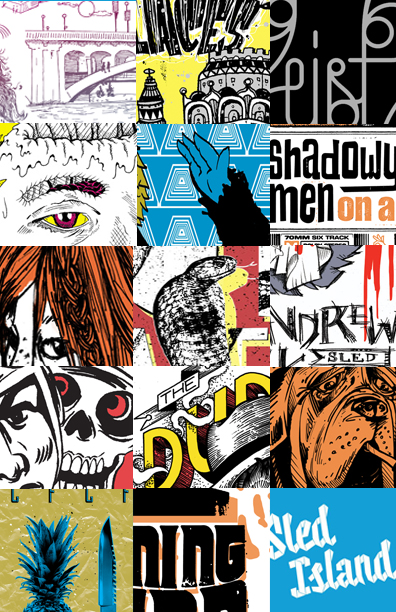 Kick your festival week off right with the 6th annual C1RCA x Sled Island Poster Show at Sloth Records on Tuesday, June 19th from 6 -9pm. This is a unique opportunity to pair local designers, illustrators and artists with musicians playing the festival.
For fans, this is your chance to own a limited edition, three-colour, poster hand silk-screened by the Alberta Printmakers' Society.
Featuring artwork by: Dylan Birkholm, Nicole Brunel, Jennifer Crighton, Daniel Curtis, Jeffrey Craig, Jason Deary, Abby Fong, Komboh (Michael W. Mateyko and Hans B. Thiessen), Dean Robertson, Ryan Scott, Dave Teatro.
Poster Show Director: Josh Ruck.
This year we're offering a pick up or mail home service, so you can purchase your poster and not worry about (spilling beer on) it - we'll mail it to you, or make it available for pick up. Party on!
In combo with the poster show go watch Just Like Being There, a documentary on the greater gig poster community screening at The Hifi Club at 7:20pm on Tuesday, June 19 as part of Sled Island Film. Watch the trailer here.
Permalink