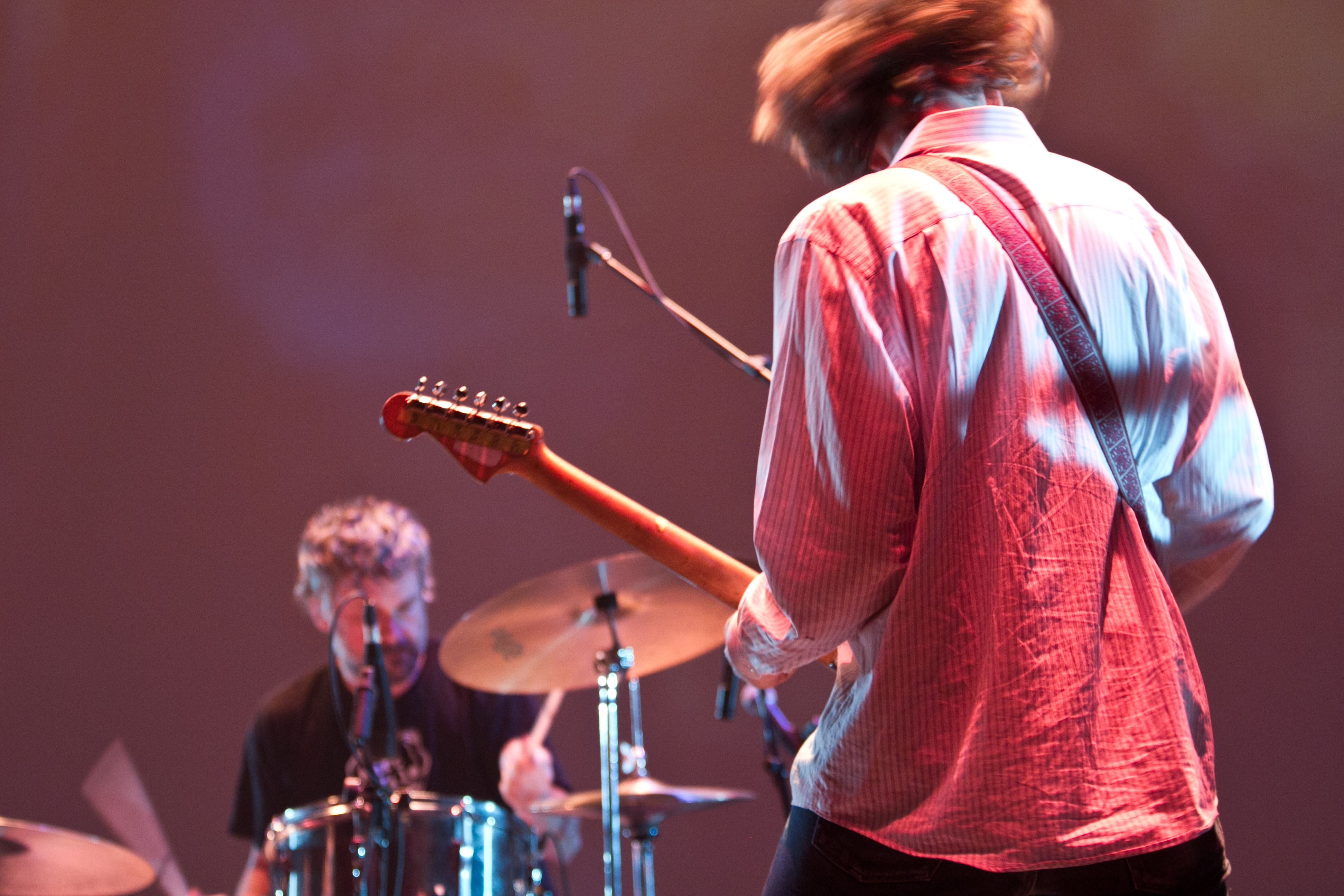 Last night was jam-packed with memorable performances at Sled Island! The rain didn't soak the spirits of the Sled faithful who came out in full for Friday night of the festival. Olympic Plaza turned into a music lover's oasis in the middle of downtown Calgary. Feist performed a mesmerizing 90-minute set that captured the hearts and minds of the audience. Streets were buzzing with festival goers bouncing between venues through out the night. Thurston Moore delivered a flawlessly destructive set at Theatre Junction GRAND, Reigning Sound played the tightest 60 minutes set of the fest at the No. 1 Legion and Boris melted minds for their final show at The Distillery. Duchess Says fired things up at Bamboo and The Strange Boys had a packed crowd swooning at Broken City. Both Duchess Says and The Strange Boys are playing again tonight, don't miss you chance to see them! Watch Friday's recap video here.

Sled Island is gearing up for another day of amazing music, awesome vibes, food trucks and more! Bring your kids, bring your pals, bring em' all to Olympic Plaza. Gates open at 2pm. Come out early to catch Montreal's Parlovr followed by Toronto dance hall act Bonjay and avant-rap duo Shabazz Palaces. Our beloved The Dudes will be rocking the stage at 6:30pm. Stephen Malkmus & The Jicks will be laying it down for the indie rock-loving faithful and The Hold Steady will be keepin' it positive with a rockin' 75-minute set to cap the night at Olympic Plaza! Walkup tickets are available for $50 subject to venue capacity. Olympic Plaza is a fully licensed venue, welcome to all-ages!

Andrew W.K's Hand Picked Mega Party House is happening at the No. 1 Legion tonight! It's the last night for comedy at the Auburn, show up early to ensure a spot! The Ballantynes will be rocking it at The Blues Can and Doldrums and Prince Rama will be throwing a psyched-out dance party at Broken City. Don't miss The Strange Boys at Dicken's, Duchess Says ripping it up at Distillery for the CJSW showcase! Daedelus & Archimedes are combining forces for an all-out electro and visual dance party. Potential gem of the fest, Bennik/West/Ex will be elevating the crowd with their musical excellence at Ironwood. Get rowdy with Ladyhawk at Palomino and stick around for the Secret Guest at Ship and Anchor tonight. Indie rock icons Archers of Loaf are at Republik and YAMANTAKA // SONIC TITAN are at Theatre Junction GRAND. Hop around, bike safely and enjoy the last night of Sled Island to the absolute fullest!

Sled Island is a festival full of discovery! Here's a list of the bands to catch if you're looking to find something new in a particular style of music, wether it be Local Dream Pop or Freedom Disco!

Local Dream Pop: Lab Coast (9pm) at Ironwood
Curator Swoon Tunes: Dojo Workhorse (1:45pm) at Broken City
Garage Synth Punk: Teledrome (11pm) at the Distillery
Reverb-drenched Space Pop: Gothic Tropic (11pm) at Broken City
Perfect Pop: Quaker Parents (3pm) at Local 510
Freedom Disco: Renny Wilson (2pm) at Tubby Dog
Psych Pop Rock: Each Other (10pm) at Tubby Dog
Chiptune Electro: Greyscreen (9:30pm) at Undermountain

Walk Up Tickets will be made available at the doors for all Sled Island events subject to venue capacity. Have fun, it's the last night of Sled Island 2012, live it up and create some memories to last until next year! We love you all!
Permalink