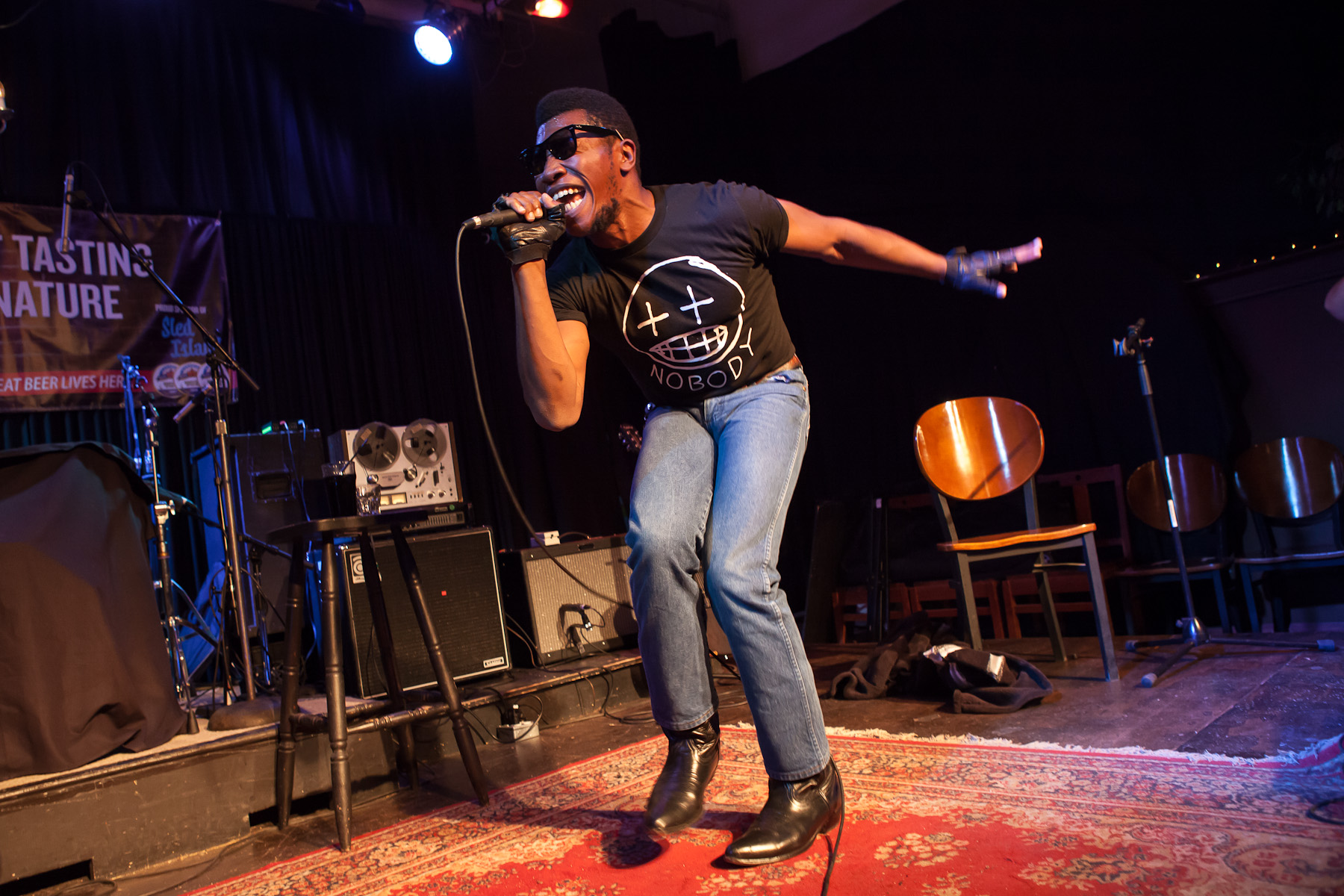 Huge thanks to everyone that came out to East Village Block Party, it was a mega success! We couldn't have asked for better weather, the vibes were amazing and it was great seeing so many people dancing under the sun! Boris performed "Feedbacker" in it's entirity for the first time in Canada, Tim Hecker built a lush sonicscape at Hillhurst United Church, and Willis Earl Beal was incredible at Ironwood! Shabazz Palaces performed to a packed house at Broken City and the mosh pit at The Distillery was crazy for The Urinals! Comedy at the Auburn was slammed again, show up early to get in! Watch Wednesday's recap video here.

The Sled Island weekend is upon us! Get out early for Weird Instruments, Weird Sounds. Hosted by Nate Young and Jim Magas for noon at National Music Centre, Calgary's own synthesizer museum. Haven't had a chance to attend lot of art events this week? Come by the Fluevog Peanut Gallery for the closing partying for Young, Rich and Tasteless with performances by Victories and Love Cuts this afternoon. We've also got a ton of afternoon bar shows going on today! Broken City, Local 510, The Palmoino, Ship and Anchor, Tubby Dog all have afternoon programming. Best part of all? It's almost all free!

Join us for an unforgettable outdoor concert experience this evening at Olympic Plaza. Calgary's own Feist will be performing in the heart of downtown with the Calgary Tower and City Hall as her backdrop. Also performing tonight is Toronto's eerie folk artist Timber Timbre and Walk Owl. YYC Food Trucks will be at Olympic Plaza to provide audiences with locally-made sustenance throughout the event! Olympic Plaza is a fully licensed event, welcome to all-ages. Gates open at 6pm. Olympic Plaza tickets are on sale for $45 at Ticketmaster and Olympic Plaza. Walk Up tickets are available for $50 subject to venue capacity.

We've got a ton of big shows going on tonight outside of the Olympic Plaza concert! NoMeansNo headline an epic bill with Reigning Sound at the No. 1 Legion, Montreal punks Duchess Says are at Bamboo, Japanese heavy act Boris are leaving no prisoners for their final performance at The Distillery, swoon away at The Strange Boys show at Broken City, get surfy with Hooded Fang for the Pop Montreal showcase at Dicken's, folk songstress Devon Sproule headlines the Ironwood, Craig Finn holds his own weight at The Palomino, Larry & His Flask rip things up at the Ship and Anchor, Thurston Moore performs with a full band at Theatre Junction GRAND, and Todd Barry, Tim Heidecker, Natasha Leggero, Neil Hamburger are co-headling a stacked comedy bill Aubrun Saloon. Remember that if you have your heart set on a particular act, make sure to show up early to get in!
Sled Island is a festival full of discovery! Here's a list of the bands to catch if you're looking to find something new in a particluar style of music, wether it be Zombie Garage Rock or Summertime Jams!

Local Garage Punk: The Folsoms (10:30pm) at Legion
Dreamy Folk Pop: Jessica Jalbert (11pm) at The Blues Can
Zombie Garage Rock: The Gooeys (noon) at Broken City
Western Party Rock: Cowpuncher (11:30pm) at Palomino (Upstairs)
Andrew W.K. Approved: Bad Brilliance (10pm) at Tubby Dog
Party Rock: HighKicks (9pm) at Twisted Element
Summerime Jams: Travis Bretzer (4pm) at Palomino (Upstairs)
Post-hardcore: Greys (9:30pm) at Undermountain

Pass pickup is available at the Simmons Building (618 Confluence Way SE) in the East Village from 12pm - 8pm. Olympic Plaza tickets are available at Ticketmaster and Olympic Plaza. Walk Up tickets will be made available at the doors for all Sled Island events subject to venue capacity. Have fun, and enjoy your weekend with friends, new and old, at Sled Island!
Permalink