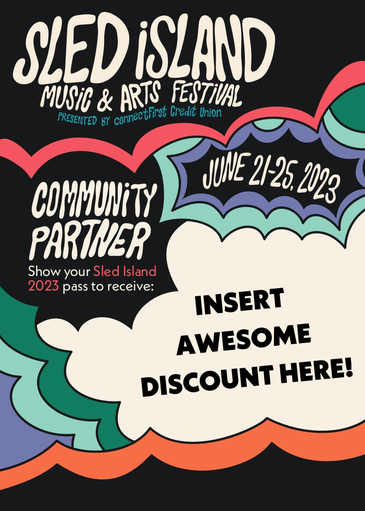 Still rocking your Sled Island 2023 wristband? Some of our community partners are offering deals up until July 4! See all participating businesses at the list below.
Sweet Relief Pastries (120 13 Ave SW)
10% off storefront purchases *conditions apply*
Bakeshop known for elegant cakes, cookies, macarons & pastries from scratch with local ingredients.
**Applicable for any of our ready-to-go items (does not include custom orders)**
Madison's 12|12 (1212 9 Ave SE)
10% off *conditions apply*
A community focused and community funded restaurant located in the heart of Inglewood. A beautiful space for people to gather, create, enjoy, share and become inspired.
**Not applicable to any discounted items, happy hour or daily specials**
Boogie's Burgers (908 Edmonton Trail NE / 2129 33 Ave SW)
15% off
A cheery spot with kitschy decor, Boogies is one of the best burger joints in town. Their Angry Aztec milkshake and hamburger-hotdog hybrid burger, Jebb's Doggie Burger, are where it's at.
Magpie (#107 - 535 8 Ave SE)
15% off
Introducing a new vegan cocktail bar located in the vibrant East Village. This bar boasts a menu of expertly crafted plant-based cocktails, created by their experienced mixologists. Whether you're in the mood for a classic cocktail with a vegan twist or an innovative creation that pushes the boundaries of mixology, this bar has something for everyone.
The Dandy Brewing Company & Pizza (2003 11 St SE)
10% off on beers and pizza at the Tasting Room
Dandy's unique approach to brewing and keen eye to detail fosters creativity in both our recipes and beer styles. They offer a unique brewery experience featuring the Dandy Tasting Room Pizza Kitchen, DANDYPOP! cocktails, wine, and 20 taps of Dandy beers and DANDYPOP! Soda.
Eighty-Eight Brewing Co. (2600 Portland St SE #1070)
10% off in the taproom for draft and off sales
Eighty-Eight makes beers in the same spirit of excitement for what's next. Always big flavors, sometimes a little weird, best enjoyed together. Eighty-Eight Brewing is located in the inner-city community of Ramsay in Calgary. Stop by the two-level taproom and spark some memories over a pint and a slice of pie from Portland Street Pizza.
Calgary Heritage Roasting Co. (2020 11 St SE)
10% off *conditions apply*
Founded by wildland firefighters, Calgary Heritage Roasting Co. is passionate about nature and environmental stewardship, CHRC roasts full bodied, smooth and easy drinking organic coffees with tasting notes of chocolate, toffee and smoke. For every bag of coffee you buy, they will plant one tree on Canadian soil as part of their 1 Million Planted project.
**Only applicable in-store to all coffee and coffee alternative beverages and retail coffee beans. Not applicable to food or liquor.**
Another Dimension Comics (424B 10 St NW)
Buy two, get one graphic novel free
Calgary's biggest and oldest comic book store, with a buy two, get one free promotion, now's the time to pick up some new reading material.
Shelf Life Books (1302 4 St SW)
20% off
One of Calgary's favourite independent bookstores, Shelf Life is a literary paradise, and even has a section dedicated to zines.
The Sunday Shop (1314 1 St SW)
10% off
Focusing on tropical houseplants and details for your home, the Sunday Shop is located on 1st St. in Victoria Park. Whether you need a statement plant or a quick gift on the go, you're covered!
The Cinder & Sage Loft (2107b 4 St SW)
20% off Cinder & Sage products & 10% off everything else *conditions apply*
The Cinder & Sage Loft is a boutique filled with original jewelry designs and many other brands of home goods, cards and gifts! Cinder & Sage is ever evolving and continues to keep on top of trends in the jewelry & accessories world.
**In-store only.**
Sloth Records (736b 17 Ave SW)
15% off (excluding tickets)
A Calgary institution, not only is Sloth an amazing record store, but also a Sled Island venue! When checking out the all-ages shows at Sloth, be sure to peruse the bins between sets. With large selections of rock, pop, garage, and punk, Sloth had something for everyone.
North American Quality Purveyors (1207 10 Ave SE)
10% off regular priced items
A men's clothing store that primarily carries brands made in Canada and the USA. A great place to go for casual separates in fun colours and prints.
The Grinning Goat (101-323 17 Ave SW)
10% off
A vegan boutique that carries clothing for adults and children, as well as home goods and beauty products. They also have a zero-waste refill station for various home and beauty products such as hand soap, lotion, and laundry detergent.
*Use the promo code SLED23*
Ninetimes Skateboard Shop (1409 11 St SW)
10% off
Skater-owned and operated shop with a unique vibe and selection of shoes, hoodies, boards, and more. Ninetimes carries independent brands like Montreal-born DIME, and supports independent local artists. Great customer service is offered to experts and beginners alike.
gravitypope (1126 17 Ave SW)
20% off
A trend-forward shoe and clothing store with all the best brands, if you're looking for new kicks, this should be your first stop. Also be sure to check out Blackbyrd, a record store located in the lower level.
SalvEdge Boutique (113 - 1013 17 Ave SW / 1002 Macleod Trail SW)
20% off *some restrictions apply*
A second-hand boutique with two locations (17th Avenue and Victoria Park) that specializes in high end and designer brand second hand items.
Hotshop Spin Studio & Yoga (132 13 Ave SW / 2115 4 St SW)
50% off drop-ins
HotShop offers rhythm riding and heated yoga classes! They focus on you and your experience. Helping you find a great sweat and mental release.
Rumble Boxing (720 17 Ave SW)
15% off discount on any in studio purchase of $100 or more.
Work off some of that excess energy at Rumble Boxing. Located on bustling 17th Avenue, you won't have to miss a minute of the action while you work up a sweat.
Bike & Brew (921 1 Ave NE)
10% off accessories & clothing, plus 10% off at our Café and all day happy hour *conditions apply*
Bike and Brew is a place where coffee and cycling meet. A space for like minded people, a hub for athletic and social endeavors. This unique bicycle shop specializes in both coffee and bicycle sales, while maintaining all types of bicycles in the full service repair shop.
**Only applicable to in stock items.**
Kent of Inglewood (1316 9 Ave SE)
10% off
Born out of a passion for quality, they love classic razors and shaving gear because they're made with care and designed to last lifetimes. The shop includes beard products, perfumes, and every other fine grooming product you could find.
Clear Float Spa (115-335 18 Ave SW)
10% off (excluding Theta Membership)
Destress and unwind in one of Clear Float's float tanks. A perfect way to meditate before a busy day of show-hopping.
*Use the promo code #SLEDISLAND*
Junction 9 Yoga & Pilates (919 9 Ave SE)
10% off our 10 class passes for yoga & pilates.
Junction 9 represents inclusion, community and fellowship – bringing together Yoga and Pilates, wellness and fitness, personal achievement and communal celebration in Calgary.
Permalink