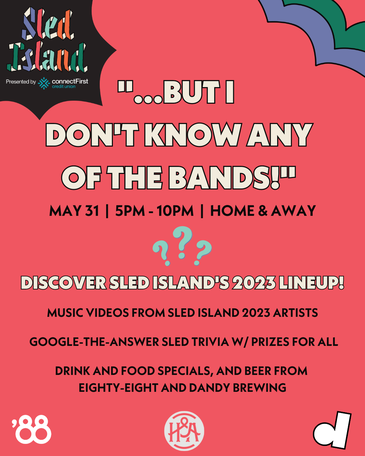 Thank you to everyone who came out to the annual "…But I Don't Know Any of the Bands!" trivia night at Home & Away, and took part in our unique Google-the-answer Sled Island trivia! For anyone who missed it and wants to see what the challenge looked like, check it out! For those who participated and are dying to know the answers, see below!
Congratulations to Jessica Ross for being the big winner of the night and scoring two Discovery Passes to Sled Island 2023! It was a close one that came down to our tiebreaker.
1. We are extremely proud to welcome Bartees Strange to curate Sled Island 2023. List all of his hand-selected picks performing this year! (No part marks!)
Gulfer, Helado Negro, JWords, KAINA, Maassai, Maneka, Pom Pom Squad, Sen Morimoto
2. Besides Bartees Strange, who playing at Sled Island this year has filled the role of guest curator?
John Dwyer (Osees)
3. Which band has someone who previously was a part of the Blue Man Group?
The Body
4. SUMAC is a supergroup that is no stranger to Sled Island, having previously played in 2015. However, they have played Sled with their regular bands as well before! What other bands have the members of SUMAC played at Sled with?
Russian Circles, These Arms Are Snakes, Mamiffer, Old Man Gloom
5. What is the name of the electronic hip-hop duo that was formed by two of the guest curator selections?
HE1R (Maassai + JWords)
6. If you were to add up the sum of all bands with a numerical digit in their name, what would that number be in Roman numerals?
MCMXCVIII (1876+36?+86Love)
7. This group made their Sled Island debut in 2015 as a selection of guest curator Godspeed You! Black Emperor and are now back this year.
BIG|BRAVE

8. This year, Sled Island welcome eight Iranian acts as part of Sled X Set. Name all the bands performing as a part of this!
Hailstones, HERR SPECTRE, Maryam Sirvan, mHz, Roya, SarrSew, Sepehr, Temp Illusion X Amir B. Ash
9. Haviah Mighty is no stranger to success, winning both a Juno award as well as the Polaris Prize for two separate albums. But which album won which award? You must specify for full marks!
Juno: Stock Exchange / Polaris: 13th Floor
10. Many artists have covered Tegan and Sara before, but only one Sled Island 2023 artist can also claim to be on the board of the Tegan and Sara Foundation, which aims to improve the lives of LGBTQ+ women and girls. Oh, and she also released a pretty good Tegan and Sara cover.
Vivek Shraya
11. Name two of the top 5 acts traveling the furthest to play at Sled this year.
Haters (Brisbane) mHz (Wellington) Sessa (Sao Paulo) Temp Illusion (Tehran) mineo kawasaki (Matsuyama)
12. How many of the acts are coming from Brooklyn, NY? They have to specifically be from Brooklyn!
Nine (Gustaf, Helado Negro, JWords, Maassai, Paisley Fields, Pom Pom Squad, THICK, TVOD, Water From Your Eyes)
13. Which artist worked on the administration for the 44th President of the United States?
Bartees Strange
14. When fantastic musicians attend your school, it only makes sense to commission them for special projects. Which graduate did the Savannah College of Art and Design (SCAD) commission for their project "Brian Finger Composition" which is an interactive musical performance using Google Voice to generate audio recordings left by students and staff around SCAD?
Helado Negro
15. This artist got TikTok right before the pandemic, and used it very successfully with all the down time. Their video I'm Broke has over 29 million views and has at least 20,000 other videos using it.
Akintoye
16. This Sled band wanted to have their name reflect their "sad dance music," but thought that "Tears" is too obvious. It has to have a little nuance." Which band is that?
Water From Your Eyes
17. If you wanted to learn a bit more about this musician, they have a great AMA on Reddit. Just search their username EmperorWithAnEgg and you'll find out more about which artist?
SPELLLING
18. Not many can say that Jamaican Prime Minister Andrew Holness was a big factor in pursuing their music career, but after this artist was selected to go and perform "Pine & Ginger" for him, they knew they wanted to prioritize music in their life going forward.
Amindi
19. The Smashing Pumpkins had their inaugural "The World Is A Vampire" Festival in Mexico earlier this year in March. Which Sled act was included in the lineup?
Margaritas Podridas
20. Which band was described by Spin magazine earlier this year as "respectfully horny punk rock?"
Mannequin Pussy
21. Which artist coming this year released an EP in 2022 that was produced by Bartees Strange? Hint: it is NOT one of his curated selections!
Cinema Hearts
22. You may be familiar with this year's comedy headliner from their appearances on Mr. D, but what still airing show can you find them currently portraying the character of Ahmed?
Ramy
23. Even Hell Has Its Heroes is screening at the Globe Cinema this year, and follows the slowest metal band on Earth. Who was the frontman's roommate?
Kurt Cobain
24. This year, connectFirst Credit Union is sponsoring Sled Island's local artists with a top-up of their artist fee. How many Calgary musical bands or solo artists are slated to perform at Sled Island (# of groups, not individual musicians). Any answer within 5 of the correct number will be treated as correct!
73 (Answers from 68-78 were accepted)
25. Sled Island's lineup has got everything from A-Z (almost)? In 2023, there are band names starting with each letter of the alphabet except one. Which?
X
26. Sometimes a band is so nice, you gotta book them twice! Name three bands that are playing Sled Island 2023 that also played 2022. For a bonus point, how many bands are repeating from last year? We'll give you a point if you're within five!
Any answer containing: 86Love, Aladean Khaloufi, Amy Nelson, A.N., Bad Bodies, Bog Bodies, Brain Bent, Bridgeland, Carissa Gem, Crystal Eyes, Dead Friends, Double Rider, Dragon Fli Empire, Dump Babes, Eine Kleine China, Eve Parker Finley, everythingyoueverloved, Eye of Newt, Fulfilment, Ghost Woman, Ginger Beef, Grimelda, Hair Control, HARSH, Hermitess, housepanther, ILLHumanNation, Jed Arbour, Jody Glenham, Kamikaze Nurse, Krill Williams, KT Laine, Laura Hickli, Leather Jacuzzi, Lowkita, Lushings, Marlaena Moore, Matt MacNeil & The Geeks, MELODNA, Mother Tongues, Neighbourly, No Frills, Parisian Orgy, Pony Girl, Rip Room, Ryan Bourne & The Plant City Band, Samantha Savage Smith, Shirley & The Pyramids, Silvering, Snake River, State n Division, Still Depths, Stripmall, Stucco, Stuttr, Sunforger, Sunglaciers, tarotfuntime, Temps, Thomas Thomas, Uncanny Valley, wihtikow, Window Lamp, Witch Victim, WUT, Yawn, Zenon+

That's 67 bands! (Any answer from 62-72 got the bonus point.)
27. Sled's brand new festival manager Hemen Tor-Agbidye is also a past performer of the festival! He performed in 2015. What is Hemen's stage name?
The Blue
28. Where in Canada will you find Sled Island the actual place, not the one-of-a-kind music and arts fest?
Northern Alberta (technically there are two Sled Islands, one in Wood Buffalo on Athabasca River and one in MacKenzie County on Peace River – we were generous with the answers as long as you were close to saying one of these things!)
29. Who is the graphic designer that designed the general Sled Island poster? She's returning from lending her creative talents in 2022 as well!
Becca Lowe
30. Sponsors deserve a lot of love – especially when they bring pizza with them! Which sponsor presented last year's notorious Pizza ATM?
connectFirst Credit Union
31. We've got something special brewing this year! Which two local breweries are supporting Sled Island in 2023 as the festival's beer sponsors?
The Dandy Brewing Company and Eighty-Eight Brewing Company
32. Bonus Point: Name at least five beers offered by either of the above breweries.
Too many delicious options to list! Click here to see what Dandy offers and click here to see what Eighty-Eight offers.
33. What three Sled Island venues have capacity for at least 500 people?

Central United Church, Palace, Block Party

(We accepted #1 Legion and Commonwealth, even though technically there are two Sled venues in each building!)
34. Who created all the recap videos of Sled Island 2022 that can be found on YouTube?

FOREIGNERZ
35. You can buy all kinds of Sled Island merch online – including some truly unique pieces. How much does a pair of Limited Edition Sled Island Underwear cost?

$15.77

TIE BREAKER:
It is sadly impossible to catch every single minute of Sled Island, unless you magically were able to clone yourself several times. According to Sled's website, how many actual minutes of festival goodness have currently been scheduled? If it's on the website, it counts! Closest without going over.
20,275
Permalink