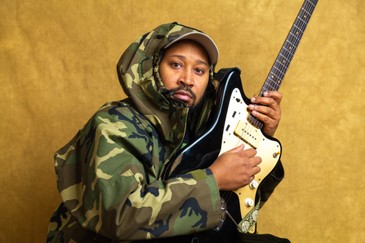 We're thrilled to announce that genre-defying indie/alternative artist Bartees Strange will be joining us as guest curator for Sled Island 2023, running June 21 – 25!
Bartees' wide range of musical influences, unique style, and dedication to fostering more diverse audiences and music scenes made him the perfect candidate to take on this role, and we could not be more excited to be working with him on next year's festival!
Along with guest curator duties, Bartees Strange will perform at the #1 Royal Canadian Legion (116 7th Ave. SE) on Wednesday, June 21, 2023. Sled Island passes grant access to this show (subject to capacity).
Each year, Sled Island's guest curator puts their stamp on the festival through special programming choices and their presence at the event. Bartees Strange's curatorial selections, to be announced in the coming months, will join over 200 additional bands, comedy, film, and visual art chosen by the festival in multiple venues across Calgary.
Passes go on sale this Friday, December 9 at noon MST at a special early bird rate of 20% off, and will be available at SledIsland.com, and Lukes Drug Mart (112 4th St. NE).

Unfamiliar with Bartees Strange? Check out his latest LP Farm to Table – recently ranked #16 on Rolling Stones' 100 Best Albums of 2022 – and be sure to give him a follow on Instagram to get a glimpse at the last leg of his 2022 tour!
Thank you to our sponsors and funders at Lukes Drug Mart, Eighty-Eight Brewing, Dandy Brewing Company, Calgary Arts Development, Alberta Foundation for the Arts, Structured Abstraction, Venture for Canada, and the Government of Canada.

About Bartees Strange

Bartees Strange is a lot of things but most of all more than just the sum of his parts. A man of varied experience, he was born Bartees Cox Jr. in England, grew up performing opera in Mustang, OK, worked in D.C. for the Obama administration and has played in emo and post-hardcore bands in New York. Today, he's best known for his anthemic and chameleonic style as a solo recording artist.
Under the stage name Bartees Strange, he arrived on the international music press's radar in 2020 with the release of Say Goodbye to Pretty Boy, a collection of reinterpreted songs by The National informed by his experience of being one of only a few Black audience members he saw at the band's concerts. It was later that year that his star rose further following the release of his debut album Live Forever.
That album garnered him a Best New Music designation from Pitchfork and showed up on numerous critics' best of the year lists. The album's central force lies in the powerful anthems wherein Bartees unleashes a font of emotion in each explosive chorus. Though much of the album is guitar-driven, it shines when Bartees' wide array of influences are channeled through electronic elements, rap, emo, inventive use of Auto-Tune, horn blasts and the tiniest hint of country-western. New listeners should start with the rave-up "Boomer" and dancefloor stirrer "Flagey God."
The success of Live Forever built a momentum that seems only to continue to grow for Bartees. His 2022 album Farm to Table (released by elite indie imprint 4AD) is his next level up, a collection of similarly eclectic tracks that explore even more genres and show off his best lyricism yet (just try not to get chills when listening to "Tours" or "Hennessy"). It has gained him additional critical devotion as well as fans and tourmates including Phoebe Bridgers, Courtney Barnett, Metric and Lucy Dacus. In a full-circle moment, he supported The National in 2022 including a stop right here in Calgary.

Now touring major venues worldwide as a crowd-commanding headliner, Bartees has noted that his audience is not the all-white, monocultural blah that perturbed his younger, concert-going self. Now isn't just his moment, but one for fans of myriad backgrounds and experiences. And so it is with great excitement that we welcome him to bring his one-of-a-kind sensibility to Sled Island through both curatorial picks and as one of this year's festival-defining headliners.
Permalink