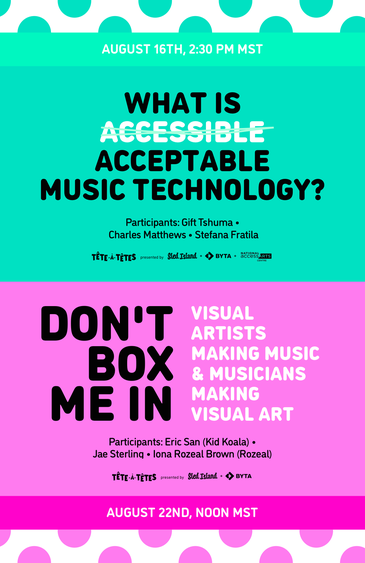 Today we're proud to announce two new Tête-à-Têtes sessions in partnership with Byta!

The series of online conversations will continue August 16 at 2:30pm MST with What Is A̵c̵c̵e̵s̵s̵i̵b̵l̵e̵ Acceptable Music Technology? Presented in partnership with National accessArts Centre, this exciting new session will join Stefana Fratila of CRIP RAVE Collective, and Gift Tshuma & Charles Matthews of Blurring the Boundaries as they offer insights and perspectives on accessible music technology, musical environments, and music culture.
REGISTER HERE

Then, on August 22 at noon MST we'll present Don't Box Me In: Visual Artists Making Music and Musicians Making Visual Art. Hosted by Byta's Marc Brown, this session will see multidisciplinary artists Eric San (Kid Koala), Iona Rozeal Brown (Rozeal) and Jae Sterling wax poetic about creativity and artistic process for both music and visual art alike; how it differs, how it's similar, and how it all intermingles to create something extraordinary. Does the creative vision dictate the medium they work in, or does the medium inspire that vision? Or is there no reason to answer those questions in the first place?

Charles Matthews
Charles Matthews is proudly Neurodivergent creative technologist who specialises in rapid prototyping of musical instruments in workshop settings. In past musical lives, he has released bass-heavy records as Ardisson and founded the Augmented Gamelan ensemble as part of his PhD research in 2012. Since 2015, Charles has worked as an associate artist with Drake Music: a UK organisation focused on music technology and Disability, and a pioneer of accessible music hack events through its DMLab community.
Gift Tshuma
Gift Tshuma is a Montrealer born in Zimbabwe, doesn't self-identify as your ordinary R&B Gospel singer. Gift is the co-founder and leader of his ensemble: United Tribulation Choir, which he founded twelve years ago. He is a strong supporter of diversity, and he extends his reach by singing in multiple languages and performing in a broad array of styles including beatboxing and live looping. As a disability rights advocate and co-founding member of a grassroots group: Accessibilize Montreal, he has worked on numerous initiatives targeting discriminatory infrastructure, that stigmatises and excludes people with diverse bodies and minds from public spaces.
Stefana Fratila
Stefana Fratila is a Romanian-born composer, artist and writer based in Toronto, Canada. She is also a DJ and co-founder of CRIP RAVE™ collective, an event platform showcasing and prioritizing Crip, Disabled, d/Deaf, Mad, and Sick body-minds within safer and more accessible rave spaces.
Eric San
Kid Koala has established himself as a respected performer, film composer, theatre producer and visual artist. His career began as a scratch DJ in 1994, rapidly growing a cult fan base due to his virtuosic skills. Ever innovating, he quickly evolved into combining turntables with analog machines and visual storytelling devices to create his signature style. He has published the award-winning graphic novels Nufonia Must Fall and Space Cadet.
Rozeal
The artist Rozeal uses her large-scale acrylic paintings to wryly comment on the ductile and ever-changing essence of cultural identity, most often by creating visual mash-ups of two disparate but in fact subtly harmonious subcultures: the samurai and geishas depicted in traditional Japanese ukiyo-e printmaking and the contemporary world of hip-hop. Trained in the art of ukiyo-e herself, Brown pursues a transcultural aesthetic in both her imagery and her technique, mixing the racial, gender, and class issues in her subject matter with the deftness of a DJ.
Jae Sterling
Jae Sterling is a multidisciplinary artist and founding member of Thot Police and multidisciplinary arts collective SANSFUCCS. Selected as the National Music Centre's sole hip-hop artist in 2019 to participate in residency, Sterling is a unique presence in Alberta's growing hip-hop scene. A musician at heart, he has also extended his artform over the years to include painting (acrylic & oil), digital design and mixed media and more recently written essays. His visionary sound brings an expressive and honest edge, which has helped build a solid foundation in Calgary's growing hip-hop scene.
Marc Brown
Marc got his start at murderecords, Canada's premier artist owned label during the mid 90s. After working in A&R at the legendary London indie Creation Records, then at Alan McGee's Poptones, Marc started his own boutique UK radio promotion company off the back of his success with The Hives. For over 10 years Marc worked with an impressive list of indie rock luminaries including Wilco, Bloc Party, Conor Oberst/Bright Eyes, Spoon and Refused as well as legends such as Tom Waits, Yoko Ono, Booker T and Mavis Staples. Marc also worked closely with internationally renowned visual artist Martin Creed.
Permalink