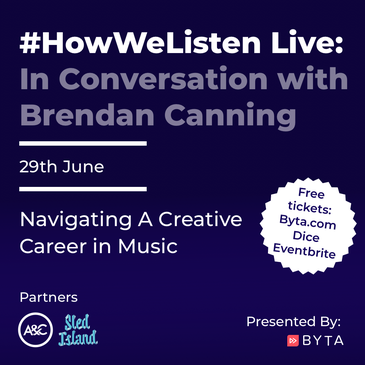 We're very excited to be partnering with Byta for their upcoming #HowWeListen Live: In Conversation with guest Brendan Canning of Broken Social Scene!
Taking place on June 29 at 10am MDT, this workshop and live interview will offer tips and insights for aspiring artists and music industry leaders, and explore Brendan's creative career as an artist – from his work with Broken Social Scene, as well as many other bands and solo material, to providing soundtracks for TV and film, and everything in between.
This series is designed to deliver the knowledge to enable tomorrow's artists and industry leaders to better manoeuvre their way through the music ecosystem. Providing a fun and insightful Q&A along the way!
#HowWeListen Live: In Conversation will be hosted by Byta's founder, Marc Brown, whose deep music business background and digital audio knowledge have helped him deliver unique insights to audiences from Tallinn to Toronto. Marc is a former label owner, A&R, manager and radio plugger.

Brendan Canning has been touring, writing music and surviving as a successful working musician for three decades. Insights and stories - he has a few. Brendan will offer up a few grains of wisdom when it comes to success, staying grounded and keeping focused on what is actually important to remaining a creative person in a weird business. Here you can also learn how to pursue other avenues as an artist, such as film and TV soundtrack writing to keep the music flowing.

Key takeaways:
Connect the dots of the music industry from the artist's perspective, fuelling and putting out fires
What you can do to make an impact and develop a long-term music career
Insights into the collaborative process and working with an ever-evolving and outsized band
Tips, advice and insights into finding that next gig, even if it's not live on stage
Permalink