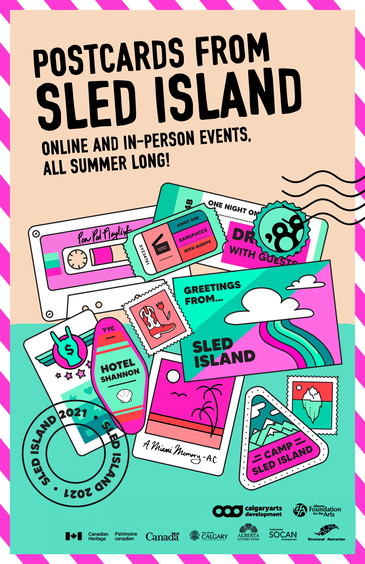 We still can't gather like we used to... but there are other ways to stay in touch! Introducing Postcards From Sled Island, a summer-long love letter to all of you.
From panels and film screenings to the return of the mixtape exchange and a very special collaborative album exclusive to Sled Island, keep an eye on your mailbox (and your feed) for lots of awesome treats over the coming months. In addition to this, we've been receiving video care packages from some of our favourite local and international artists throughout the year and we're very excited to share them with you, so to cap everything off this summer we're planning to host a three-day, in-person event at the end of August where we'll present a wealth of video content, featuring filmed performances, special guest appearances, documentaries and more. We might even have some live music for you if restrictions allow! Stay tuned for more details coming soon.
We're kicking things off tonight with Quickdraw Animation Society's online screening of Spectrums - the 14th Annual Animation Lockdown Challenge, where multiple local artists were given a week in May to create brand new animated films, and now we get to see the final products! A total of 21 films will be included in the 50-minute screening pack, and as an added bonus, we've partnered with Quickdraw this year so that each film incorporates at least one track from our 2020 release, the Sled Island Lemonade Stand compilation album, featuring over 50 songs from Calgary artists! The show starts tonight at 7pm MDT. Register at showpass.com/animation-lockdown-screening-2021.
Further Sled Island programming will continue to be announced throughout the summer months! Will you be our pen pal?

Poster design by Shalom Toy
Permalink