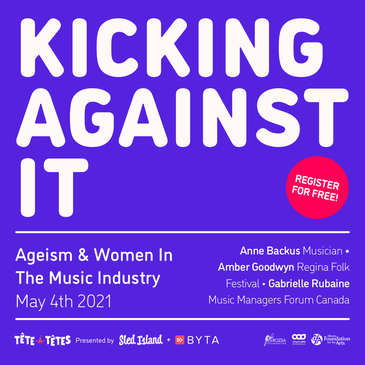 The Sled Island Music & Arts Festival and Byta, the platform for sending digital audio files and streams, are proud to announce three more events in our series of free, online conversations about the changing landscape of music called Tête-à-Têtes. The series continues May 4th at noon MDT with Kicking Against It: Ageism & Women In The Music Industry.
If "rock & roll is a young man's game," then where exactly does that leave women over the age of 25? Compounding the myriad of issues relating to sexism in the music industry, there is an added layer of ageism that, to this day, applies wrongfully and exponentially more to women looking to progress their artistic or professional practices than it does to men. The unfair race against time creates very real barriers to women picking up instruments for the first time, experiencing the long-term success and credibility that they could otherwise rightfully earn, and moving into positions of authority within the overall industry to enact change. As a result, we are all, quite simply, missing out.
Three women will discuss the challenges, inspirations and opportunities they see standing before them from both established and new-to-music perspectives alike. Anne Backus had never picked up an instrument before trying to teach herself the drums and ultimately enrolling in the Ladies Rock Camp organized by Girls Rock Camp Atlanta, an experience she considers to be one of the most empowering she'd ever been a part of. Amber Goodwyn is the Artistic Director of the Regina Folk Festival, former Program Director of CJTR, and critically-acclaimed musician (Natural Sympathies, Cobra & Vulture). Gabrielle Rubaine is the Outreach & Development Director of Music Managers Forum Canada, former artist, and important catalyst in diversity initiatives that continue to this day at FACTOR.
Tête-à-Têtes will return again in June with two more in-depth conversations. Sarah Kitteringham (Smoulder, Bandcamp, Banger, Decibel) and guests will lead a discussion on the underlying politics of heavy metal music-making, and Eric San (Kid Koala) and guest will ruminate on the commonalities and differences in approaches to making music and visual art. Further details to follow.

ABOUT TÊTE-À-TÊTES
Tête-à-Têtes is a series of intimate conversations between emerging and established musicians and industry leaders alike. Presented by Sled Island & Byta, these free online, publicly accessible conversations will address the most vital questions relating to the creative, technical, financial and social sides of music-making in an industry that has seen unprecedented changes in recent times. They will range from artistic exchanges between trailblazing musicians working in different genres to innovative thinkers unpacking lessons that can be learned from investigating how we make and consume music across the globe.
These conversations and their resulting takeaways will also help to dictate the direction of a slate of programming for an expanded in-person industry & conference component of Sled Island in June of 2021. This programming will include artist talks, panel discussions and information sessions.
This project was made possible by the generous support of the Rozsa Foundation, and our public funders Calgary Arts Development and the Alberta Foundation for the Arts.

ABOUT BYTA
Byta ("Bee-tah": the Swedish word for exchange) is run as a distributed team across three continents. Byta is unrivaled in taking advantage of the unique properties found in audio files – reading and writing file metadata, converting file formats and delivering fast yet secure streaming. Byta recently launched their #HowWeListen not-for-profit, dedicated to providing musicians and their teams with the knowledge required to move their careers forward.
Want to stay in the loop with Tête-à-Têtes and other Sled Island news? Sign up for our newsletter!
Permalink