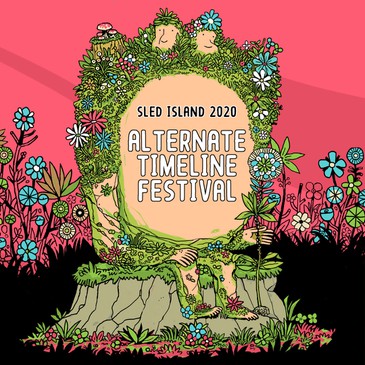 While Sled Island 2020 will not be happening this coming June the way we had all imagined it -- as one hell of a communal release of pent up energy through magical music and art in the bars, venues, theatres, churches and Legions across this city that so desperately needs an injection of liveliness right now -- we still have plans to carry on the spirit of the festival in the coming months. In the end, Sled Island isn't just about five days of music and art that happens in this city. It's also about the discovery of the music and art that we carry with us, cherish and look to for inspiration in the face of the best and most difficult times of our lives.
Enter the Sled Island 2020 Alternate Timeline Festival. Below you will find a list of all of the artists that, before the realities of the COVID-19 pandemic forced our cancellation, were contracted or invited through our submission process to play the festival. While this list does not represent a complete picture of the festival that would have taken place, as we were still working diligently on bringing in bands from across the globe to headline stages of all sizes, it does represent a snapshot of our plans at the time. We hope that you can not only find a soundtrack to your time in isolation, but a soundtrack to your 2020 and beyond. The Sled Island 2020 Alternate Timeline Festival features 270 artists that hold the potential to become your new favourite band, or remind you why you fell in love with them in the first place. If you have the means, we humbly ask you to support those artists that catch your attention with a follow on social media, a purchase of an album or a t-shirt, or spreading with the other music lovers in your life.
This post will be updated throughout the spring and summer to become not just a list of the bands that were slated to play Calgary this June, but also a record of the staggering amount of new releases, new music videos, livestreams and fundraising initiatives these artists undertook during these unprecedented times. In the end, while a pandemic can put a temporary stop to live music, it can't stop the passion and drive of musicians.
Stay safe, stay home, stay hopeful, friends!
The Sled Island Team

Music
A.Y.E. & The Extraordinary Gentlemen - Featuring as fierce a six-piece live band as you could imagine, Calgary's A.Y.E. & The Extraordinary Gentlemen bring the soul and cosmic freakouts alike to their own mix of old school reverence and genre-pushing hip-hop.
Aladean Kheroufi - The soulful indie rocker you might recognize from a stint with Marlaena Moore or playing in The Velveteins is set to release an EP of catchy new tunes in May 2020.
Alex Bent + the Emptiness - Recently released a deluxe version of their alt-pop and R&B debut album Baby, with stems available for remixes, video interviews and a whack of bonus content, all perfect for quarantine!
Alex Cameron & Roy Molloy - Put on a lengthy telethon event to support their latest album in 2019, and released it in its entirety on YouTube for people to enjoy while in quarantine.
Alexia Avina - The pure definition of ethereal, Montreal artist Alexia Avina is here to soothe those quarantine blues. Meditative and totally hypnotizing, Avina loops soft guitar and beyond dreamy vocals to make the lushest ambient folk you've ever heard.
All City Jimmy - You might not know the name yet, but Los Angeles hip-hop artist All City Jimmy (formerly known as Nocando) came with 2020 guest curator Sudan Archives' personal stamp of approval and we were confident this would have been, like Tierra Whack at Broken City before, the talk of the fest, followed shortly by an explosion in popularity.
Also Also Also - Released their highly anticipated album The Good Grief on April 23, 2020. Nine tracks of electro-pop perfection.
Amy Nelson - Classic '50s country and blues themes sound even tougher when delivered by Amy Nelson's unmatched voice and hints at psyched out banjo drones.
ANUNNAKI - Take Dave Read from Moths & Locusts and Arlen Thompson of Wolf Parade fame and you get ANUNNAKI. Experimental stoner metal is the best descriptor for this band who's live show is said to be the stuff of legends.
Astral Swans - Put on a livestream performance on April 20 as part of "Canada Performs" presented by the National Arts Centre, and donated 50% of contributions to Sled Island.
B.Michaael - Released his new album White Rooms, Glass Bells on May 22. Brimming with his signature experimental, electronic and ambient soundscapes, B.Michaael continues to push the envelope of his genre on his new record, building a wall of sound with acoustic and electronic instrumentation, raw piano, distorted synthesizers, and screeching guitar work that can fill the atmosphere with ambience, chaos, and every feeling in between, all within the same listening session.
Baby Jey - Released a new music video on May 21 for their latest single Bernice Kentner, taken from their 2018 album Someday Cowboy.
Be Afraid - Released their new EP Remember Fun on Hidden Bay Records on May 8. With a new lineup featuring members of Supermoon, Maneater, Sightlines and Dead Soft, you can trust this is a legit Vancouver supergroup with some head-boppingly cool new tunes to prove it.
Béret - The solo project of Seattle artist Ian Kurtis Crist, Béret is minimalist art-rock done to perfection. Lou Reed meets Preoccupations, his avant-garde sensibilities gently pay homage to the past, while facing straight on to the future, carving out its own legacy amongst the greats.⁠
Bike Thiefs - Bike Thiefs play loud and fast like they oughta. If you're a fan of post-punk bangers, listen to Redline and Hockey Dad – you'll be hooked on them after that.
Bitter Fictions - The ambient/expirmental solo guitar project from Calgary's Devin Friesen, Bitter Fictions released their new album "eloquent & despairing" on April 27.
The Black Angels - One of the most anticipated sets of Sled Island 2020 was the sure-shot mind-melter that would have been Austin's neo-psych torchbearers The Black Angels at The Palace Theatre.
Blue Odeur - Put on a livestream show on May 15 as part of 2010 Records "Reality Reflections" virtual convert series, which included a dsebut performance of her new single.
Bonnie Trash - The punk project of Guelph, Ontario sisters Sarafina and Emmalia Bortolon-Vettor, Bonnie Trash is goth with a twist. Dark folklore-inspired lyrics are paired with gritty guitars and relentless drums for a moody macabre sound you'll feel in your core.
Booty EP - Whether it's their energetic and visually stunning live show, their self-produced singles or their wealth of DIY music videos, they're always up to something, and it's always interesting. This year would have been Booty EP's Sled debut, but keep an eye out for their first full-length album Don't Fix Anything ;) due out later this year.
Brain Bent - Released their debut EP Obligatory Icebreaker early this year, a mash-up of inspired DEVO weirdness, Lost Sounds frenzy and hometown post-punk homage.
Bridgeland (Bruckeland)
Cedric Noel - After a highly lauded performance opening for Jessica Pratt and Squirrel Flower at Sled Island 2019, we were thrilled to invite Montreal singer/songwriter Cedric Noel back to Calgary for Sled Island 2020. Having written and recorded for over a decade, Noel makes gentle folk that's powerful in its simplicity.
Ceremony East Coast - The solo project of Skywave drummer John Fedowitz, Ceremony East Coast is the reverb drenched post-punk project of your dreams. After taking a hiatus from performing live in 2013, Fedowitz took CEC back on the road in 2017, touring with former bandmate Oliver Ackermann's group A Place to Bury Strangers, and has been going strong ever since. Now joined by his wife Sandra, CEC are a duo made in heaven, making densely distorted, psych-heavy tunes you won't be able to get enough of.
The CFB
Co-op - Chosen as one of Cups N Cakes top five, Vancouver's Co-op has a clear post-punk sound with a little more punk rock grit that is often missing from the genre.
Control Top - We were beyond excited to have them play at Sled this year - this brash trio is a sneer-filled, anti-authoritarian mess of heavy post-punk, with an incredibly high-energy live show that would have left you punch-drunk. ⁠Be sure to check out their latest single One Good Day.
Conversations With Bears - The solo project of Calgary musician Lucien Lahey, Conversations With Bears is intimate indie folk that cuts deep. Lahey's paper-thin vocals and echoing guitar plucks combine for something deeply introspective, sounding simultaneously intimate and vast as he ponders the intricacies of the universe.
Counterfeit Jeans - Edmonton indie rockers Counterfeit Jeans released their new single Séance on May 1.
Daddy - One of Sudan Archives' picks, Los Angeles artist Daddy (formerly Cat 500) makes experimental pop fit for life on mars. With glitchy electro beats and warped, almost alien-like vocals, Daddy is straight out of the future.
Dead Friends - Released new western-psych LP Shirley on May 1, and had intially planned to go on tour shortly after, including a stopover in Calgary for Sled Island. Of course, plans have changed, but at least we still have their new record.
Death Hags - The solo project of L.A. based artist Lola Jean, Death Hags is synth-pop with a psychedelic twist that would sound right at home in a John Carpenter flick. Check out the video for their latest single Keep Calling.
Debate Club - Released a music video for their song Get Bored taken from their 2019 LP Phosphorescent.
DEBBY FRIDAY - She lists her reference points as Nine Inch Nails, Death Grips and The Runaways, and that's kind of enough said. Check out her mixtapes DEATH DRIVE and BITCHPUNK for some seriously fiery industrial music.
Delly - Our pick for "soon-to-be-rocking-stadiums," at just 21 years of age, Harlem rapper Delly already has mixed trap, R&B and Neptunes-era hip-hop into more radio-ready jams than most emcees get in their entire careers.
Dialtone - Released a music video on May 21 for their track Cyclops, the first single of their self-titled EP.
Diet Cig - Released their sophomore album Do You Wonder About Me? on May 1, chock full of the fun, high-energy bops, that made us fall in love with them.
Doug Hoyer - Put on a livestream performance via Facebook Live on April 29 to celebrate his birthday in self-isolation.
Ex-Softess - Nightmarish in the best possible way, Ex-Softess embody the dark and moody vibes of their predecessors. These Vancouver noise-punks are the perfect fit if you're looking to extend your knowledge of no-wave.
Fitness - Expertly played art rock and post-punk with standout lyrics sets Fitness apart from the crowd.
Fiver - Simply put, Simone Schmidt's staggering body of work across Fiver, The Highest Order and One Hundred Dollars has deservedly made them one of the fest's most beloved artists in our nearly fourteen-year history. Absolutely vital and essential listening.
Funeral Lakes - Blending indie, folk and shoegaze, Funeral Lakes have something to say. Songs like Anthropocene Dream and Forest Burns are reminiscent of the hazy dog days of summer, but listen closer and you'll hear their growing distress in light of the climate crisis. Their self-titled album is catchy, poignant and worth a spin
Ghost Woman - Released their EP Beat It, Kook on May 1. Four new tracks expanding upon their classic American garage-psych sound.
Good Information - While maybe not quite coming from as far as Sun Ra, cosmically, Edmonton-based jazz and neo-soul filtered through post-rock quartet Good Information was to debut material written in Finland. They had already blown our minds and we were sure they were going to do the same for you.
Gorgeous - Selected in Sled Island Staff Picks as one of Morgan's top five artists. Take a little bit of math-rock, a little bit of post-punk, a little bit of noisy pop, add a dash of that Brooklyn NY cool, and you get Gorgeous.
Gus Englehorn - Premiered a brand new music video for the track "Johnny Colt" off his debut album "Death & Transfiguration" on May 14.
Hair Control - The solo project of Calgary multidisciplinary artist and music scene mainstay Ryan Bourne (Devonian Gardens, Sleepkit, Lab Coast, Chad VanGaalen, Marlaena Moore), Hair Control is an otherworldly mix of lush synths and calisthenic beats that will get your heart pumping.
HARSH - Snotty punk with feminist values, Calgary band HARSH are here to kick ass and take names. Howling and ripping at 1000 miles a minute, HARSH's punk attitude and rousing unpredictability keeps you on your toes and makes every set a wild ride.
Hélène Barbier - You may have seen Hélène Barbier perform at Sled Island with post-punk trio Moss Lime back in 2015. With Have You Met Elliot? she comes back as a solo project that marries dissonant guitars and Françoise Hardy-esque vocals effortlessly, making for a refreshing take on the genre.
Holy Drone Travellers - No strangers to Sled Island stages, Holy Drone Travellers are Alberta sonic adventurers that blend free-jazz, psychedelia, drone, and Hindustani classical into not just something that sounds uniquely their own, but something that is uniquely their own that can change show by show.
HomeSick - Released an incredible video on May 22 for his new single FAKE. "Powered by modern machine-learning algorithms, 'FAKE' surrenders control of the visuals to the music itself, granting it the ability to control the 'face network' at its core. With every sonic strike, viewers are transported from one eerily-human portrait to the next, and granted an insight into how computers perceive us versus how we perceive ourselves."
Hot Garbage - Toronto-based rock band Hot Garbage released a brand new single Easy Believer on April 18.
Idle Rites - Vancouver post-punks Idle Rights released their self-titled album on April 18.
Jamire Williams - Free-form futurist jazz drummer Jamire Williams has worked with everyone from Herbie Hancock to Solange to Madlib and came hand-picked by 2020 guest curator Sudan Archives.
JayWood - Funk fused with pop fused with experimentation, JayWood's emergence in 2019 made him one of Canada's most exciting new(ish) acts. Be sure to check out his debut album, 2019's Time.
Jon Mckiel - Chosen as one of Cups N Cakes top five artists to see at Sled Island 2020. Jon Mckiel's 2020 album Bobby Joe Hope was one of their favourites of the year.
JOYFULTALK - Released their new album A Separation of Being on March 13. Its chunky electronics and prismatic strings make for the kind of vivid listening that commands your entire attention.
KERUB - The Vancouver-based, Metis producer and composer prepared a special ambient and experimental electronic set inspired by frustration and intangibility for the online edition of Cluster Festival, one of the first Canadian festivals to respond with digital initiatives to replace their cancelled in-person event. Listen to it at www.clusterdigitaledition.com/kerub
Kommissars - Trust us, Sudbury punk trio Kommissars don't mess around. Post-punk meets deathrock in an all-out brawl of screaming guitars and pummeling drums that'll open up the pit from the very first riff.
Laurie - Released new single 2 Die in L.A. on May 15 - a punchy new track that shares a nihilistic view on the struggle to become more than "Canadian famous" only to one day, well… die in L.A.
Loose - With energetic riffs and infectious hooks, this indie rock trio from Portland make the kind of upbeat tunes that are a perfect accompaniment for beers by the river, or riding your bike to the bar at dusk. ⁠
Los Retros - Straight outta SoCal, Los Retros is a 19-year-old wunderkind who has gained serious momentum for his toe-tapping bedroom pop, having been signed to Stones Throw Records (alongside guest curator Sudan Archives) just over a year ago. We were thrilled to see his transition from bedroom to centre stage at Sled this year.
Low Hums - With expert musicianship that confidently skitters across psych, krautrock, acid rock and genuine classic rock, it's no surprise that Seattle's Low Hums have been busy making mind-expanding, dance-instigating anthems for over a decade.
Lowkita - For Vancouver based rapper Lowkita, mixing and matching genres is all part of the game. Influenced by Carribean beats, Dancehall, UK grime and old-school hip-hop, she weaves bumpin' bedroom beats with catchy-as-hell verses for mixes that would sound equally at home driving around with the top down as they would at the club.
Lydia Lunch RETROVIRUS - We were thrilled to have the legendary Lydia Lunch and her punk outfit RETROVIRUS play a career-spanning set at Sled Island this year. You can hear them in action on a live album available on Spotify.
LYRIQUE & DJ C-SIK - With supreme mastery of thoughtful lyrics, impeccable cadence and confident flow, hometown heroes Lyrique & DJ C-Sik are already festival veterans. We were stoked to see them hold court once again.
Maggie Gently - Makes the kind of upbeat indie-pop that's the perfect remedy for the quarantine blues, and is releasing her new EP Good Cry on May 29.
Marlaena Moore - Released her third LP Pay Attention, Be Amazed! on March 27, 2020, an incredibly sentimental indie-rock record produced by Calgary heroes Chris Dadge and Chad VanGaalen.
Marona - Release their debut single Cut My Hair on May 15. Recorded with Edmonton heavyweight Aladean Kheroufi, the new track is a very promising first release – a soft, moody arrangement with spellbinding vocal harmonies.
Media Jeweler - Like the musical equivalent of spinning around in a tire swing when you were a kid: dizzying, a little disorienting, and way too much fun. Feverish guitars, spastic percussion and erratic time signatures make this L.A. group a fun and freaky time.
Molan
Mother Tongues - Featuring members of Hooded Fang, Lido Pimienta's band and Luna Li, Mother Tongues pedigree is impressive, for sure, but this is no simple side project, expanding the borders of psych rock, balancing momentous fuzz rock riffage with end of night disco come downs.
Mouraine - With energetic performances and a commanding stage presence, it's no wonder why Edmonton's Mouraine has been buried in music industry awards and Canadian festival invites over the past handful of years.
Mr. Merlot - Selected in Sled Island Staff Picks as one of Morgan's top five artists. A major contender to be an opener for Alex Cameron & Roy Molloy, Mr. Merlot emotes that same sleazy, sexy lounge vibe but with a heavy dose of disco and funky finesse.
Nebular Wave - Chosen as one of Cups N Cakes top five from the Sled Island 2020 lineup, Edmonton's Nebular Wave became an instant favourite of theirs with the release of their album Chicxulub this past January. The record is a psychedelic journey featuring experimentation and krautrock wrapped up in lush, spacey textures.
New Age Healers - Seattle's New Age Healers sound like if the descendants of Screaming Trees started a shoegaze band, but of course, it doesn't end there. Further experimenting with multiple genres including '60s psychedelia, proto-punk and garage rock, New Age Healers are definitely on the already towering list of experimental, cross-genre bands that proudly call Washington their home.⁠
Nice Apple - This Vancouver three-piece had our heads bobbing from the first few seconds of their track Hard to Know, which is always a good sign. Let them lift your spirits up and make you dance in your kitchen because let's be real, we could all use a bit more of both during these wild times.
Nick Schofield - Montreal-based ambient artist Nick Schofield released his new EP Sound Mind on May 1.
Nivhek - A side project from Grouper's Liz Harris, Nivhek has some familiar bits but rearranged, cut up, spaced out and elongated and left to steep. Her album from last year, After its own death / Walking in a spiral towards the house, is achingly gorgeous.
Nomke - Built around the distinctly singular voice and beautifully crafted songs of singer/songwriter Noam Sadan, Tel Aviv's Nomke is an ever-evolving, dreamy indie rock project that is guaranteed to have you reflecting on your past loves.
Nutrients - Late last year, indie-pop group Nutrients put out a music video for their track Hide & Seek, the second single off their self-titled debut album. In this stunning homage to '80s videography, this purple clad Toronto-based five-piece show us that not only can they lay down extremely catchy, chorus-heavy jangle pop tunes, but they can also look really good while doing it.
Olivia Awbrey - Released her debut LP Dishonorable Harvest on May 1. With a punchy indie-rock backbone and witty rambling lyrics reminiscent of Courtney Barnett, her first full-length shows nothing but promise of a charismatic singer/songwriter on the verge of a breakthrough.
Ora Cogan - Counting Hope Sandoval of Mazzy Star as a fan, Victoria indie-folk artist Ora Corgan spins maudlin soundscapes to much acclaim. Washing over you like a wave in a serene sea, Cogan sings like she's guiding you through a dream, with synths and violins swelling to crescendo, and rolling guitars that keep everything grounded.
Parisian Orgy - Slapstick synth-pop from the brain of Calgary artist Gwen Morgan (Purlicue, Polly Dactic, Uncanny Valley), the band's debut EP "Come Pretty Pump Sleep" is like an electro-pop funhouse you'll never want to leave, with each room a unique concoction of fun and frenzied beats, quirky vocals and kooky lyrics.
Passive - Doom meets post-punk; Passive is as hard-hitting as they come. Guitarist and vocalist Ian Schram's guttural screams are a perfect match for April-Lee Johnson's passionate and powerful drumming that will drill a hole into your skull within seconds of listening.
Peanut
Peeling - The brainchild of Toronto musician Annabelle Lee, Peeling's brand of fuzzed-out post-punk will stop you dead in your tracks. Evoking the likes of punk greats like The Gun Club and Sonic Youth, Peeling twists, turns, lurches and rips through every track, moving from noise-pop to country-goth with the snap of a finger.
Polly Dactic - A three-synth setup with a heavy dose of hypnotizing drum machines and surreal samples, Polly Dactic's stream-of-consciousness songs will send you to a whole other galaxy.
PONY - Toronto funsters PONY are known for their power pop anthems. Released in 2019, their latest jam Limerence is on the grungier side, throwing a dash of spice into their sweet pastel oeuvre. As a bonus, they recently dropped a cover of Somebody Kill Me Please earlier this month and it is hot fire.
punctï - punctï (featuring Laura Bardsley of Blue Odeur/blü shorts) is a monthly collaborative recording project that writes and records an entire album in a single session, already producing over 35 albums to date. Talk about productivity!
Rhythm Of Cruelty - This would have been the duo's first Sled Island appearance. A post-punk mainstay since 2011, we were so excited to finally have ROC's moody, '80s-inspired aesthetic on the lineup.
Rip Room - We were so excited for this L.A. trio to make a triumphant return to Sled Island this year. Bass-heavy riffs and eerie vocal harmonies driven forward by tight, focused drumming, these "wound-up art-punks" have it on lock. Expect a new album from them this June!
Samantha Savage Smith - Put on a livestream performance on May 7 as part of Stagehand's "Clean Hands, Clear Heads, Open Hearts Online Concert Series."
SassyBlack - Wrote, directed, edited and produced the short film DEPRESSION:ANTIDOTE, an artful mediation on coping with depression, which premiered on March 20, 2020.
Sebadoh - After playing Sled Island both solo and as part of Dinosaur Jr., Lou Barlow was scheduled to return to Calgary with long-time festival bucketlist band Sebadoh.
Selci - Released a new video for the title track off her forthcoming EP A Soft Place. Filled with pastel colours and bright visuals, this is the perfect accompaniment to her highly danceable and incredibly cathartic new tune, and we can't wait to hear the rest of the EP due out July 28.
Shirley & The Pyramids - A sonic kaleidoscope of dream-pop and psychedelia, these fest veterans have been incredibly prolific and consistently excellent since their formation in 2015. For fans of Jesus & Mary Chain and Brian Jonestown Massacre alike.
The Shiverettes - Another Calgary mainstay, The Shiverettes had to cancel their spring tour. Luckily, they have their latest album Real Shrill Bitches, and some awesome merch available on Bandcamp.
Show Me The Body - Makes the kind of punk that folds in on itself and then transforms into a new shape over and over. Buy last year's Dog Whistle LP if you like RATKING or UNIFORM or doom-tinged poems read over some tape hiss.
Sigh - With softly sung lyrics and bold instrumentals, Sigh's indie bops sound like they should play as the credits to a movie roll, compelling listeners to sit with their emotions. Sometimes fast, sometimes slow, sometimes surf, sometimes pop, their latest release Images is the album you throw on as you drive into the sunset.
Sinzere - One of Calgary's fiercest live performers, we were stoked to welcome back Sinzere to our stages, this time repping her brand new EP "Buy Back The Block," which sees her creatively pushing the boundaries of her own voice while spitting optimistic lyrics when we need them most.
Sleeping Beauties - Giving the Stooges a run for their money, Portland's Sleeping Beauties make grimy garage rock that sounds right out of 1969. Pop hooks meet gritty guitars in a fuzzed-out tapestry of sound, all woven together by vocalist Hart Gledhill's Iggy-esque vocals. ⁠
Slut Prophet - While it's a drag that we won't see Calgary punk faves Slut Prophet perform at Sled this year, you can stream their 2019 EP Pity Party on Bandcamp, Apple Music and Spotify.
Smokey - No stranger to Sled, we were stoked to welcome back Edmonton country crooner Smokey with open arms. Evoking the likes of Johnny Cash and John Prine, Smokey takes old-school country sounds and infuses dark, almost gothic touches to create something wonderfully moody and melancholy.
Speak Easy - Victoria-based psychedelic pop group Speak Easy released their first full-length album Rainbow River on May 3, mixing elements of psych, funk, surf and pop, all in the span of 10 tracks.
Stripmall - Owing as much to the Stones, Dead Moon and Country Teasers as someone like Patsy Cline, Stripmall give prairie punk a much-needed makeover, trading the well-worn lyrical tropes of the genre for something that feels more urgent and authentic.
Sufyvn - One of Sudan Archives' picks, Sufyvn grew up in Sudan, soaking up the wide diversity of Sudanese music before discovering hip-hop in his teenage years, and later on electronic music. Mixing all these influences with mastery, he creates rich and inventive tracks that will make you long for more and make him a talent to watch.
Sun Ra Arkestra - As a festival, confirming the legendary Sun Ra Arkestra to bring their legendary out-of-this-world and mind melting experimental, avant-jazz to the festival certainly ranks as one of our proudest moments. While we we won't be able to collectively transcend in their presence this year, we look forward to another chance to do so in the future.
Sunglaciers - Calgary indie-rockers Sunglaciers had to cancel their spring tour, but you can still grab a copy of their latest album Foreign Bodies on Bandcamp, Apple Music and Spotify.
Tallies - Tallies were set to make their Sled debut as part of a larger tour with Montreal's psych-rock faves The High Dials.
TeaFannie - Edmonton may not be known for its rap and hip-hop scene, but TeaFannie just might change that. Hip-hop with an R&B core, TeaFannie's smooth-as-silk flow will remind you of rap legends like Missy Elliot and Rapsody, but don't be mistaken, she has a slick style all her own.
tiny shrine - Calgary's ear-drum decimating psych and shoegaze outfit Tiny Shrine has been busy prepping their long-anticipated album of cosmic freakouts. We were especially excited to get a preview of it at Sled Island 2020.
Trash Hawks - We're always blown away by the number of awesome bands that come out of Regina, and Trash Hawks are no exception. With a California, FIDLAR-esque surf punk sound that can easily transition from reverb-heavy beach vibes to scream-filled chaos, you'd never guess these guys are from Saskatchewan.
Uncanny Valley - Dark wave you can dance to, Calgary music vet Gwen Morgan's (Parisian Orgy, Purlicue, Polly Dactic) expert '80s-esque synths drive the outfit, while vocalist Alicia Palmar barks and moans along to the pulsing rhythm, keeping you totally entranced and ready to dance.
Vanity Pope - With an anthemic quality that sits atop a dreamy propulsion, these soon-to-be hometown heroes stand out from the standard post-punk crowd.
wanderingaria - Released The Soundless Sleep, a beautiful new album of experimental and ambient works, on April 22, 2020.
War Baby - For those who are afraid we might be losing guitar-based rock, this Vancouver power trio continues to play an in-your-face mix of garage, grunge, noise and alt-punk, and since 2008, has never never showed signs of stopping. 2020 would have marked their fifth appearance at Sled Island.
Wares - Released their sophomore LP Survival on Mint Records on April 23, 2020. Followed by a Facebook livestream with singer/guitarist Cassia Hardy playing songs off the new record.
WHOOP-Szo - Was set to make their fourth appearance at the festival in 2020, but despite a massive amount of cancelled dates on their 2020 tour they continue to share their art, and released a third visual effort from their incredible 2019 album Warrior Down for the track Nshwaaswi on May 5.
Wild Black - We would have loved to see the "how is this not already a radio hit," immediately hummable and undeniably danceable electro pop take over our favourite punk rock hot dog joint. Potentially the most talked about dance party of the entire fest?
Wire Spine - Heavy industrial beats back up this dark wave duo as they layer digital and analog synths over throbbing drum machines to conjure up a raw and sneering sound that will probably terrify you, but you'll love every damn minute of it.
Witch Victim - Over the past year and with just a handful of songs, Witch Victim has staked a claim in Calgary's psych, shoegaze and post-punk scenes. You'll be adding hits like Dropping Out – which has amassed more than 15,000 plays on Spotify – to your playlist before you know it.
WUT - At the end of March, WUT took on the ambitious project of aiming to release a new music video every week. On May 13, we were very excited to share the premiere of their latest visual effort Hazardous Conditions.
ZAH - Intense techno soundscapes punctuated with industrial beats and operatic vocals, Los Angeles artist ZAH is like the ghost of music future.
Zen Mother - Their 30 song LP The Ascent drifts from industrial to spooky synth-pop, to ambient, to psych, and they do it all flawlessly. Zen Mother is the jack of all trades and master of all.
Zia Baby CEO - She's the newest artist to emerge from the Edmonton pop scene, and even though she's only released two tracks, her bedroom-pop prowess can't be ignored. One listen to the track MEDITATING and you'll be hooked.
Comedy
Jo Firestone - Jo Firestone (Everyday Decisions With Jo Firestone, Joe Pera Talks With You, Punderdome) joined Sled alum Aparna Nancherla for a timely livestream Zoom show all about self-care, with proceeds going to support the Bell House, the original venue for the show, and like all venues these days, a very worthy cause.
Permalink