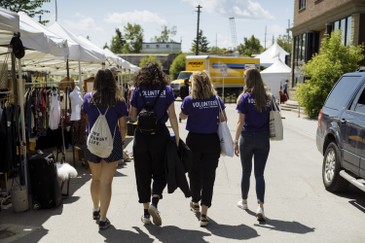 We are hiring a new Volunteer Coordinator for Sled Island 2020! We're currently seeking a highly organized, hard-working individual that can manage a large volunteer base for this year's festival. If that sounds like you, please apply!

Position: Volunteer Coordinator
Term: Full-time (40h/week), 3-month contract
Start date: April 1, 2020
Sled Island is seeking a highly organized and dedicated individual for the position of Volunteer Coordinator. Reporting to the Executive Director and Festival Manager, The Volunteer Coordinator will work alongside the Assistant Volunteer Coordinator to recruit, train, schedule and manage volunteers leading up to and during the 2020 edition of the Sled Island Music & Arts festival.
Each year, over 420 volunteers play an integral part in the festival by acting in a variety of roles to ensure its success.
Duties & Responsibilities:
Work in cooperation with festival staff to assess volunteer needs for all aspects of the festival (including but not limited to promotion, show logistics and production, art, film, comedy, green island);
Recruit volunteers by reviewing online applications and conduct interviews when needed;
Plan and host volunteer orientation session and ensure clear communication of position expectations;
Update and deliver volunteer training programs;
Schedule volunteers and communicate shift information;
Plan and host volunteer appreciation activities;
Update and maintain volunteer database;
Coordinate all communications and follow-up with festival volunteers;
Create documentation;
Other duties as required.
Qualifications:
Excellent organizational and time management skills;
Strong communication skills, both oral and written;
Proven interpersonal and leadership skills;
Ability to work flexible hours and under pressure;
Experience with volunteer recruitment & coordination for other non-profit organizations/festivals;
Reliable, hard-working and resourceful;
Basic computer literacy (knowledge of Microsoft Word, Excel);
Knowledge of volunteer management software Shiftboard, a big asset.
To apply, please send a cover letter and resume to Maud Salvi, Executive Director at hr@sledisland by March 18, 2020.

(Photo: Elyse Bouvier)
Permalink