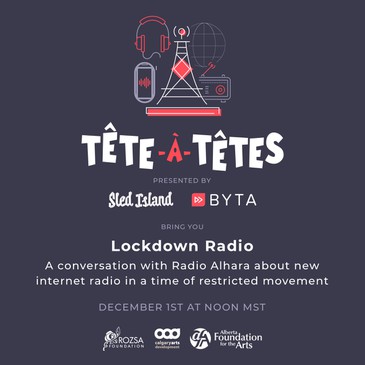 The Sled Island Music & Arts Festival and Byta, the platform for sending digital audio files and streams, are proud to announce the first in a regular series of free, online conversations about the changing landscape of music called Tête-à-Têtes. The series debuted December 1 at noon MST with Lockdown Radio: a conversation with Radio Alhara about new internet radio in a time of restricted movement.
In a time of unprecedented restricted movement, where the global community is isolated, but brought together by a universal concern, it is no surprise that internet radio is experiencing a modern day renaissance. With three of Radio Alhara's founders living in the occupied and landlocked West Bank, they are uniquely situated to understand and discuss the role and importance of internet radio, particularly in times of geographic isolation.
Radio Alhara (the neighbourhood radio) was created in quarantine and broadcasts from Ramallah, Bethlehem and Amman. Founded with local purpose, yet quickly amassing a global audience, it exchanges ideas and music alike, as a real-time response to the unique Middle-Eastern experience of the pandemic.
Architect and DJ Elias Anastas (Bethlehem, Palestine) and DJ and graphic designer Saeed Abu-Jaber (Amman, Jordan) two of Radio Alhara's five co-founders, will be joined by CBC Radio Host (Brave New Waves) and former MUTEK Montreal curator, producer and editor Patti Schmidt (Montreal, Quebec) to discuss the history of radio in Palestine, where travel has been restricted pre-pandemic, the challenges facing landlocked and locked down artists alike, and the role the internet plays for artists in these challenging times.

ABOUT TÊTE-À-TÊTES
Tête-à-Têtes is a series of intimate conversations between emerging and established musicians and industry leaders alike. Presented by Sled Island & Byta, these free online, publicly accessible conversations will address the most vital questions relating to the creative, technical, financial and social sides of music-making in an industry that has seen unprecedented changes in recent times. They will range from artistic exchanges between trailblazing musicians working in different genres to innovative thinkers unpacking lessons that can be learned from investigating how we make and consume music across the globe.
These conversations and their resulting takeaways will also help to dictate the direction of a slate of programming for an expanded in-person industry & conference component of Sled Island in June of 2021. This programming will include artist talks, panel discussions and information sessions.
This project was made possible by the generous support of the Rozsa Foundation, and our public funders Calgary Arts Development and the Alberta Foundation for the Arts.

ABOUT BYTA
Byta ("Bee-tah": the Swedish word for exchange) is run as a distributed team across three continents. Byta is unrivaled in taking advantage of the unique properties found in audio files – reading and writing file metadata, converting file formats and delivering fast yet secure streaming. Byta recently launched their #HowWeListen not-for-profit, dedicated to providing musicians and their teams with the knowledge required to move their careers forward.
Want to stay in the loop with Tête-à-Têtes and other Sled Island news? Sign up for our newsletter!
Permalink