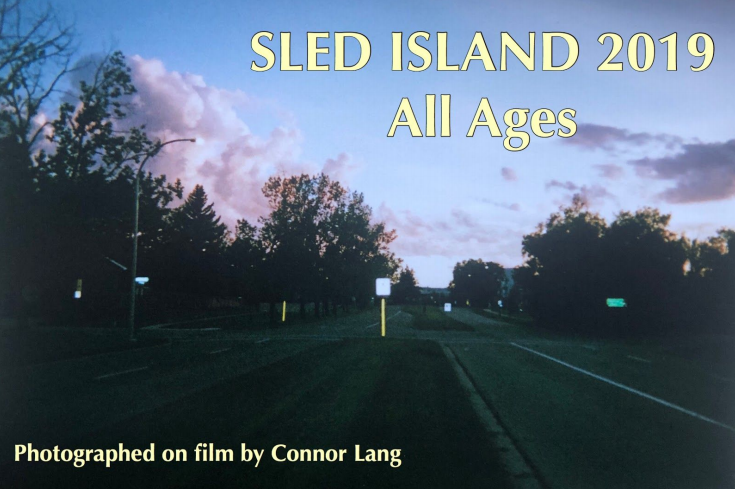 Sled Island this year was absolutely unreal. Being sixteen, I wasn't able to go to every show or every location, but that didn't make the days any less memorable or impactful. I decided that for my first ever Sled Island, I wanted to remember every moment. My favourite way to do that is through photos, and so I bought a couple cheap disposables, took pictures throughout the week, and re-lived every minute when I got them printed. Going into the festival, I was nervous. I wasn't familiar with Calgary's, let alone the world's more underground and independent music scene. When I looked at the list of performers, I can confidently say I didn't know anyone. However, the culture surrounding this music was unbelievably welcoming. I knew no one and nothing, and yet, at the end of the week, I felt like an expert. The performers and the performance goers were kind and genuinely excited to be there. I'm so grateful to have
experienced such an amazing experience and catch a few moments along the way on
my London Drugs camera.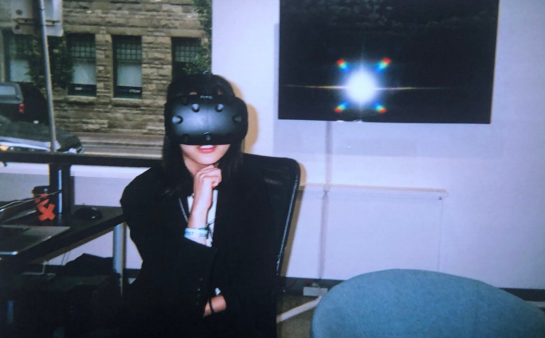 I began my Sled Island week at an art exhibit, specifically, 'Getting ready for my haunting.' While the entire exhibit wasn't fully opened when I arrived that day, what I did get to see was shocking and inspiring. The first installation I saw was by Seth Cardinal Dodginghorse. It gave insight into his and his family's forced removal from their home, which had been in their family for generations, to make way for construction on the Calgary Ringroad. The installation was painfully personal, featuring a video of his home and old photos that re-humanized the community. It included a model of his home that allowed the viewer to fully enter the reality of being forced to leave something that has historical significance in one's family. It was truly a dream-like depiction of a past life, but a past life that was clearly still prominent, creating a haunted reality. The exhibit also included work by Jadda Tsui (pictured). It utilized the immersive
power of virtual reality to bring the onlooker into a skillfully crafted world and path of self-realization.
It included obsessively soothing narration that led the observer on a journey of choice, accompanied
by absolutely stunning visuals. The objectivity of the room dissolved and there was nothing around
me when I put those goggles on. It was shockingly immersive and unexpectedly relaxing, which
constantly kept me a little on edge. It was a brilliant use of the virtual reality technology, flaunting
refined design skills, that transported me into an alternate dimension crafted with care by Tsui. What
I was able to see that day had ghastly undertones as suggested by the title of the exhibition. It was
reminiscent in an inherently eerie way, not only unearthing personal pain of the artists, but also
attempting to unearth a similar struggle in the participant.
Later that same day, I went to Pin Bar for the poster show. The first thing I recognized
when I walked in was their sign that made it clear that they did not tolerate any form of
discrimination; it was welcoming. The past posters were stunningly beautiful and included such
a diversity of style. This year's posters (and I'm definitely, extremely biased) were the best. My
favourites were the designs for Japanese Breakfast, Man or Astro-Man?, and Julien Baker. The
design for Julien Baker (pictured) was designed by Shalom Toy of Silvering, which I think just
shows how insanely talented she is.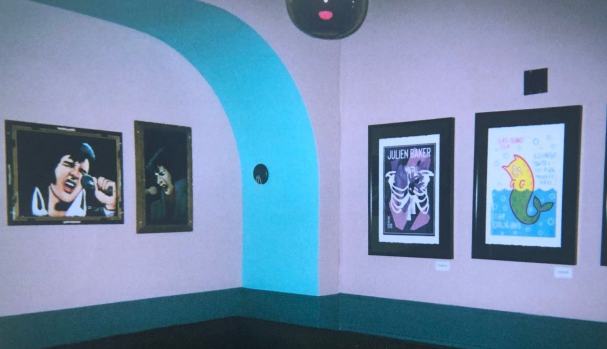 I also played a few games of pinball. Honestly, I was a wreck. The flashing lights and random sounds made me extremely confused, and I might be lacking a bit of coordination in the button pushing department. However, I seemed to be the only one, as everyone else was crushing it. The lights and sounds that came from the machines really added something special to Pin Bar. There was a really peaceful energy in seeing everyone so concentrated and involved in their games that you wouldn't expect from a bar with intense light and sound added on top. That ended my first day. It didn't involve any music, but it was a nice introduction to Sled Island. Either way, I was still super nervous for tomorrow because I was unfamiliar with the protocol. Looking back, I'm happy to say I was pleasantly surprised.
The next day I found myself in Sloth Records. It had beautiful atmosphere and was super
well lit, which made the performances extremely enjoyable. The store had an impressive record
collection as well. The intimate space pushed the energy of each performance to extremes,
leaving me in utter shock, and keeping the audience laser focused on each performance. It started
with Dead Friends, which was intensely energetic and exciting. I was pulled into the obvious
impassioned performance with amazing head bangs and dance moves. For my first performance,
Dead Friends was a great opener that made me feel instantly comfortable and excited. It
segwayed greatly into The Sex Geckos, or half of them at least (pictured). It was an absolutely
brilliant performance, brimming with talent, especially for a one-person band set up. The guitar
was intense and played terrifically well. Getting to hear 'Black Dots' live was beautiful and
made my hairs stand up.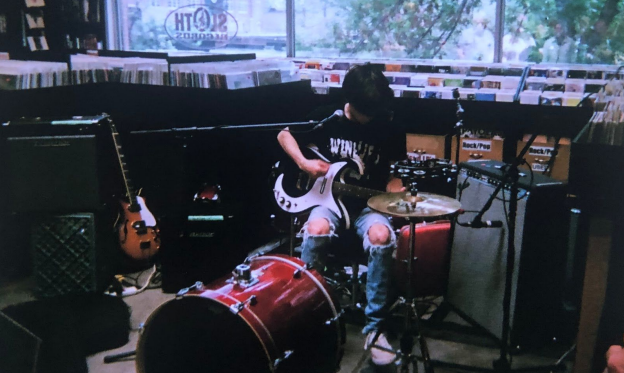 In between half of The Sex Geckos and maneater, I met a photographer and writer for CFCR 90.5 FM in Saskatoon, a volunteer radio station much like CJSW, Carter. He's also a part of a band called Secret Door, which has actually played house shows with The Sex Geckos. Carter was a great example of just how incredible the people at Sled Island were. Everyone was approachable, friendly, and had impeccable taste. I decided that the next day I would go to 'Escape from SK,' CFCR's 8th annual Saskatoon showcase. Then, maneater came out. They were missing some gear, but regardless, it was an amazing show. They joked that they 'were going to turn it out in a sleepy way.' Nevertheless, it was vibrant and catchy, and their sound practically floated throughout the whole room. Unfortunately, that ended my day at Sloth
Records, but I was able to leave comfortable, welcomed, and excited for tomorrow.
I found myself in the same intimate record store the next day, this time for Ghostface
(pictured). Their own insane musical ability did make up for the fact that Orange Kyte couldn't
play that day. The songs were seemingly endless, with instrumentals that left me in a trance. The
use of a looper and echoey voice effects grew the band's energy exponentially, instantly filling
the room. It was a magical way to become acquainted with a new band.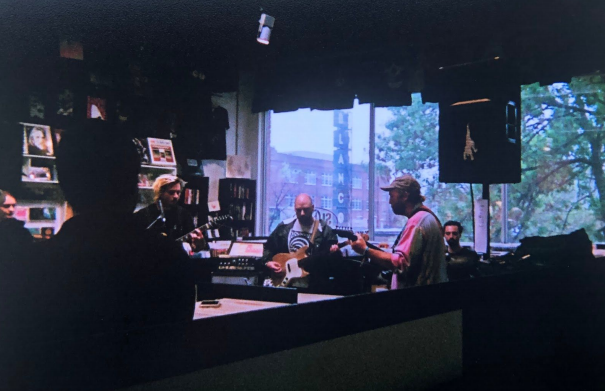 At Tubby Dog for 'Escape from SK,' I was reminded of the same toleration and flash of Pin Bar. Speaking of flash, the showcase began with 3 Moonjask. Cloud masks covered their faces, and they played complex and upbeat video game adjacent electronic music on a literal video game. I was so impressed by what they could do on just a DS. There was a clean and true sense of enjoyment that came from their body language as well, adding a heightened level of personality. Almost immediately, Slow Down Molasses began, and they began loud with electrifying guitar, earth shattering drums, and classic rock vocals that made the walls shake. The speakers were blowing out and trembling. I'm glad Carter (pictured) invited me to show off what Saskatoon had to offer.
Central Memorial Park the next day, was beautiful. My friend and I laid on the green
grass and listened to natural music. The crowd was joyful, well dressed, and completely engulfed
in the setting. Lev Snowe began, and their use of echoey vocals made it sound like they were
singing in a cathedral in Italy, as articulated by my friend Nicole. The drums were sharp and
precise, acting in juxtaposition to the seemingly endless vocals, melted synths, and sultry guitar
and base. It was their first Sled Island, and they killed it. They had silky harmonies and catchy
melodies, topped with sugary sweet vocals, evidently proving that they were one with their
music, sharing the space with each other in a harmonious performance. The synthesizer was
refreshing, fading out the songs into endlessness. It seemed as if the lead singer was going to fly
into the audience at any moment, constantly signing on his toes.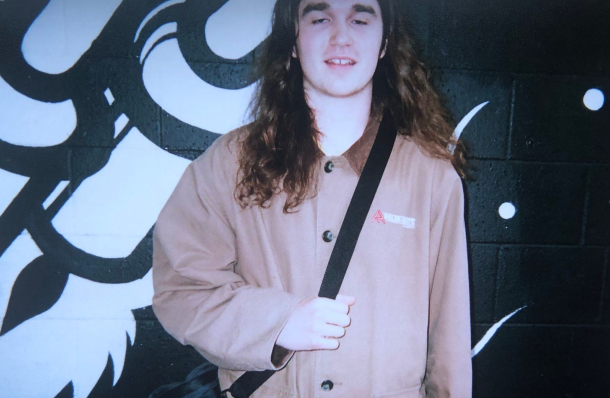 Lev Snowe was then replaced by Silvering, leading to a profoundly intimate moment. The lyrical content was personal, but at the same time relatable. Silvering was born for the outdoors, harnessing the surreal energy of the warm weather and bright sun to propel their sound to its extremes. Shalom Toy of Silvering has impressive vocal ability, asserting itself in such a large and open venue. At the same time, the band was summery and soft, but also presenting obvious skill, force, and direction. Toy's falsetto was soothing and the high notes drifted peacefully; her voice contained a pleasant passion. The wind blew her red hair behind her, as she stood in front of her band, tall and proud. Together, they unearthed an emotional performance of 'Sidewalks,' from their EP, 'Minefield Memory.' The whole set seemed to be necessary and therapeutic, sending shivers down my body. At the same time, the set
was a delivery of an invitation that encouraged the listener to join Silvering on a mountain
climb of emotion. Toy evoked relatability with every word, ending the set with a love song
that melted and blended with the breeze and the sun.
Entering with a neon top and cheetah print biker shorts, Marlaena Moore greeted the
crowd with personality and a hilarious introduction, which was immediately opposed by a deeper
sound rooted in base, contrasted with airy vocals. Moore's vocals were severely impressive,
making the music known throughout the whole park. Each song built up and released tension at
vulnerable moments. Moore also sung on her toes like Lev Snowe, which evoked a similar
feeling of floating and being one with the crowd. The electric vocals were only matched by the
band, consisting of vigorous drums and brilliant guitar and bass. The sound quickly ranged from
loud and dangerous to pillowy falsettos that eventually were overwhelmed by electric guitar.
Lyrically, Marlaena Moore was descriptive, harnessing able storytelling to portray emotion. I felt
the sound in my entire being.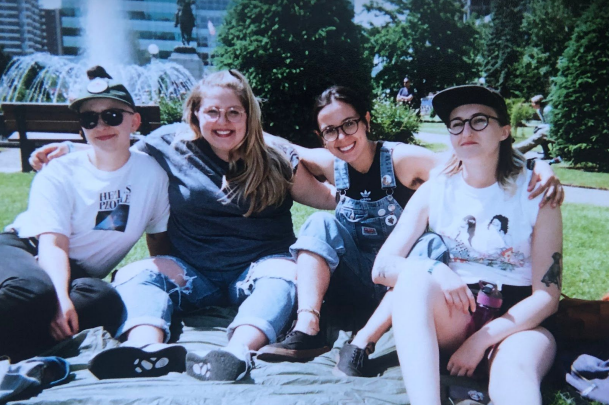 Squirrel Flower closed the performance, establishing a presence with only guitar. The simplicity worked beautifully with the delicacy of her voice, her sound, and especially, her lyrics. The vulnerability of her lyrics was propelled by everlasting vocals and gentle guitar. Squirrel Flower has complete control of her voice, each soft sound exists with purpose and every rise in volume contains an element of surprise. 'Don't look at me like you'll kill me,' she sang, successfully explaining her sentiments through midwest aesthetic and animal adjacent metaphors, particularly harnessing the relationship between predator and prey. As the temperature cooled, she ventured into a gloomier sound, yet, it was surprisingly triumphant, impressively displaying the phenomenon of overcoming and learning; it articulated the feeling of being stuck, raising her voice and shaking her head, she said, 'I'm not getting any older, but I'm not getting any younger.' The song ended and the sun came from behind
a cloud. It was peaceful and painful, if something can even be both. Using a looper, she perfectly
recreated the song 'Hands Melt,' from her album, 'Contact Sports.' The four artists and bands
showed musical solidarity with each other, genuine talent, profound passion, and they made the
crowd (pictured) drift away.
That night, I was engulfed in the McHugh House. It was intimate and safe. An Ant And An Atom
delivered highs and lows that refused to boil over into a completion, constantly ripping away the
thought of a beginning or end. The floorboards were shaking, and the vibrations went up everyone's
feet and into their body, adding to what seemed to be an underlying theme of fear. Violently focused
on the drone music, the audience was entranced by what seemed to be an eternal set. Yet, with no
warning, it ended. For a while, I was sitting on the floor and feeling the music in my entire body, making
the entire experience extremely immersive. The base was deep and submerged the room, contributing
to the space inspired sounds.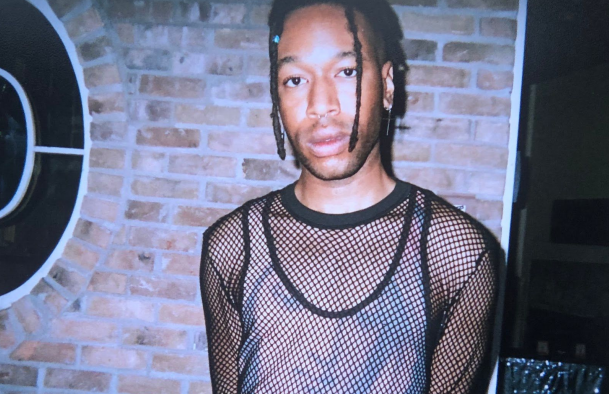 NOVEMBER (pictured) began with acapella, blowing the room away with volume, passion, and resonance. 'I'm alive,' he practically screamed into the mic, claiming the house as his own in that moment. The emotion in his voice was unlimited, making obvious that the lyrics were painfully personal, as if he would tear up any moment. He projected an acute suffering and emotion, explaining that this set was his fantasy. He said, 'if you're feeling something, feel more.' The crowd obeyed. It seemed as if the walls of the house would give at any moment, unable to contain the voice. Through songs like 'Powder Blue,' NOVEMBER articulated his personal and relationship struggles both lyrically and through the raw loudness and vibrancy in his voice. As well, through his movements as he played and sang, the necessity of every song and lyric was expressed. However, in between jarring vocals and
devastating lyrics, NOVEMBER had a radiant and joyous personality; it was clear that he was
excited to be here. The set, which was a tender love letter, ended with a blissful falsetto that
ended high in the air, a smile, and a genuine thank you.
Coming from Calgary, Polly Dactic made it clear that they were familiar with the crowd
and the space. They made the wave of people move with memorable keyboards and sharp vocals.
The sound was space age and futuristic, but relatable and grounded in today's world and scenery.
Lyrically, Polly Dactic was directive, controlling the audience, and displaying ascension with
moaning and screaming. The set was a reflection of science fiction and an experience of pure
fun.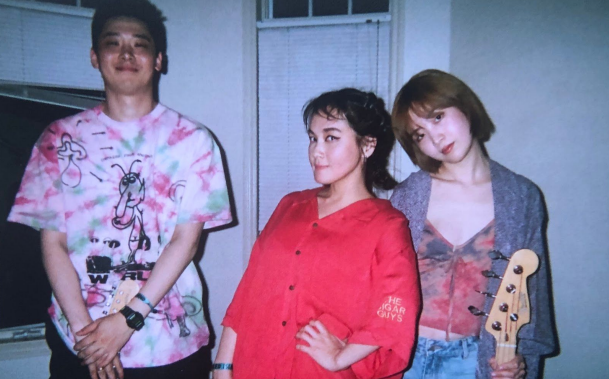 numnum (pictured) was put plainly, cool. The contrast of impressively loud and high pitched vocals by deeper instrumentals kept the now packed house moving, exciting everyone with songs from their very first album, released only about a month ago. Since they came from Seoul and the songs were all in Korean, the lyrical content wasn't entirely understood by the crowd. Regardless, numnum involved the crowd and portrayed emotion with highs, lows, and notes that never ended. I remember at the end of one song, numnum's singer, Lee YunJoung, ended up sprawled on the floor, and even though English was their second language, they talked to the crowd to give YunJoung's vocal chords a break from the demanding songs. The peppy punk-pop trio even had people outside the house dancing, allowing their radiant personality and obvious passion to shine through the windows into the dark. The set shot the crowd high up into
the air, and they brought everyone back down with a softer slow song. The high notes hung in
the air and rang in the crowd's ears. Suddenly, the notes went higher and louder, until the
microphone could barely register the absolutely insane vocal ability. That ended my last show at
Sled Island. numnum was a beautiful completion, sending everyone into the night, and onto the
street. I was left speechless from the entire day.
As quickly as it began, Sled Island was done. It was energetic, passionate, and diverse. I
was introduced to a wide range of talent, expanding my narrow window of music, both locally
and internationally. Regardless of my knowledge and confidence coming into the week, I felt
welcomed, I was inspired, and I soaked up the days. Sled Island gave insight into the caring and
close community of musicians and fans that exist around the world. The experience I had and the
moments I was able to capture seem to come down to solidarity. There was an astute solidarity
between the musicians, within the crowd, and throughout the city that showed a genuine
excitement for people to share their voice and sound. In reflection, I find myself grateful for
many things. Firstly, the experience as a whole and the ability to learn about new people in my
city and around the world. As well, the excitement and passion of the performers and the crowd.
Finally, however, I am most thankful for the acceptance and people's willingness to teach me,
making the entire experience accepting and embracing, not only for the underage and unfamiliar
festival goers, but for the people of diverse tastes and backgrounds so that literally, every single
person could find something that resonates with them and speaks to them on a profound level.
This year, Sled Island was an operation of unity and togetherness, which I appreciate just as
much as the impressive, enthusiastic, and vigorous music.
Permalink