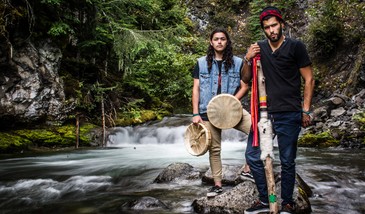 Sled Island is excited to celebrate National Indigenous Peoples Day on Thursday, June 21 with all-day programming at Arts Commons and an evening show at Commonwealth Bar & Stage.
Join us and partners IRIM, Drum Beat, imagineNATIVE, Treaty 7 Film Collective and Arts Commons for a Mini Pow Wow at 11:30am at Arts Commons. At 1:00pm, there will be a Rhythm of the People workshop with Sled Island 2018 artists Snotty Nose Rez Kids and Mob Bounce (pictured), who will present a talk, conduct a writing workshop and give a mini-performance. At 5:00pm, catch the imagineNATIVE Film + Video Tour, featuring shorts made by Indigenous filmmakers from across the country. All of these events are free and open to the public on a first-come, first-served basis.
Finally, end your evening with a bang courtesy of a stacked lineup at Commonwealth. Lido Pimienta, Snotty Nose Rez Kids, Mob Bounce and Ziibiwan are performing on the main level, and Chief n' Council, Bebe Buckskin and Lucid 44 are rocking the basement. Sled Island passes grant entry until the venue reaches capacity. Advance tickets are also available.
SCHEDULE
Arts Commons - All-Ages, Free
11:30am Mini Pow Wow
1:00pm Rhythm of the People Workshop
5:00pm imagineNATIVE Film + Video Tour
Commonwealth (Main Floor) - 18+
9:30pm Ziibiwan
10:30pm Mob Bounce
11:30pm Snotty Nose Rez Kids
12:30am Lido Pimienta
Commonwealth (Downstairs) - 18+
10:00pm Lucid 44
11:00pm Bebe Buckskin
12:00am Chief n' Council
Tickets to the Commonwealth show are on sale now. Passes also grant entry (subject to capacity).
Permalink