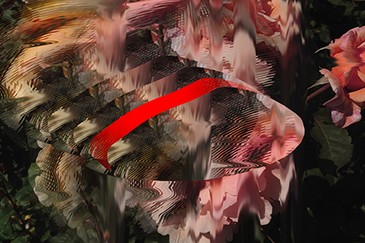 Sled Island's 2017 visual art lineup announcement is here! We're pleased to feature 12 new projects by some of Alberta's brightest artists at this year's festival.
We'd like to extend a major thank you to ACAD for their support, plus all the partners and co-presenters who help make visual art at Sled Island a reality. Dates and venues will be announced in the coming weeks.
Jade Nasogaluak Carpenter's Uyarak//Stone is a series of contemporary soap stone carvings. Uyarak//Stone exists as a platform of Indigenous sovereignty, aims to question conventions of Inuit art, and challenges the notion of what it means to be an Inuit artist.
chloe frost's video and participatory installation Been running as long as I can remember takes the corny archetypical retro workout video and uses it as a metaphor for living with severe anxiety.
〈cootiecatcher〉 brings together the artistic practices of Brett Bonk and Megan Fen for and The Double Jinx Mystery, a collaborative installation that could, in turn, be experienced as a device designed to gather ontological data or an interrupted game of backgammon.
May G N's Secretive Density (pictured) explores the clouding effects of transformative identities expressed via digital print media. Accessing and deploying soft aesthetics and floral imagery, Secretive Density reveals a contemporary re-acquaintance with the beyond behind the inferred illegibility of queer existences.
Presented in partnership with Mountain Standard Time Performative Art Festival, Tsēma Igharas' Ejideh: Push it! performance and installation is centred on a moose hide, which interrupts space through Indigenous construction and reverberations.
In partnership with EMMEDIA Gallery & Production Society, Jordan Schinkel's Strange Light is a continuous video installation that explores the contemplative yet uncertain act of searching in the dark.
Presented in partnership with The New Gallery, Sahar Te's The Price, in 100 Notes explores and compares oil prices between Canada and Iran within a span of 97 months, from January 2009 to May 2017, through performance and installation.
In partnership with the Marion Nicoll Gallery and their three exhibition spaces both on and off campus, Haley Crawe (Her Potential For Corruption), Kerry Maguire (Solutions for Better Living), and Anna Semenoff (Phantom Form) present video and sculptural based installations that explore relics and mythology, object functionality, and spatial experience.
WE ARE NOT AN ISLAND Queer Zine Fair seeks to provide a safe, accessible, and inclusive space for the exchange of capital – both financial and social, encouraging reinvestment in individual practice and diversifying experiences in and for the local queer landscape. Interested in participating? Submissions are currently being accepted until May 20th at midnight.
The Sled Island Poster Show is back, pairing local artists with musicians playing the festival to create limited edition, hand-silkscreened posters by Burnt Toast Studios!
All visual art events will be free and open to the public (some events 18+). Browse the full lineup now!
Discovery Passes and Discovery Plus Passes give you access to everything at Sled Island, subject to capacity. Get yours before prices go up on June 19!
Permalink