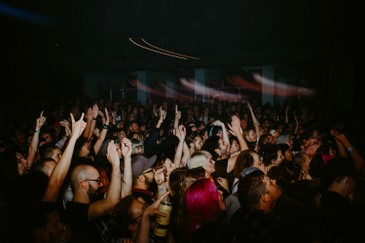 There's a lot to look forward to about Sled Island 2017. Not only do we have huge curator news to share in January, there's tons more big news to share right now! Read on for details and when you're done, take advantage of 25% off your Sled Island 2017 pass (or one of our new Sampler Packs!) for a limited time only.
More Shows in Your Favourite Venues
Thanks for the memories, Olympic Plaza! This year, we're saying goodbye to Olympic Plaza and adding more shows in the venues you love most, including the Central United Church, Flames Central and the brand new National Music Centre. Look for show details in spring 2017!
New Sampler Pack - BUY NOW
Thinking of attending Sled Island but not sure where to start? Let us be your guide! We've handpicked nine of the festival's hidden gems to give you a taste of the Sled Island experience. Show details will be released alongside the Sled Island 2017 schedule in late spring 2017, but the pack is available now at an early bird rate of just $99!
New Monthly Payment Plan - BUY NOW
No more waiting until the last minute to lock down your Sled Island pass! We're pleased to offer a new payment plan for Discovery and Discovery Plus passes. Purchase by January 9, 2017 and pay in seven manageable monthly credit card installments. Easy! A four-month payment plan will also be available in spring 2017.
New Benefits for Discovery Plus Passholders - BUY NOW
The ultimate Sled Island experience and then some! On top of all the great benefits we've always offered like priority show access and access to our exclusive Artist Lounge at the top of the Calgary Tower, Discovery Plus passholders will now also receive a Sled Island 2017 t-shirt, tote bag and limited-edition screenprinted poster (art by Josh Holinaty), an invitation to our private lineup announcement event in February 2017 and more.
Lower-Price All-Ages Pass - BUY NOW
Sled Island is proud to welcome attendees of all ages, and this year, we're making it even easier for our younger pals to get in on the action! We've lowered the price of our All-Ages Pass to just $35 CAD, which means attendees under 18 can access more than 50 all-ages events for the price of a single show ticket.
Save 25% on Sled Island 2017 Passes and Packs - BUY NOW
Sled Island 2017 Discovery and Discovery Plus passes as well as our new Sampler Pack are now on sale at 25% off the walk-up price! Prices go up when we announce our 2017 guest curator on January 17, 2017.
Permalink