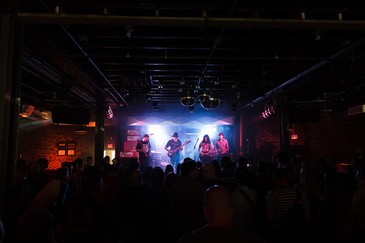 Today is your chance to get your Sled on early! We have a handful of events including the ninth annual Sled Island Poster Show opening at the Theatre Junction GRAND Mezzanine at 6:00pm, the Canadian premiere of Danny Says at 6:30pm at the Hifi Club, special Sled Island editions of Quiz Shoe at Broken City at 7:00pm and Punk Rock Bingo at the Ship and Anchor at 8:00pm. Don't forget, WRECK CITY Presents DEMO TAPE is in full swing down at the old Penguin Car Wash.
Then, of course, is the music! Our traditional Kick-Off Party at Commonwealth is chock full of talent including past festival favourites The Courtneys, Cousins and Shaani Cage plus Godspeed You! Black Emperor pick Avec Le Soileil Sortant De Sa Bouche and more, more, more! Limited walk-up tickets will be offered to those without a festival pass for $15.
Wanna see it all? You're gonna need a pass! They're still for sale online, but you can also buy directly at pass pickup at The Fairmont Palliser before 10:00pm.
Permalink