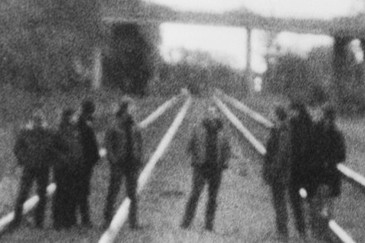 Sled Island is thrilled to have celebrated orchestral post-rock band Godspeed You! Black Emperor as the festival's guest curators for 2015.
Each year, Sled Island's guest curator helps set the direction and tone of the festival through specialized programming choices and with their presence at the event. This year, that includes two very special shows—Godspeed You! Black Emperor's first in Calgary—at the beautiful Central United Church (tickets to these shows are now sold out, however, a Festival Discovery Pass will get you in, subject to capacity). Additionally, the band has thoughtfully assembled an incredible set of artists to perform.
With Sled Island's full schedule just released, there's no time like the present to delve into their picks:
Avec Le Soleil Sortant De Sa Bouche (Montreal, QC): An experimental mix of funk, electronic and krautrock that has to be heard to be believed.
Big|Brave (Montreal, QC): These quiet/loud post-rockers are also Southern Lord's most recent signing.
Body/Head (Northampton, MA): The experimental guitar duo of Kim Gordon (Sonic Youth) and Bill Nace.
Carla Bozulich (Los Angeles, CA): An interdisciplinary artist and art-rock provocateur.
David Dondero (Duluth, MN): Quite simply one of the greatest living songwriters.
The Ex (Amsterdam, Netherlands): Living legends, they deftly navigate genres as diverse as punk, folk and free jazz.
Fred & Toody (Portland, OR): Members of Dead Moon and Pierced Arrows, they are the incredible and incredibly proud grandparents of modern garage rock.
Matana Roberts (Brooklyn, NY): A fascinating artist who weaves music, sound, dance, poetry and narrative into her improvisational structures.
Mdou Moctar (Agadez, Niger): Experimental, electronic Tuareg guitarist and star of Akounak Tedalat Taha Tazoughai, a Tuareg remake of Prince's Purple Rain, screening at Sled Island.
Godspeed You! Black Emperor is a band we've dreamed about seeing in Calgary for years, and we can't wait to welcome them to this year's festival!
Permalink